I love fall.  The smells, tastes, and beautiful scenery is awesome to me.  I just love fall.  I've always been a sucker for pumpkin pie and more recently,
chocolate chip pumpkin bread
.  Pumpkins are a very versatile veggie and can be used in a lot of recipes!
Yesterday I cooked and pureed a pie pumpkin for the very first time!  I cut off the stem, sliced the pumpkin into a few pieces, added a cup or so of water in the Crock Pot, and cooked it for a few hours (I didn't time it) on high.  The result was a tender pumpkin, but I had a bit of difficultly getting it the consistency I wanted it to be.  I had read online that you aren't supposed to add too much water, so blending it in a blender was not ideal.  I have made lots of baby food in the blender, but you can add as much water as you need to in those instances.  SO, I just broke down and whipped out the potato masher and it worked pretty well.  Anyway, that wasn't the point of this post…you can also used canned pumpkin for this recipe!  :o)
Pumpkin Pancakes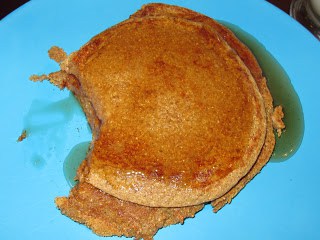 Serve up some warm pumpkin pancakes for breakfast!
Ingredients
1 3/4 cups milk
1 egg
1 cup pumpkin puree
2 TBSP oil
2 TBSP vinegar
2 cups whole wheat flour
4 TBSP brown sugar
2 tsp baking powder
1 tsp baking soda
1 1/2 tsp cinnamon
1/2 tsp ginger
1/2 tsp salt
Instructions
Mix together the milk, egg, pumpkin, oil, and vinegar in a mixing bowl.
In a separate bowl, mix the flour, brown sugar, baking powder, baking soda, cinnamon, ginger, and salt. When fully mixed, stir into the pumpkin mixture and mix well, but do not beat too much.
Heat a lightly oiled griddle over medium high heat.
Pour the batter on to the griddle. Brown on both sides and serve hot with syrup or whipped cream. (although they're pretty good by themselves!)
The following two tabs change content below.
Gena and her husband live in the Dallas/ Ft. Worth, Texas area with their three sons. She is a former kindergarten teacher turned stay-at-home mom, blogger, and social media enthusiast. They love being outside, playing sports, raising chickens, cooking, crafting, and more!