Vanilla Valentine Popcorn with a Spicy Kick!

I was playing around with some different things in the kitchen, and made a delicious treat with a bag of microwave popcorn and a few other ingredients. This vanilla Valentine popcorn would be a great teacher or neighbor gift, class party snack, or a special afternoon snack for your family on Valentine's Day..or any day of the year! The color can be changed with each batch you make!
Ingredients: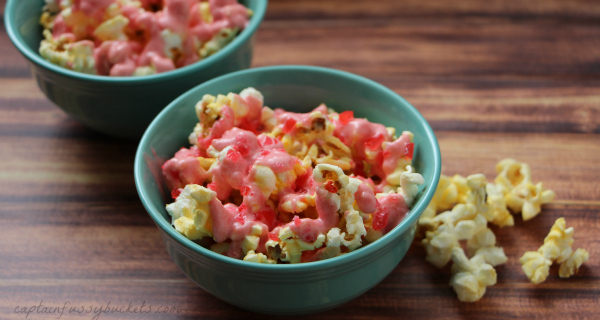 Directions:
​Pop bag of popcorn according to package directions.

Melt almond bark on low heat, stirring constantly.

Add in 2 drops of red food coloring gel, more or less if desired.

Stir completely and remove from heat when smooth.

If the almond bark is not thin enough, you can add coconut oil, a teaspoon at a time, to thin out a bit.

Heat the mixture with coconut oil if needed.

Drizzle the almond bark over the popcorn as desired.

Sprinkle finely crushed Cinnamon Fire Jolly Ranchers on top. (can be omitted, of course)

Let cool for 10-15 minutes. Refrigerate for 10-20 minutes if it hasn't hardened.
Enjoy this delicious, sweet and spicy snack on Valentine's Day … or any day of the year!