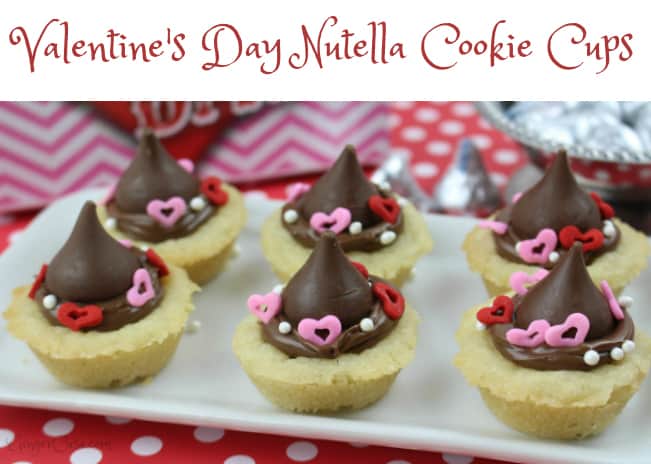 With less than a month until Valentine's Day, you can bet room moms everywhere are preparing for the big Valentine's Day party at school! These Nutella Cookie Cups are perfect party treat! You can make them in different flavors and variations, and if your school is a nut free zone, then of course you will want to subsitute some plain chocolate spread or mousse for the Nutella. If that's the case though, these would be great for your Nutella loving children! The sky is the limit in how creative you can be. And the best part is, these are easy enough for kids to help make!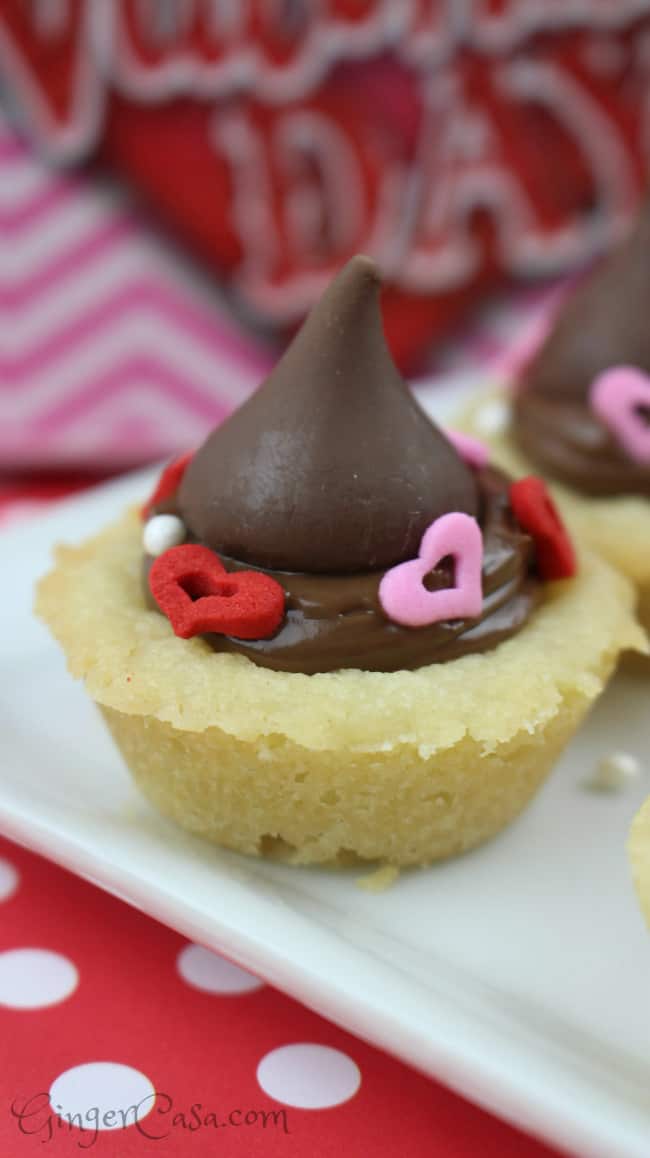 Folks, you may not like what I am about to say, but I need to get it off my chest. I do not like Nutella. In fact, I do not like hazelnuts at all, nor do I like hazelnut coffee creamer. My kids love Nutella, and my peanut butter allergic son can eat it, as well as my pecan/cashew/walnut allergic older son. (I don't know how he's not allergic to all tree nuts, but he's not! Thank goodness!) So if it were me, I would make this with Jif Peanut Butter and Chocolate Whips or Peanut Butter & Co.'s Dark Chocolate Dreams.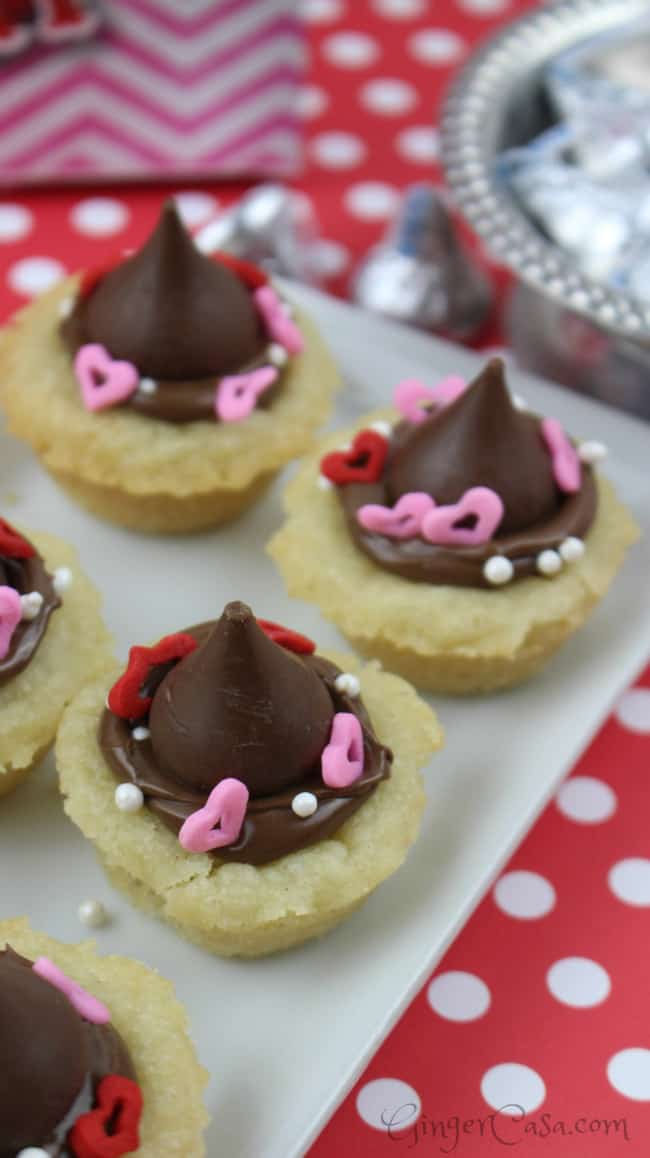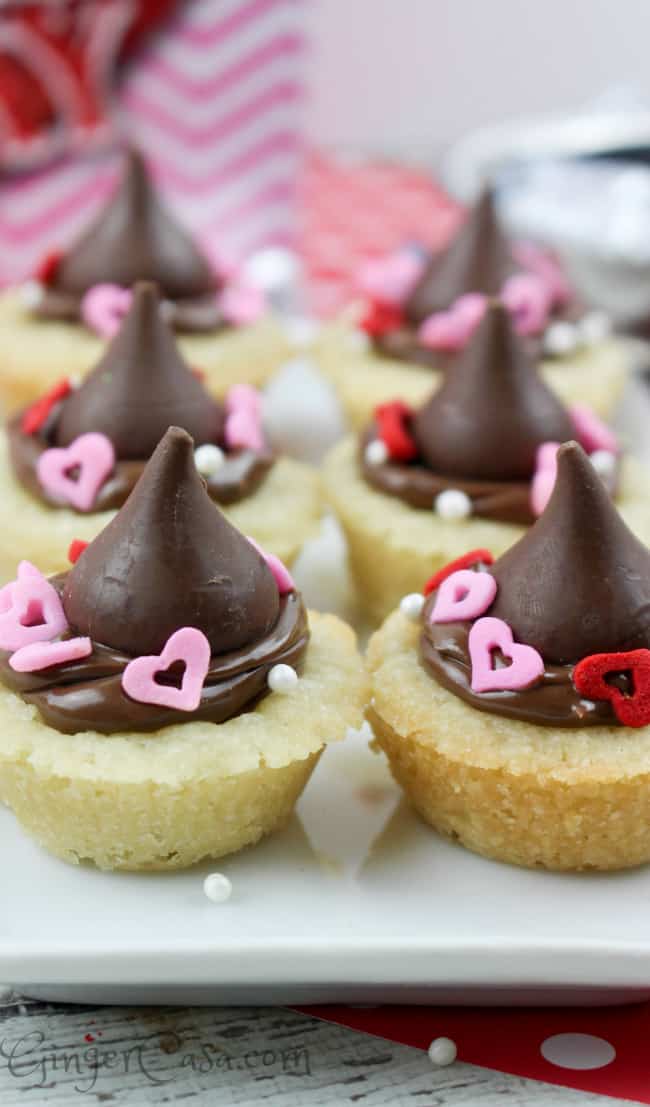 Valentine's Day Nutella Cookie Cups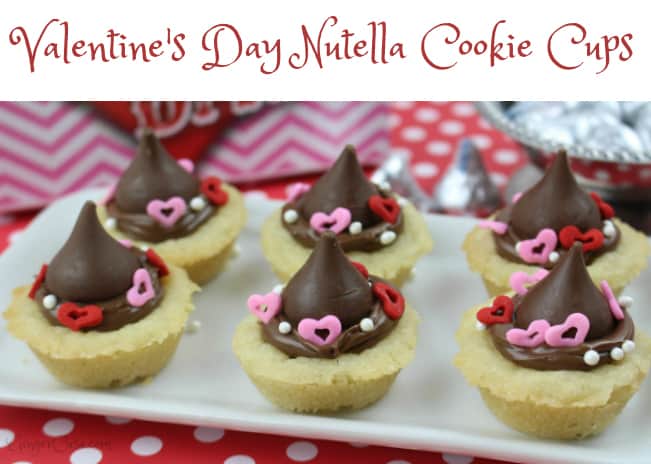 Valentine's Day Nutella Cookie Cups are great for your Valentine's Day party!
Ingredients
one 16 oz package Pillsbury Ready To Bake 24 count sugar cookie dough
one 13 oz jar of Nutella hazelnut spread
Hershey's Kisses
Instructions
Preheat oven to 350°. Spray your mini-muffin pan with a nonstick spray or rub with coconut oil.
Place an individual cookie dough piece into each muffin pan and bake for 12 minutes.
Place the muffin pan on a wire rack to cool for 20 minutes.
Line a cookie sheet with wax or parchment paper.
Gently pop the cookie cups out of each mold and place on the cookie sheet.
Spoon the entire jar of Nutella into a disposable frosting bag or a gallon plastic bag with the corner tip cut off.
Pipe the Nutella into each cookie cup.
Place one Hershey's kiss in each cup filled with Nutella.
Sprinkle the white sugar pearls and heart sprinkles on top of each cookie cup.
ENJOY!!
Recommended Products
As an Amazon Associate and member of other affiliate programs, I earn from qualifying purchases.