Although I love a hot, delicious Pumpkin Spice latte, my favorite beverage this time of year is Peppermint Mocha. Serve up a plate of these cookies, made with a special peppermint mocha cookie recipe, at Christmas parties and gatherings this year! If you like these cookies, try my Peppermint Mocha Glazed Donut Holes, too!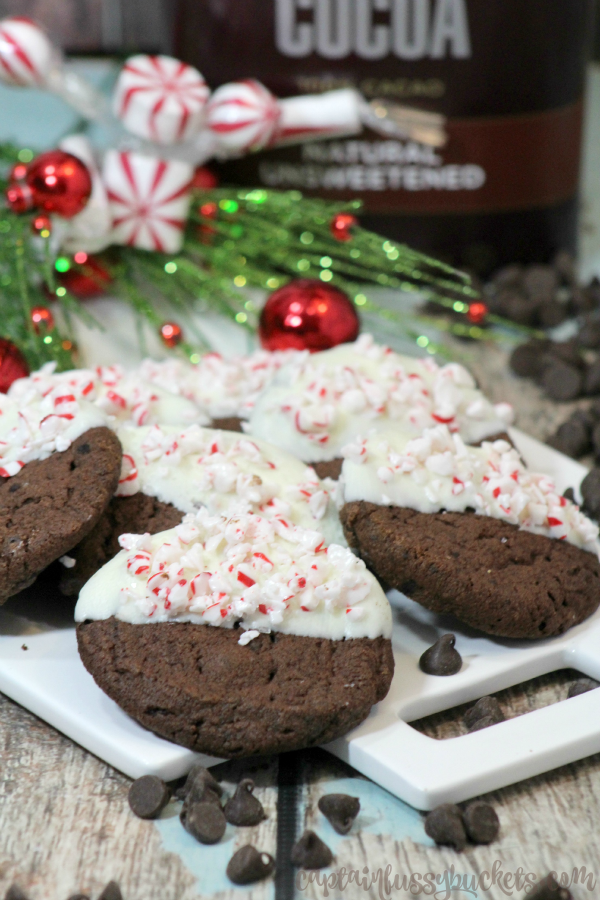 This recipe is great because not only do these cookies look fun and festive, the kids can help dip and sprinkle. Super easy and delicious! If you want another fancy Christmas cookie, check out this recipe for raspberry bow tie cookies.
Peppermint Mocha Cookie Recipe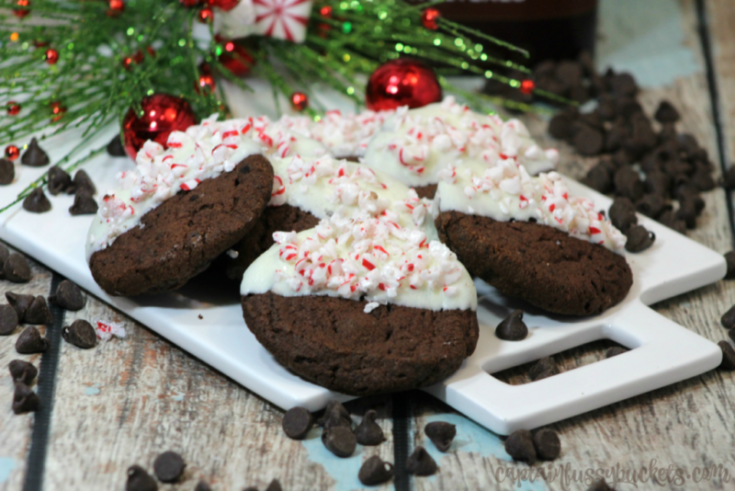 These Peppermint Mocha Cookies are a great Christmas treat!
Ingredients
Chocolate Cookie Ingredients
one 8 oz bag semisweet chocolate chips
2 TBSP unsalted butter, room temperature
2 eggs, room temperature
2/3 cup coconut sugar (regular sugar will work, too)
1 TBSP espresso
½ tsp Madagascar Bourbon vanilla
½ cup flour
¼ tsp baking powder
Topping
1 bag Ghirardelli white chocolate wafers
1 bag of peppermint candy
Instructions
Chocolate Cookie Directions:
Preheat oven to 350°.
Line cookie sheets with parchment paper.
Add chocolate chips and butter to a glass bowl.
In a microwave heat on HIGH power in 20 second periods.
Stir after each 20 seconds until the chocolate mixture has melted and is smooth add espresso and stir.
Allow to cool for 25 - 30 minutes.
Whisk together flour, baking powder and salt, set aside.
Using an electric mixer on medium-high speed, whip together eggs, egg yolk, brown sugar and granulated sugar until pale, fluffy and creamy, about 3 minutes.
Add the in vanilla and peppermint. Stirring to blend all of the ingredients.
Add in the chocolate mixture. Mix well.
Stir dry mixture into egg/chocolate mixture just until combined with a wood spoon.
Cover bowl with plastic wrap and chill in the refrigerator for 45 minutes.
Using a small ice cream scoop form dough balls.
Put them on the parchment lined cookie sheets at least 2 inches apart.
Bake at 350° for 8 - 11 minutes.
Remove from oven allowing the cookies to cool on baking sheet about 5 minutes.
Move to a wire rack to cool completely.
Topping Directions:
Line cookie sheets with wax paper.
Put the peppermint candy into a Ziploc bag and use a rolling pin to crush into small pieces.
Using a double boiler, melt the white chocolate wafers.
Dip on half of each chocolate cookie into the melted white chocolate.
Sprinkle each dipped cookie with crushed peppermint candy.
Lay the cookies on wax paper until they are completely dried and cooled.
These cookies would be delicious alongside your favorite peppermint mocha coffee recipe or with a glass of milk on Christmas Eve!