This shop has been compensated by Collective Bias, Inc. and its advertiser. All opinions are mine alone. #WelcomeToFamilyNight #PeterRabbit #CollectiveBias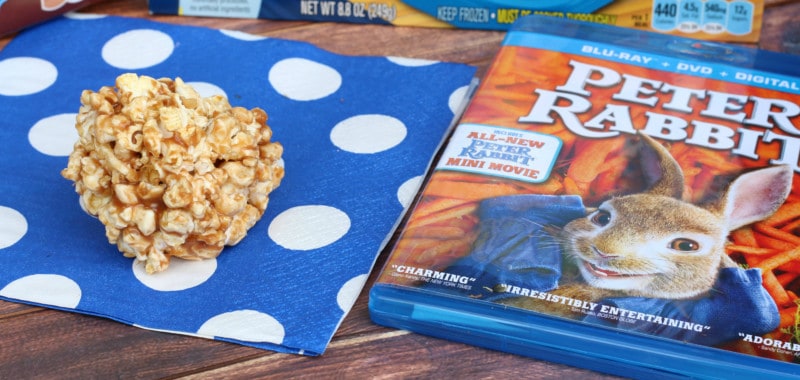 Our family loves movie nights! It is hard to find a movie that we all agree on, but we saw Peter Rabbit in the theater and KNEW it had to be part of our collection. It is an adorable movie that is funny and entertaining for parents and kids, while still being appropriate and innocent!
To celebrate the release of Peter Rabbit on DVD, I planned a fun movie night for our family. There were a few essentials to pick up at the same time I bought the Peter Rabbit DVD.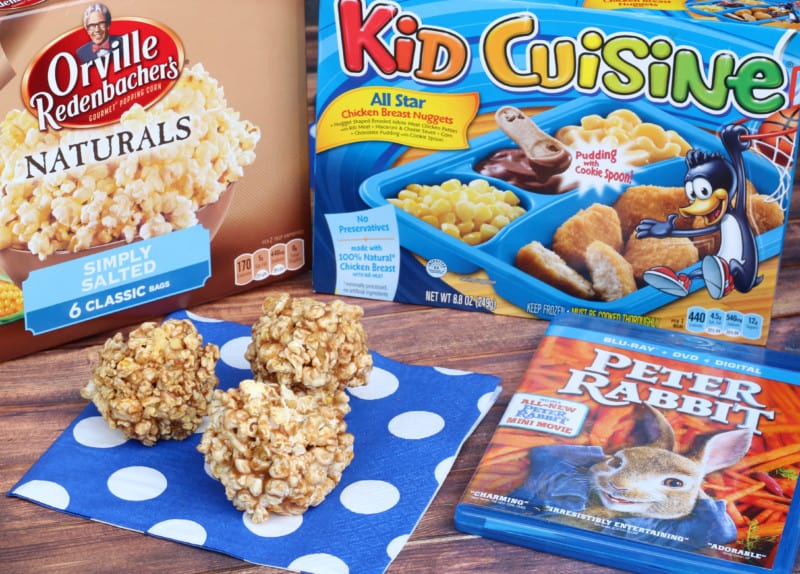 Whether it's a family movie night during the week, or celebrating a special event like Mother's Day, Peter Rabbit is a fun movie for the whole family. I found the Peter Rabbit DVD display at Walmart: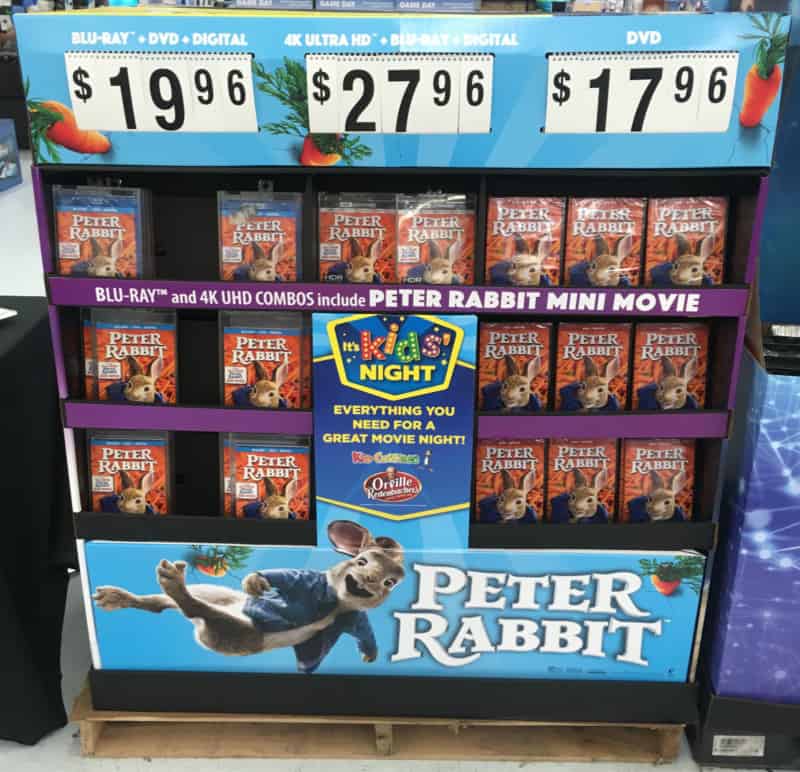 I had a great idea to make peanut butter honey popcorn balls and have the kids decorate them with rabbit ears. I grabbed a few boxes of Orville Redenbacher's Naturals – Simply Salted in the snack aisle. Orville Redenbacher is the only brand of microwave popcorn with no artificial preservatives, flavors, or dyes in any of it's products!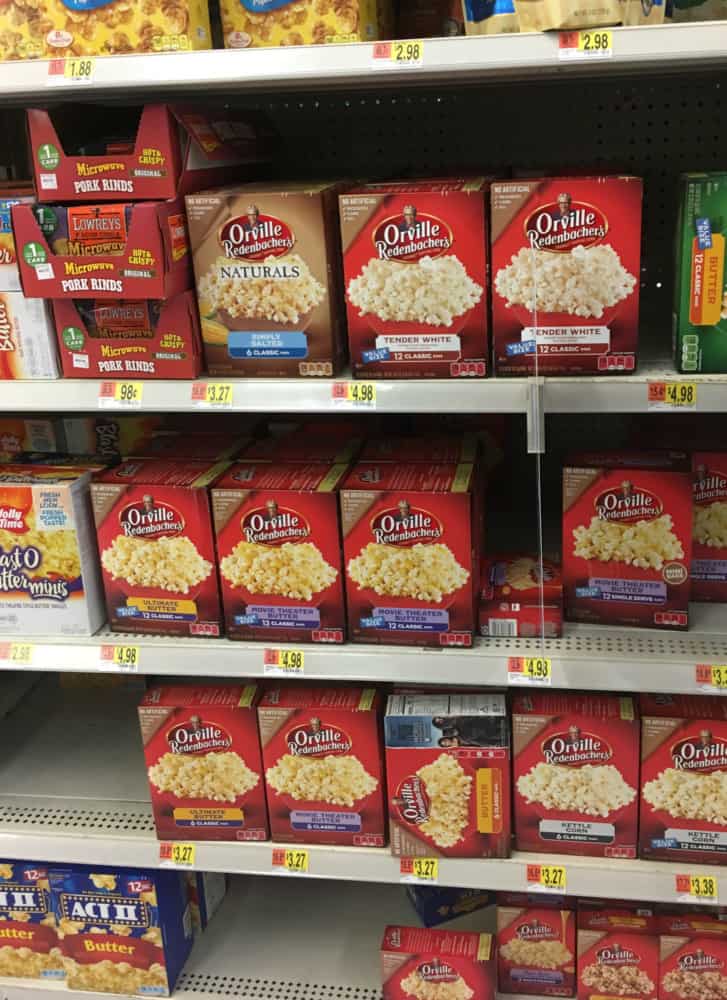 I also picked up Kid Cuisine All Star Chicken Breast Nugget Meal for an easy movie night meal for the kids.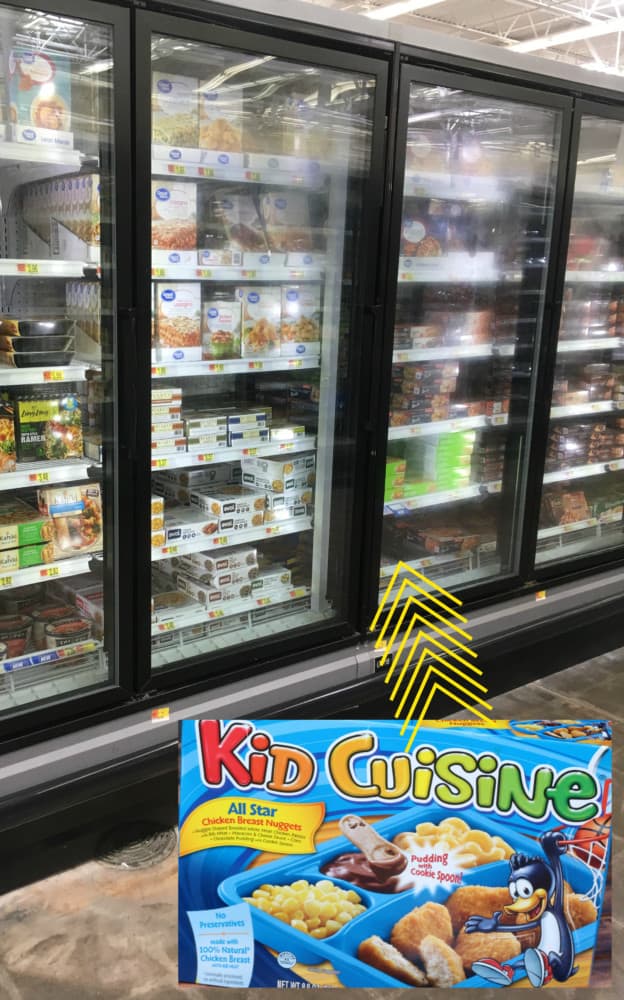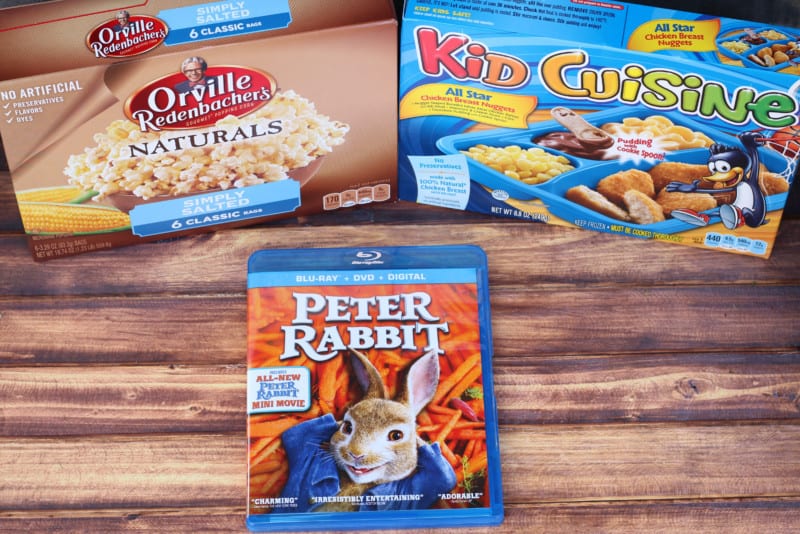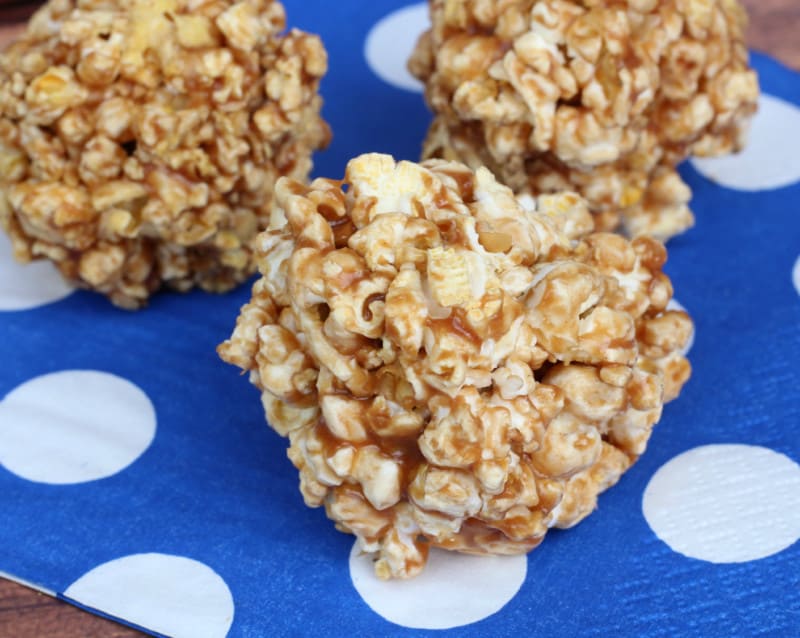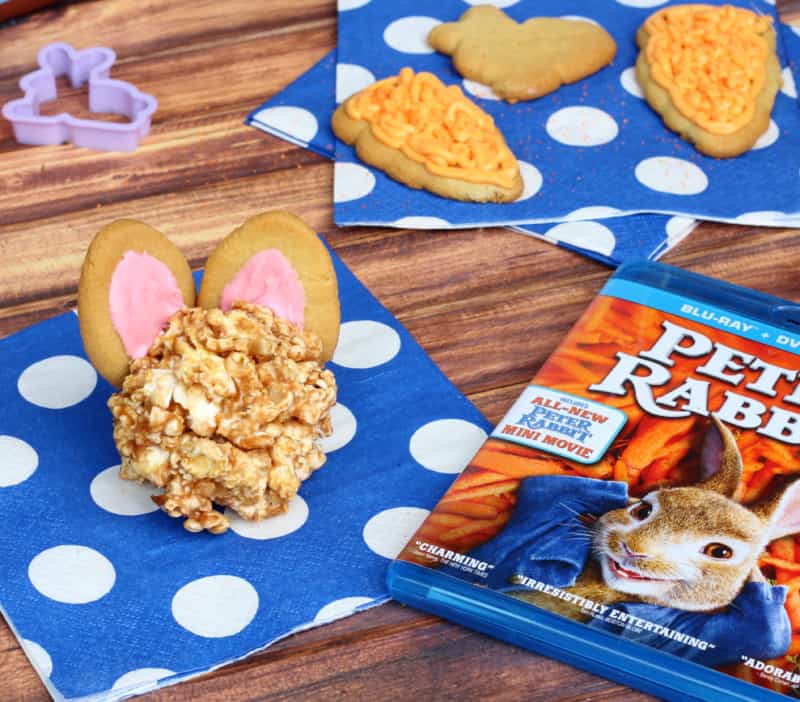 Peanut Butter Honey Popcorn Balls
I popped two bags of Orville Redenbacher popcorn and made some adorable cookie ears for the kids to decorate their peanut butter honey popcorn balls when they were all ready. This could be a before movie activity or when you need to take an intermission!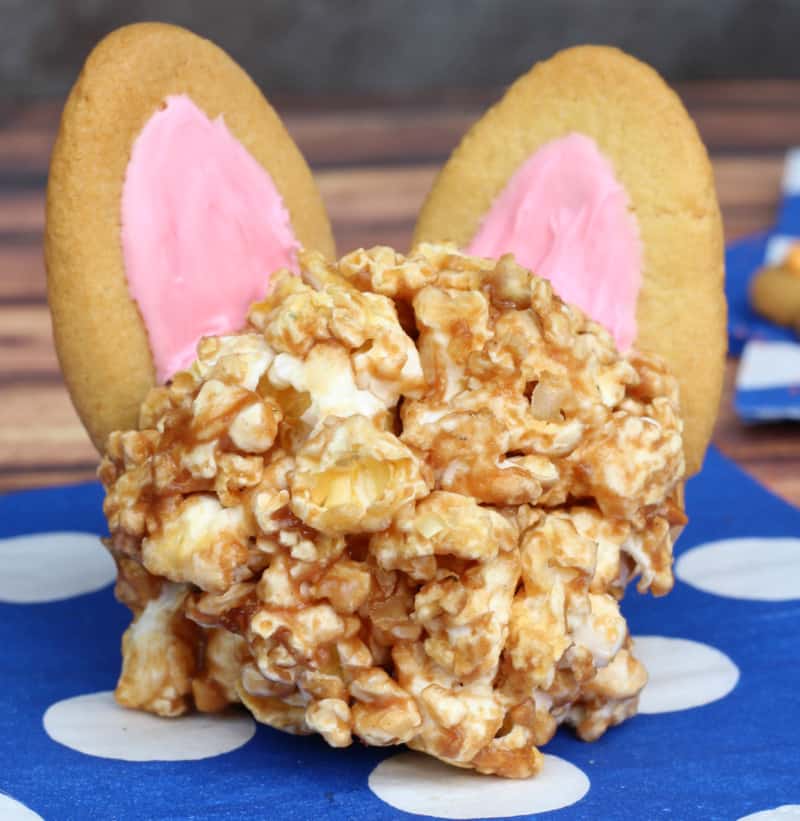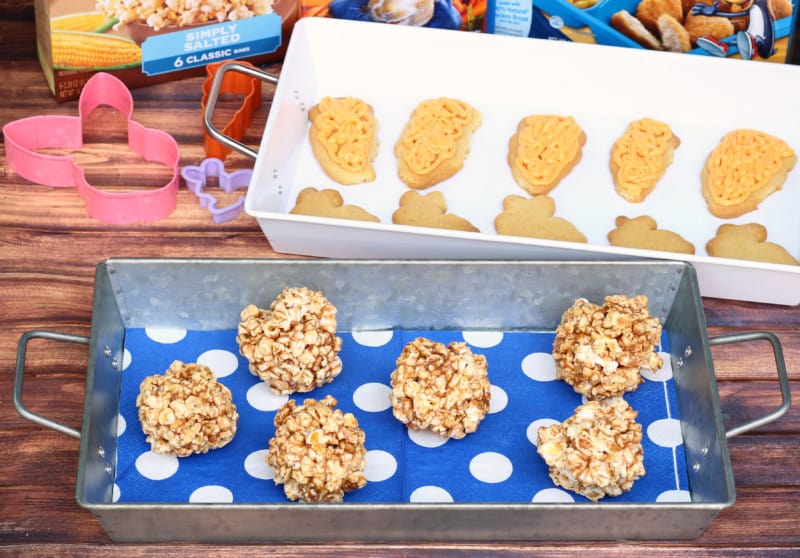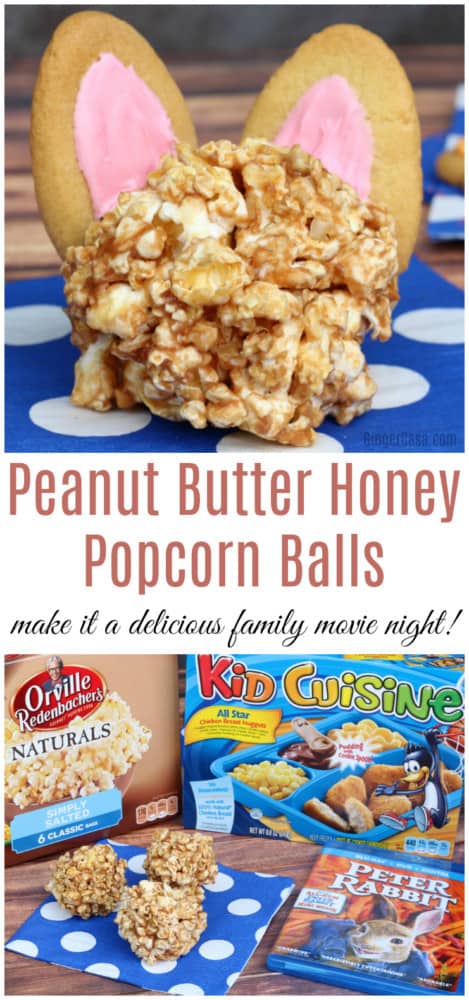 Peanut Butter Honey Popcorn Balls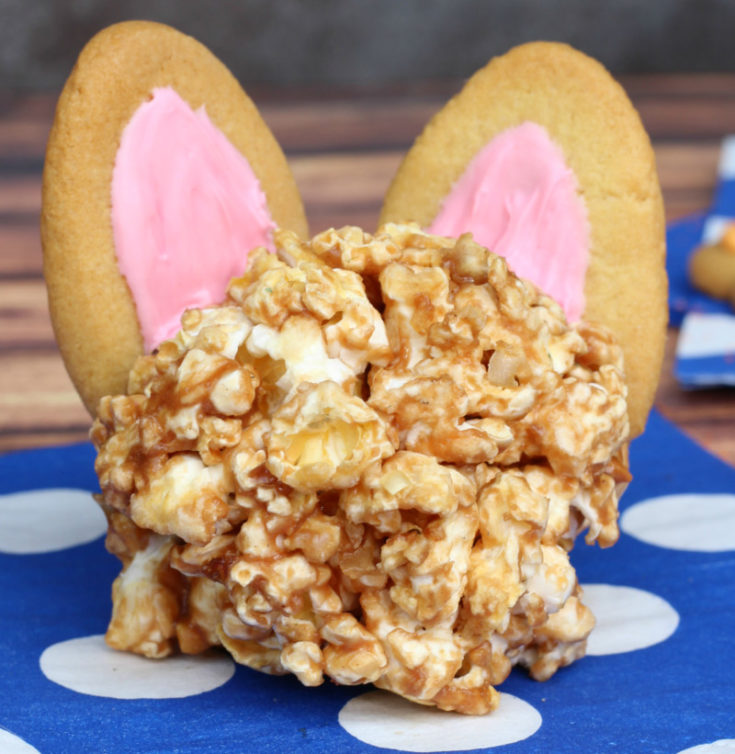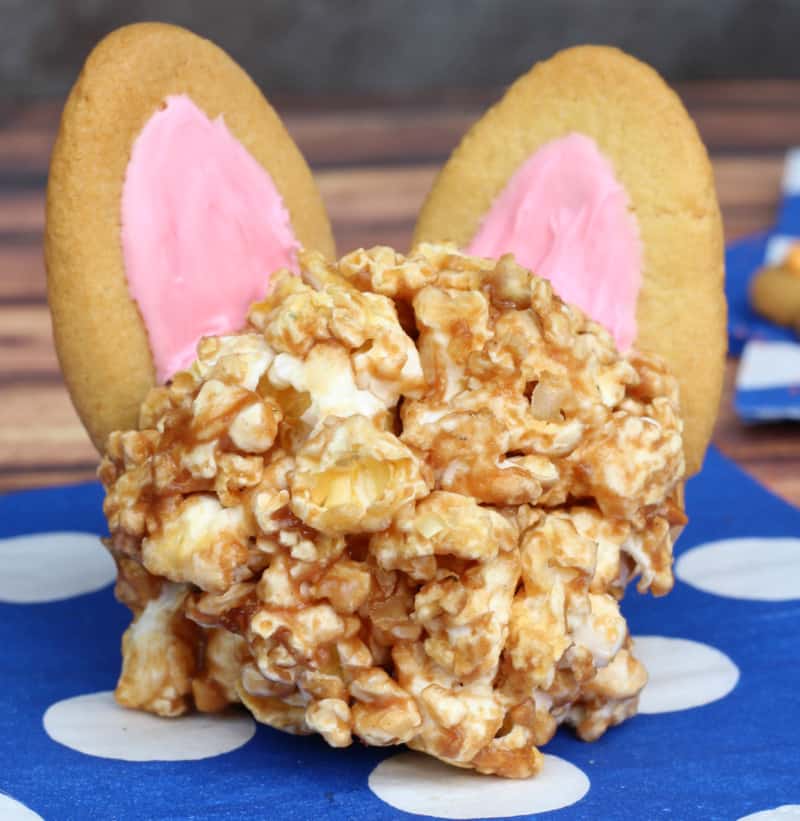 Make peanut butter honey popcorn balls for Easter or as a Spring snack!
Ingredients
2 bags Orville Redenbacher popcorn
1/2 cup honey
1/2 cup peanut butter
1 TBSP water
1 TBSP cocoa (optional)
Cookie Ears (optional)
sugar cookie dough
icing
red food coloring
Instructions
Pop two bags of popcorn, one bag at a time
Place a sheet of parchment paper on a cookie sheet.
Fill a small bowl with ice water.
Place peanut butter in a small sauce pan and turn burner on medium heat.
Add 1 TBSP of water and cocoa (optional) and stir constantly.
Pour in honey and continue to stir constantly.
As soon as mixture starts to bubble, stir for about 20 seconds more and then, remove from heat.
Pour ONE bag of popped popcorn in a large bowl.
Pour honey and peanut butter mixture over popped popcorn and gently stir with a spatula.
Scrape the mixture off of the bottom to make sure everything is mixed well.
At this point, add in more popcorn, about a cup at a time, until all of the popcorn is covered in peanut butter and honey. You may not need to use all of the popcorn, but you don't want to waste the peanut butter mixture, so if you have some remaining, keep adding in the popcorn.
Dip your hands in the ice water and gently, but firmly form the popcorn mixture into balls, one at a time. Set each ball on parchment paper.
Dip hands back into ice water between each popcorn ball to make it easier to form each one.
Cookie Ears
Roll out sugar cookie dough and use rabbit cookie cutter to just cut ears out of the dough. According to package or recipe directions.
Let cookies cool, then ice the inside with pink to look like bunny ears.
When cookies and popcorn balls have cooled, use a dab of icing as "glue" to hold the ears onto the popcorn balls. Hold in place for a few seconds to secure.