This mini layered chocolates shop has been compensated by Collective Bias, Inc. and its advertiser. All opinions are mine alone. #TasteTheSeason #CollectiveBias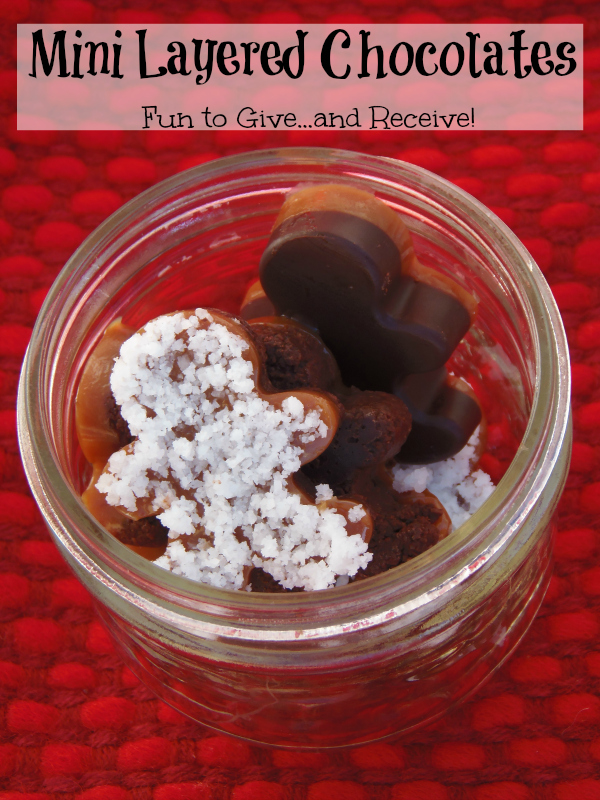 Every Christmas, I like to give homemade gifts to neighbors, teachers, and friends. I do not like to give the traditional gifts like fruit cake and dipped pretzels, although they are delicious. I just don't want to risk giving something that they have already received. I personally love bite sized mini foods, so I thought about making these yummy mini layered chocolates for gifts this year. I really had a blast making them, as you can individualize each piece and make them all different. Plus, it is a great way to save money when you need to buy gifts for a lot of people and homemade gifts are always enjoyed!
I was able to pick up all the ingredients that I needed at Walmart on a quick shopping trip. Everything that I needed was in the baking aisle or on the special holiday endcap.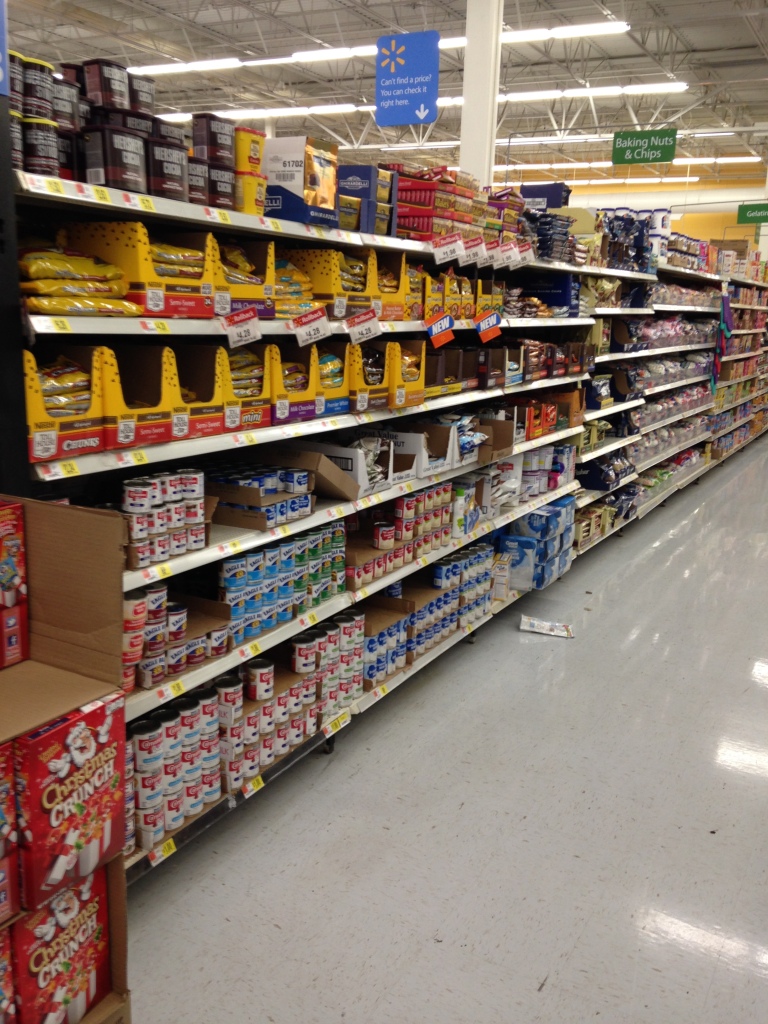 The ingredients I needed for the chocolate candy were Baker's semi-sweet and German's baking chocolate, Baker's angel flake sweetened coconut, Kraft caramel bits, pretzel sticks, sugar, and I already had the silicon baking mold with the gingerbread men at home.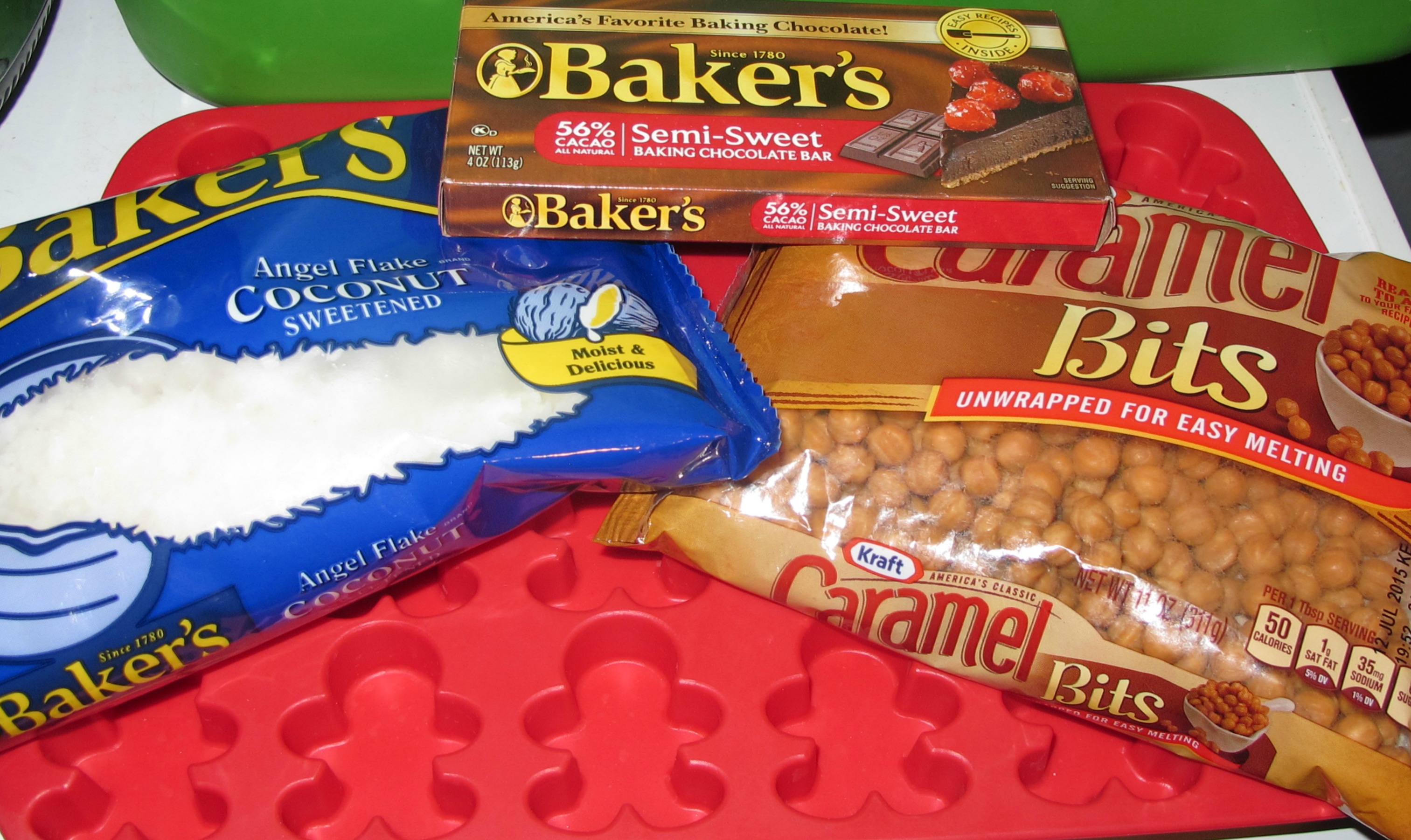 I wanted to make the coconut more of a "butter" so I put it in the food processor for about five minutes until it had a smoother consistency.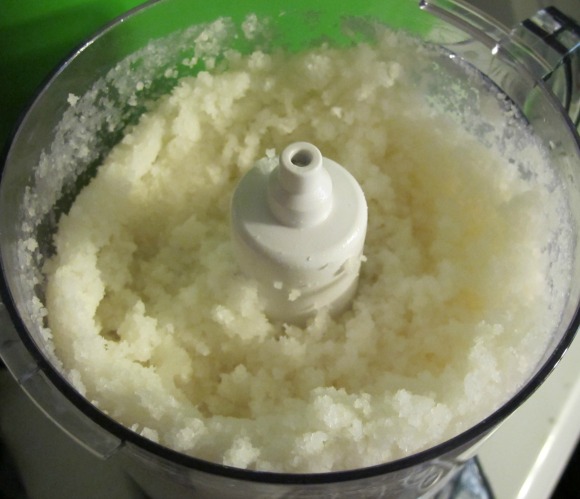 Then, I followed the directions on the Baker's baking chocolate for melting it in the microwave. I melted 1 1/2 bars (not squares, but entire bars) of semi-sweet baking chocolate and stirred, then added 1/3 cup of the coconut that I had pureed in the food processor, along with 1/4 cup of sugar and mixed well. This mix was brownie-ish and oh so yummy! I spooned about 1/2 – 1 tsp of the mix in each mold and pressed it down. To harden it a bit, I popped it in the fridge for about 20 minutes.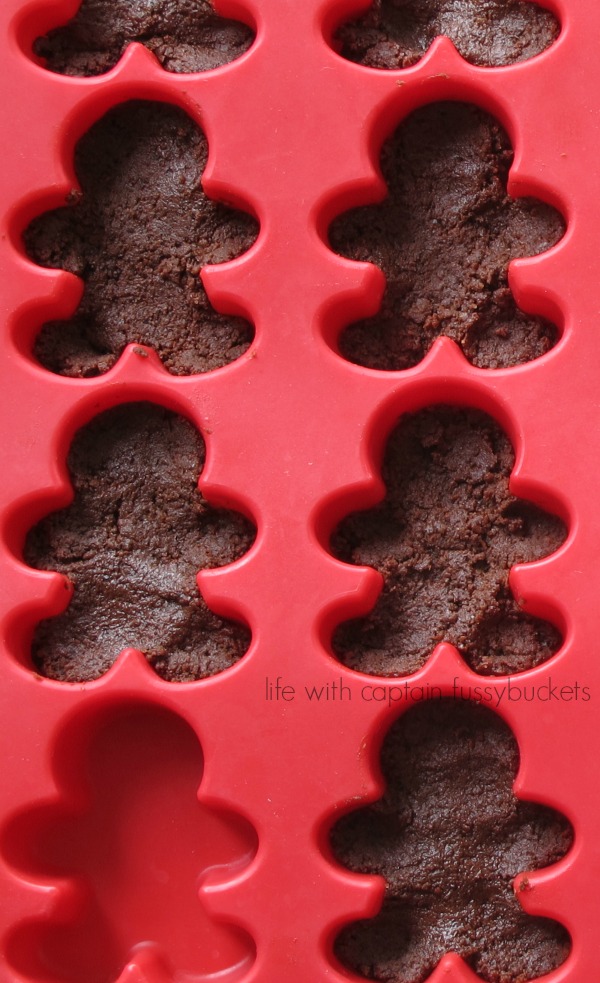 After that, I melted some Baker's German's sweet chocolate bar and also the caramel bits and just played around with making different layers in the gingerbread boy molds. I even made some that were just sweet chocolate and caramel, which were definitely the smoothest mini layered chocolates and the Captain's favorites.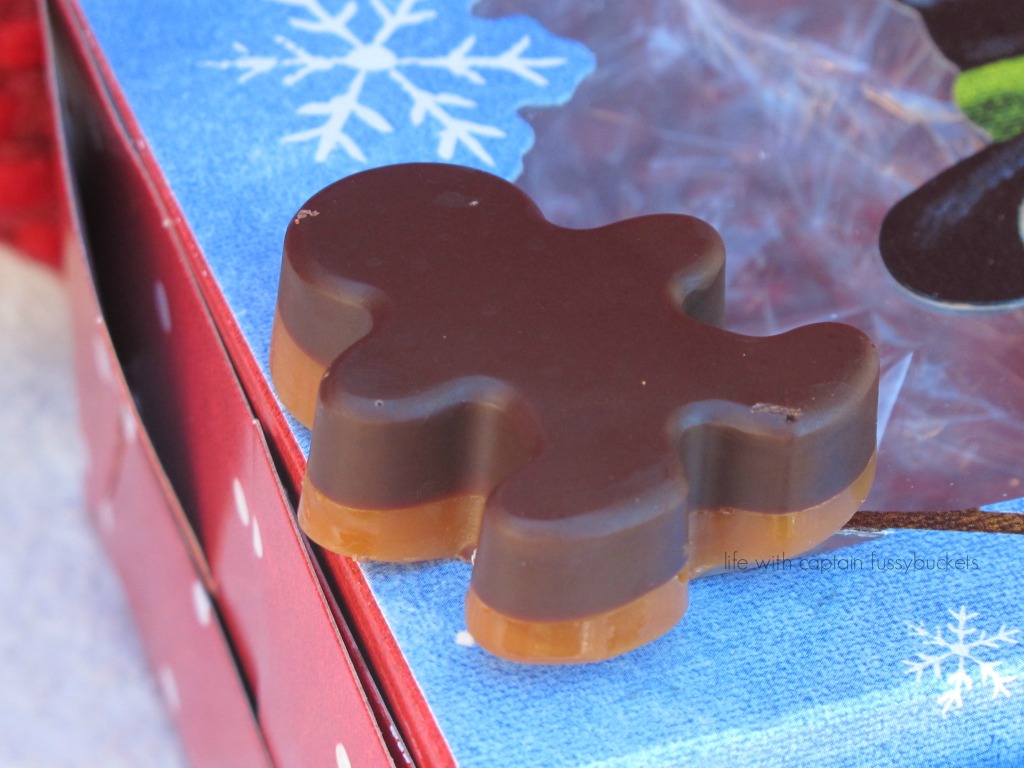 I love the variety of the little gingerbread men layered chocolates. The Captain has a tree nut allergy, or else I would have put some nuts in there, too. I did make a few with pretzel sticks and those were my absolute favorites.
It was very simple to pop about 5-6 mini layered chocolates in a small Mason jar for a gift!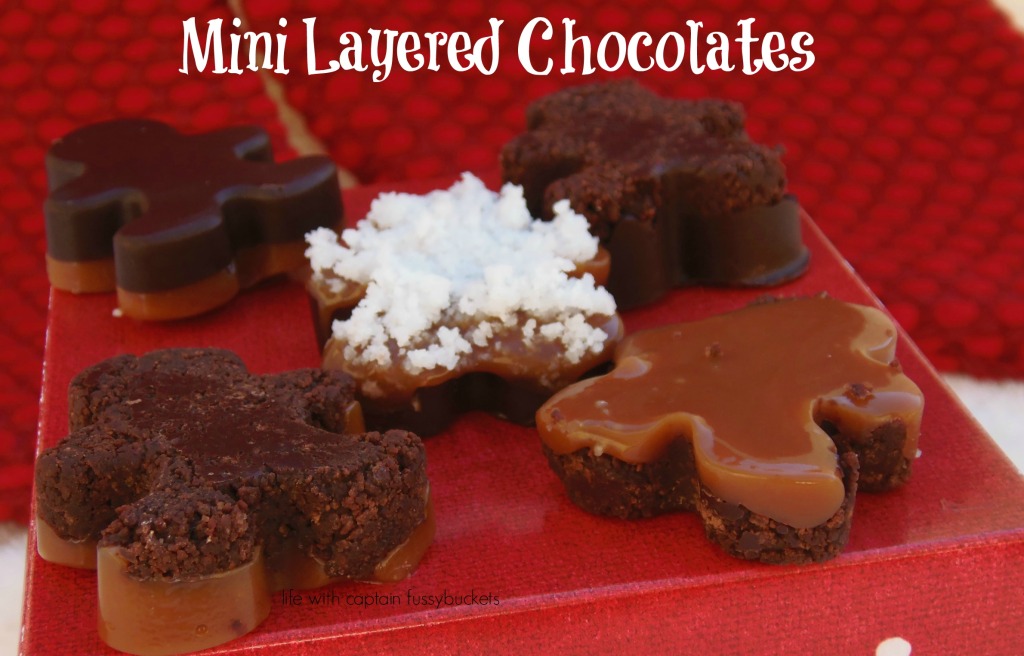 Ingredients and Supplies needed:
Baker's semi-sweet baking chocolate, 2 bars

Baker's German's sweet baking chocolate, 1 bar

Baker's angel flake sweetened coconut

1/4 cup sugar

pretzels, nuts, cranberries, and any other add-ins you would like! (optional)

silicone molds of choice

small mason jars and/or treat boxes for packaging gifts
Directions:
Pour a half of a bag of Baker's angel flake sweetened coconut into the food processor and run for 5-10 minutes, stopping and stirring every minute or so, until a smoother texture is achieved.

Melt 1 1/2 whole bars of Baker's semi-sweet chocolate in a microwave safe bowl according to package directions. (Check and stir every 30 seconds until melted.)

Mix coconut "butter" and melted chocolate in a bowl, along with 1/4 cup of sugar until well combined.

When cooled, press 1/2 – 1 tsp of mixture into bottom of silicon molds.

Place molds in refrigerator for about 20 minutes to harden and set.

Then, add in a layer of crushed pretzels, nuts, cranberries, etc to various molds for variety.

Melt Baker's German's chocolate bar in the microwave, checking and stirring every 30 seconds.

Pour chocolate into various molds.

Melt Kraft caramel bits (watch closely!) and pour in various molds, as well.

If you want to make a layer of German's sweet chocolate on top of the caramel, make sure to refrigerate for 10-20 minutes to firm up before adding in the last layer.

When all molds are filled, refrigerate for an additional 30 minutes and then pop them out and into your mason jars or treat boxes.

Deliver to your recipients and watch their smiles erupt!
Note: You probably need to advice your recipients to keep the chocolates cool so they won't melt. You shouldn't need to keep them in the fridge, but that may not be a bad idea. Also, make sure to note any allergies (dairy, coconut, nuts, etc).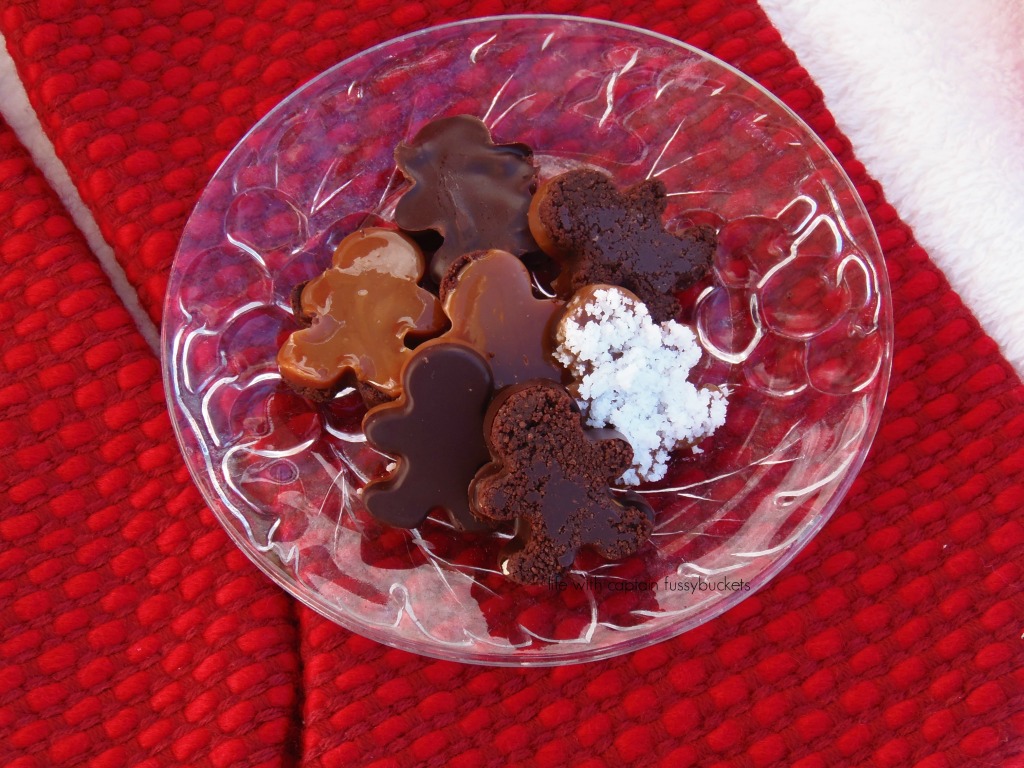 What is your go to holiday treat that you enjoy making for gifts?
If you need more inspiration, visit the Cooking Up Good website. It has recipes, sweepstakes, loyalty programs, coupons and more! What's not to love? If you're looking for a new dinner idea or a chance to win some awesome prizes, be sure to check it out!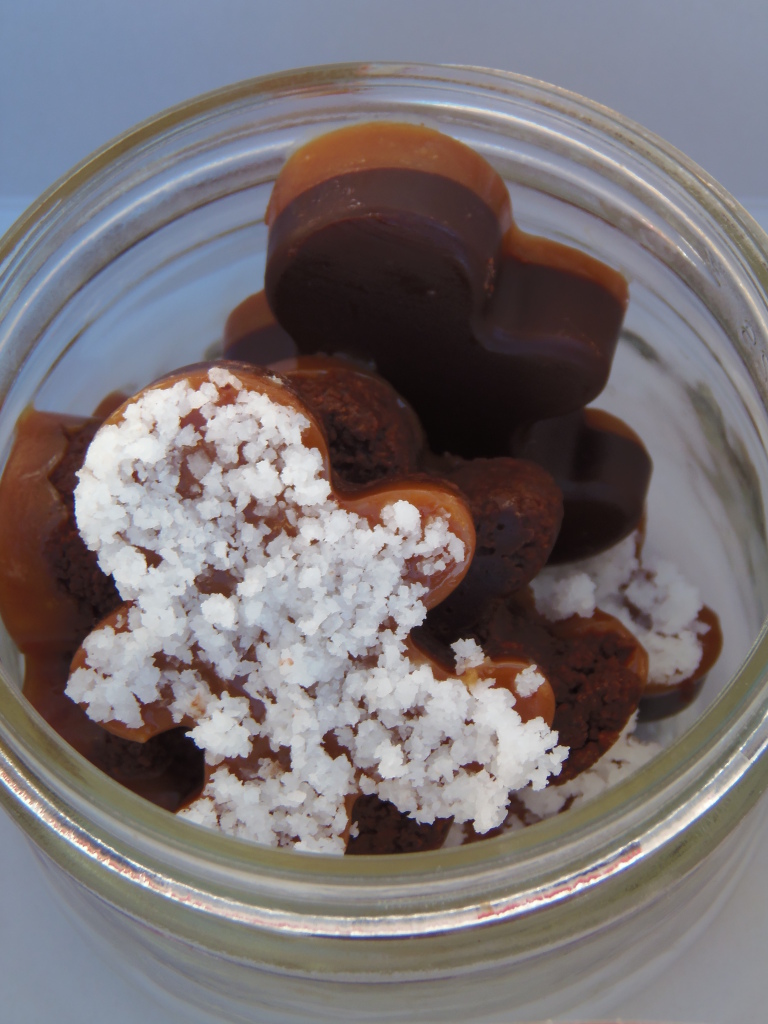 The following two tabs change content below.
Gena and her husband live in the Dallas/ Ft. Worth, Texas area with their three sons. She is a former kindergarten teacher turned stay-at-home mom, blogger, and social media enthusiast. They love being outside, playing sports, raising chickens, cooking, crafting, and more!