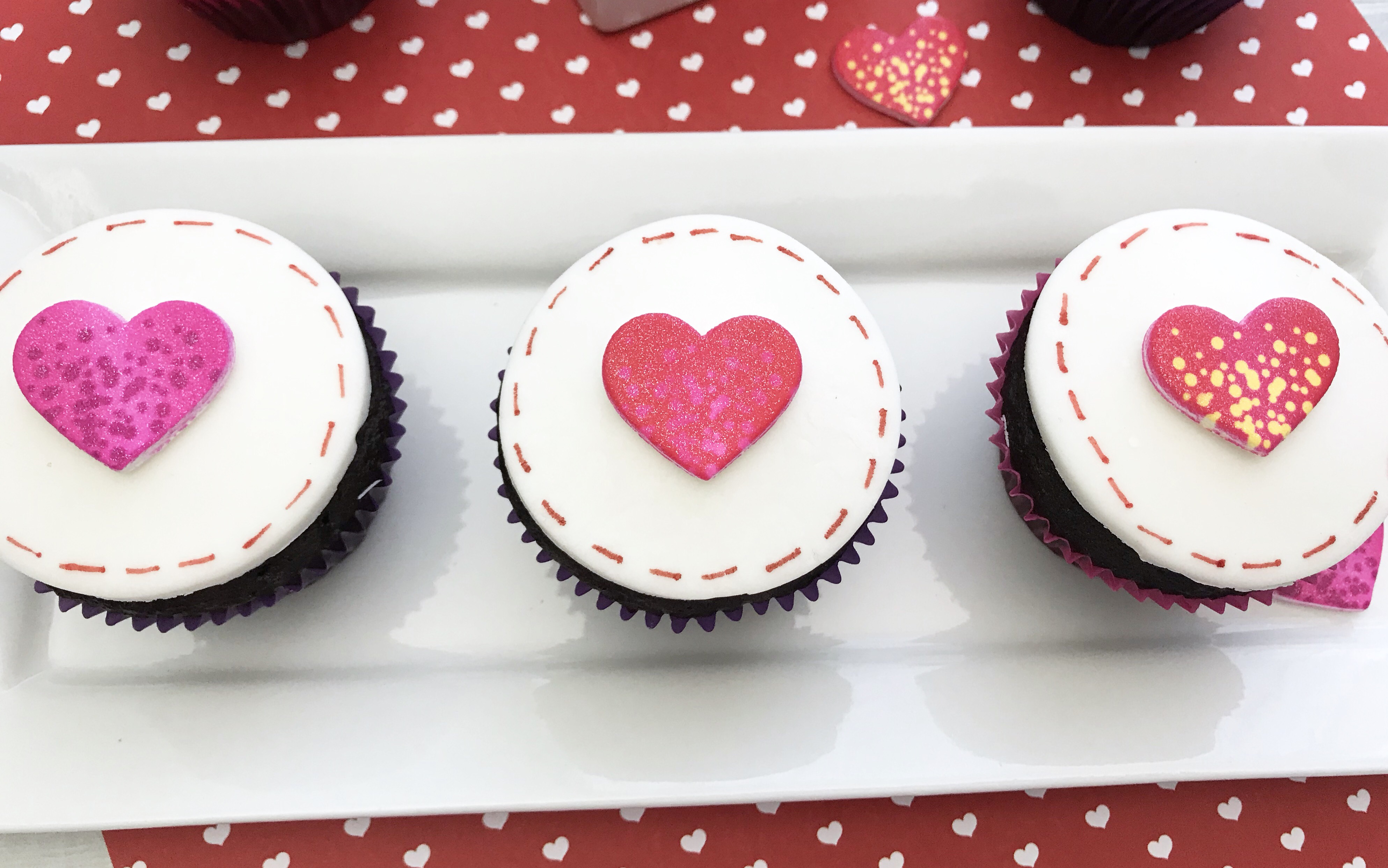 So the time has come and you are asked to bring Valentine's Day cupcakes to your child's class party or event. Maybe you tried to sign up for plates and napkins, but you were too late. (ha!) So what do you do when you want a cute, easy cupcake recipe for Valentine's Day? This is it!
These cupcakes whip up pretty quickly and they can be made with little ones for a little bonding time with the kids.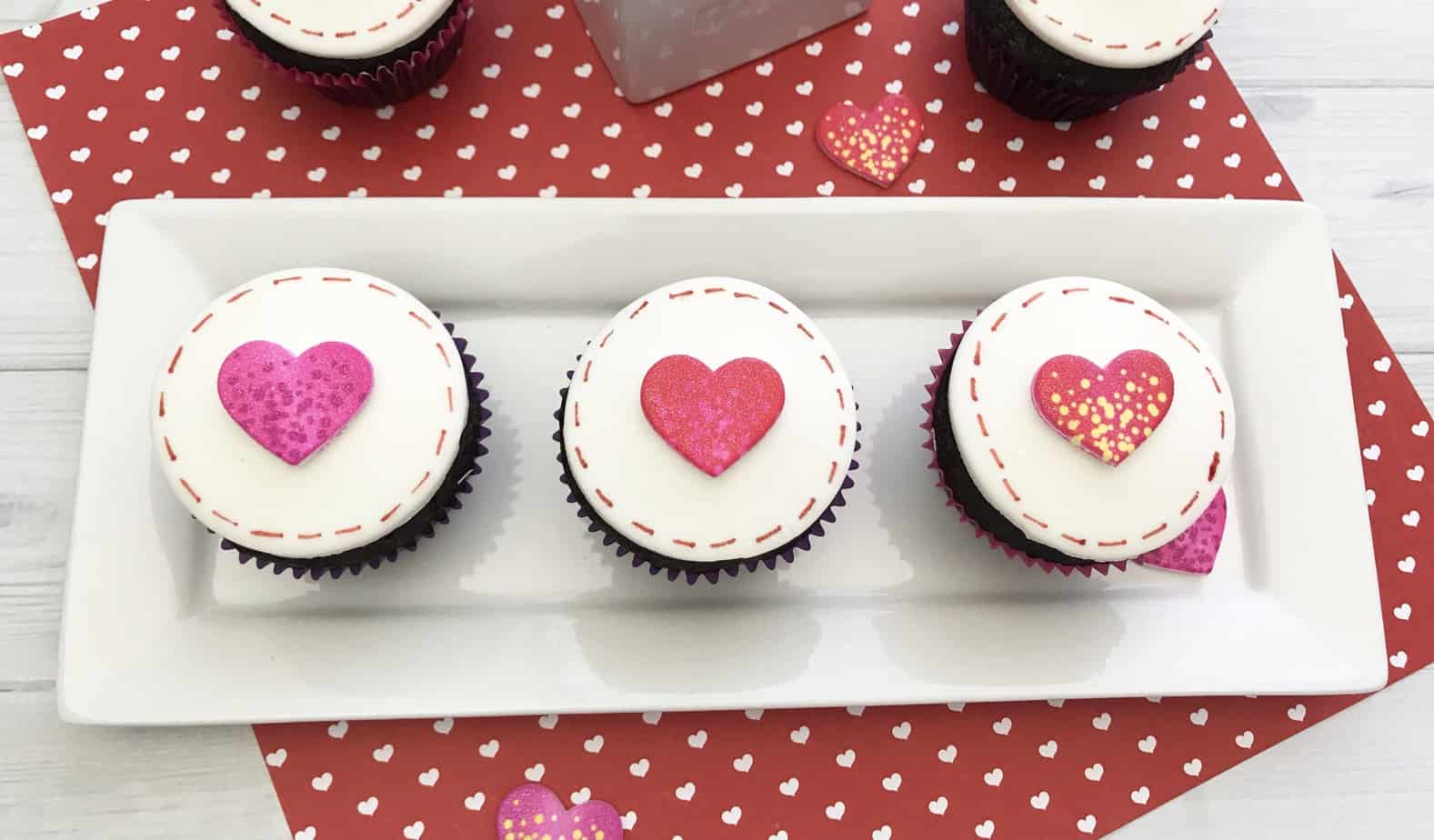 You can go all out and add each child's name to the fondant or stick with the heart and "stitching," but whatever you decide, these heart cupcakes will definitely be the hit of the party! If you are the room mom, these cupcakes plus these kid-friendly Valentine's Day activities will make the party complete.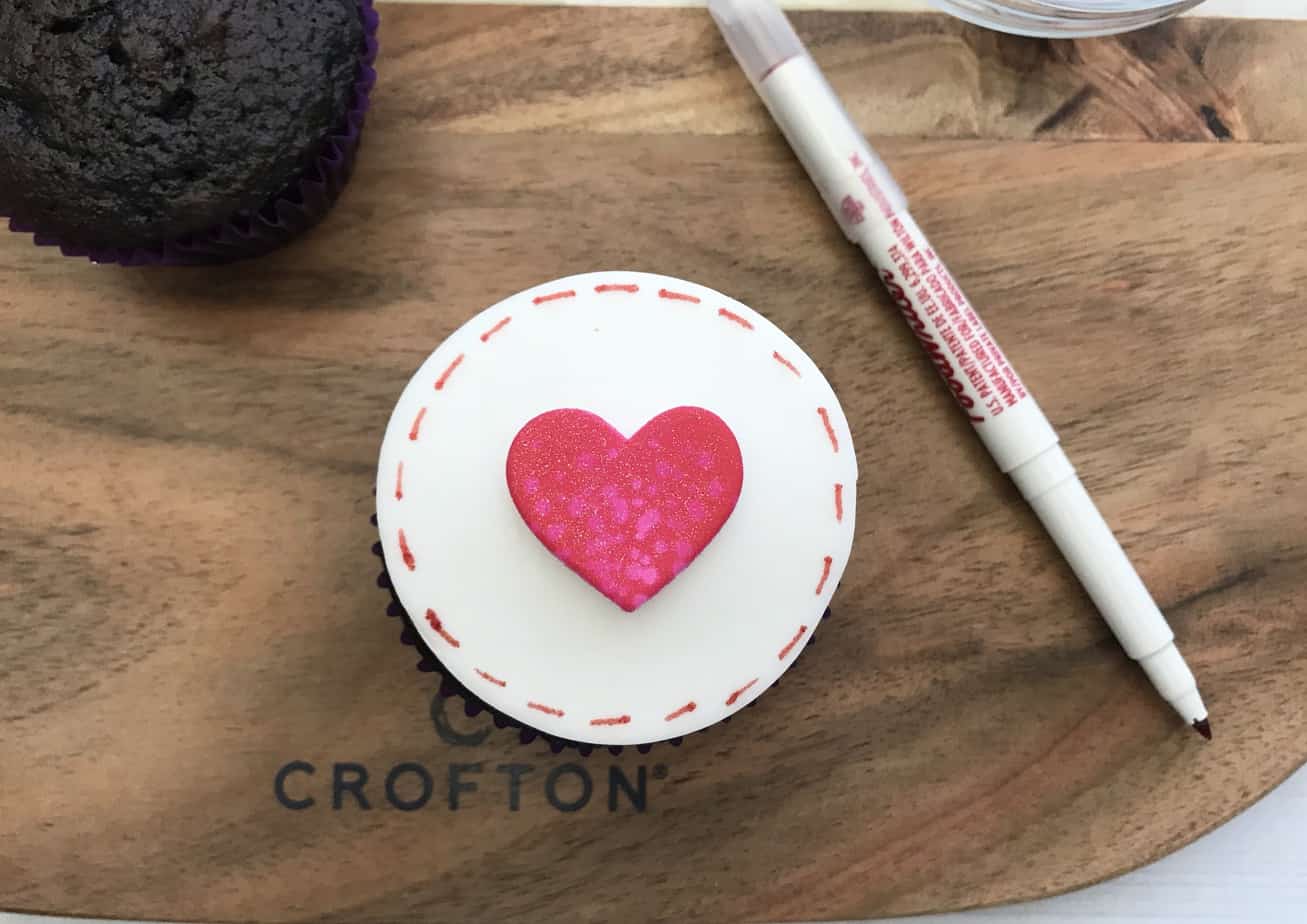 The Wilton fondant, markers, and cutter all make this baking project a breeze! Add on some cute candy hearts and they're done!
Cutting the fondant is super easy, and this is where the kids can help!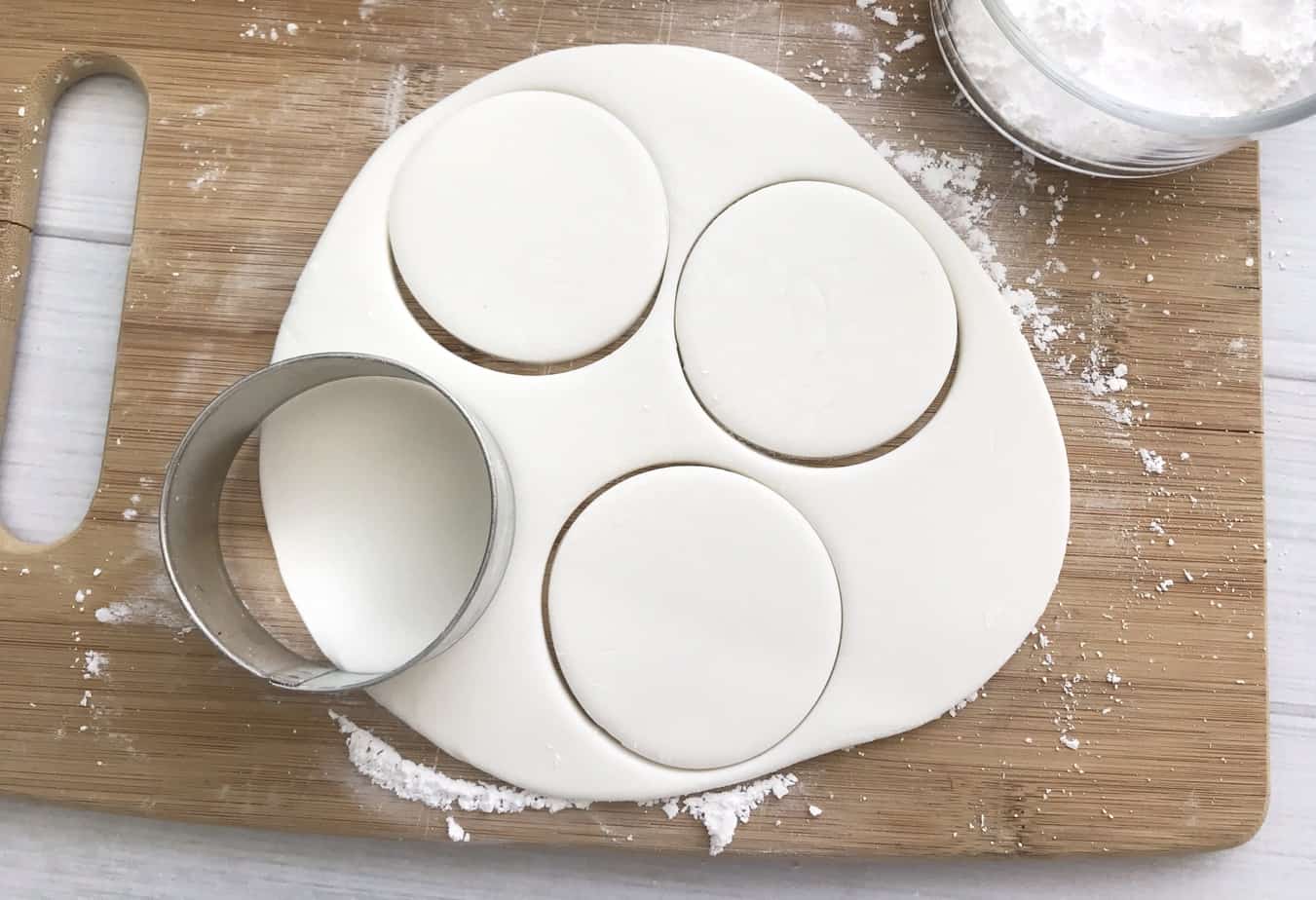 Scroll down for complete recipe.
The simple chocolate cupcake recipe is quick to make. You can even premake a batch of cupcakes and store them in the freezer or refrigerator if you want to bake one day and decorate the next day!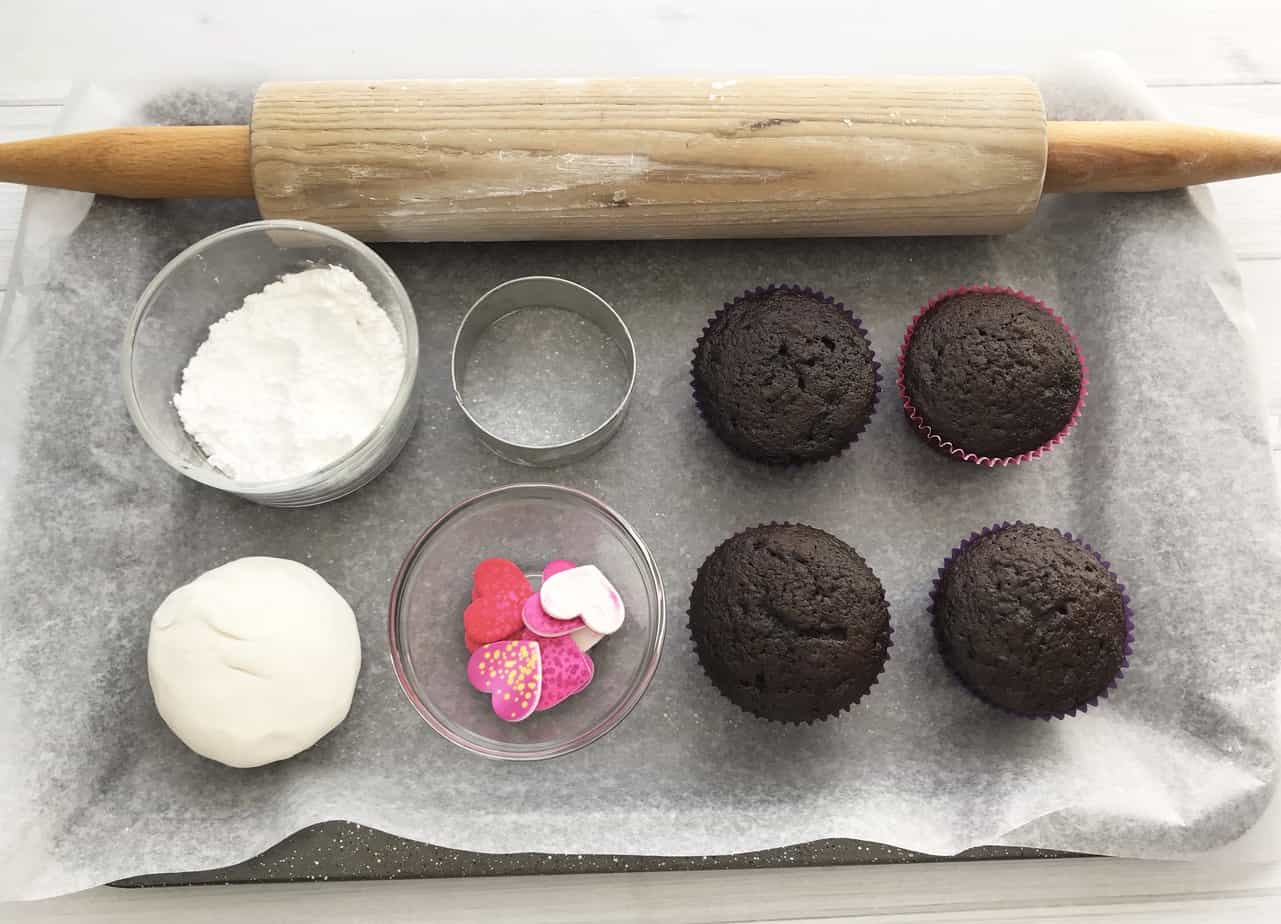 What I love the most about fondant is that it's not super messy, but still tastes delicious and looks fancy!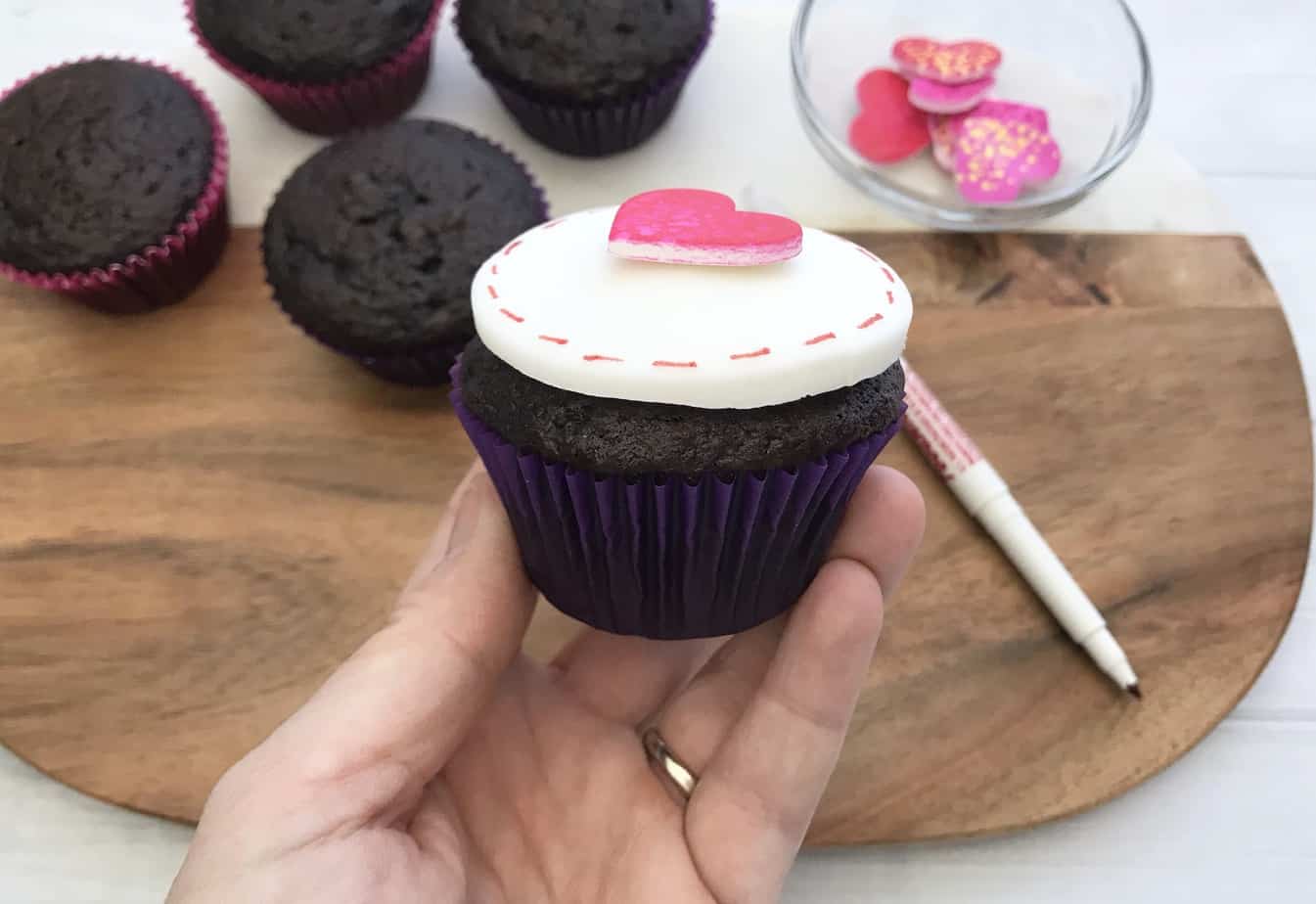 You can add just about any heart candy that you can find, or you could make your own with heart cutters and colored fondant. And if hearts aren't your thing, you could sub out letters or animals, if you are looking for something for a different theme other than Valentine's Day cupcakes.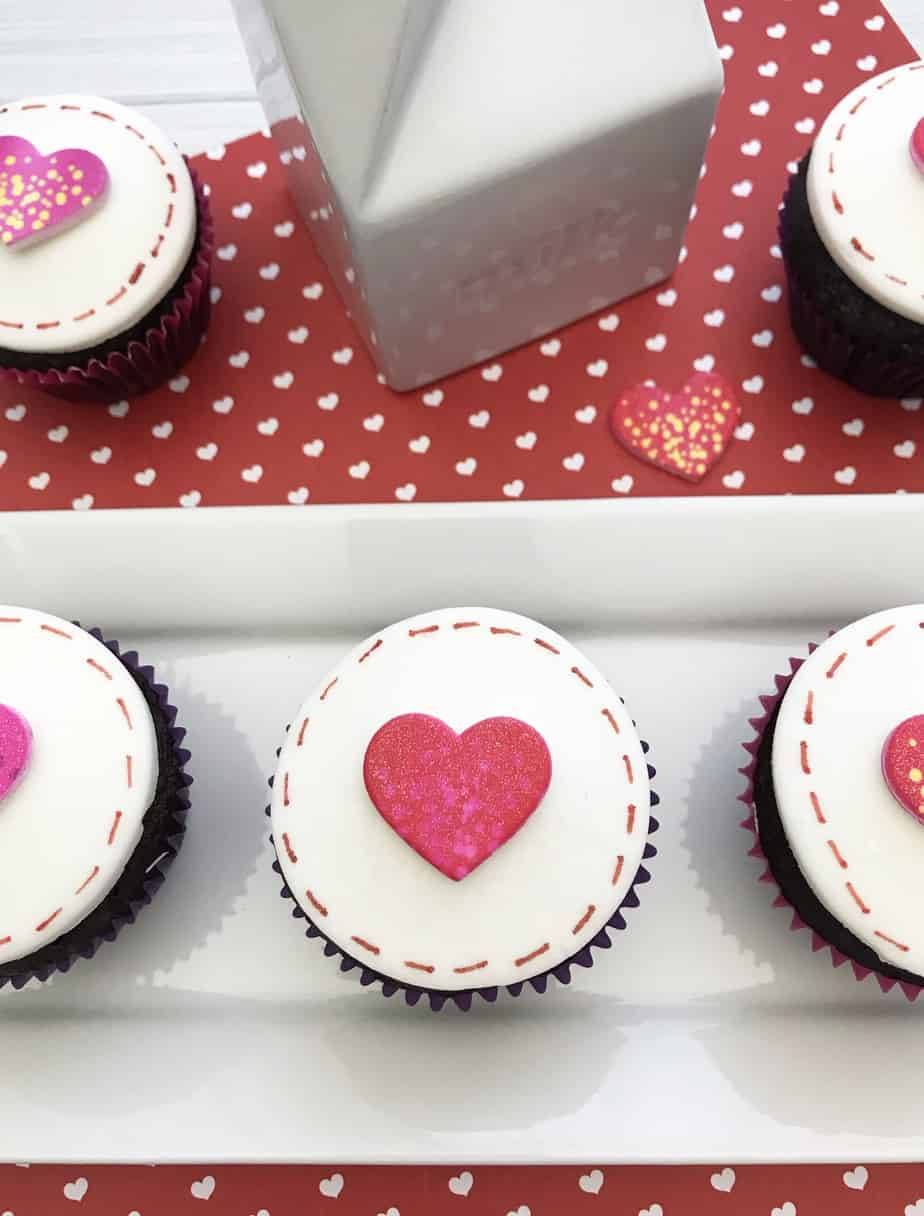 Where will you take these adorable Valentine's Cupcakes this year?
Love Stitch Valentine's Day Cupcakes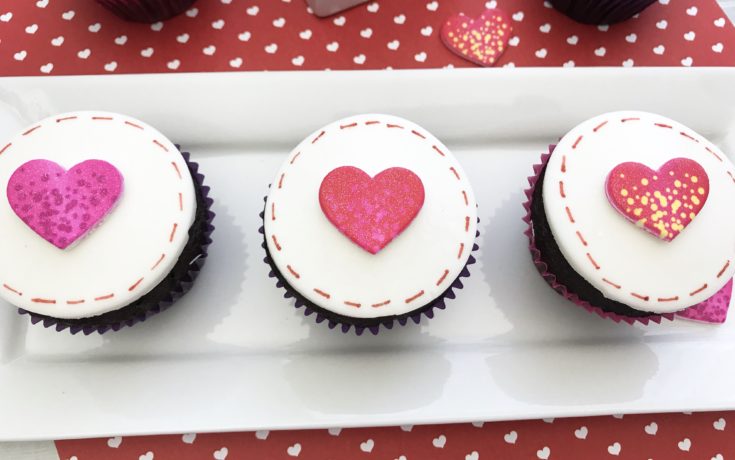 Ingredients
1 1/2 cups granulated sugar
1 1/3 cups all-purpose flour
3/4 cups unsweetened cocoa powder
2 tsp baking powder
1/2 tsp baking soda
3 tbsp butter, melted
2 eggs
1 tsp vanilla extract
1 cup milk
white frosting, any brand
white fondant
Wilton red edible food marker
24 candy hearts
24 cupcake liners
2.75" round cookie/biscuit cutter
rolling pin
powdered sugar
toothpicks
Instructions
Preheat the oven to 350 degrees and line (2) 12 count cupcake tins with cupcake liners.
Combine the flour, baking soda, baking powder and cocoa powder and set aside.
Combine the sugar, eggs, milk, vanilla extract and melted butter.
Slowly fold in the dry ingredients.
Fill each cupcake liner about 2/3 full with cupcake batter.
Bake 16-18 minutes.
Insert a toothpick into the cupcakes around 16-17 minutes, if it comes out clean the cupcakes are done. Remove from the oven and let cool.
Line a baking sheet with parchment or wax paper.
Gently knead the white fondant until pliable. Take a small handful at a time and gently roll out to 1/4" thick using the rolling pin. If the fondant gets sticky, use the powdered sugar on your rolling pin and surface.
Once the fondant is rolled to about 1/4" use the round cookie cutter to cut the fondant into small circles.
Set the fondant circles on the baking sheet for 30-60 minutes to set.
After the fondant hardens a bit use the red edible food marker to make small dashes all the way around the fondant circle.
Spread a small amount of white frosting on the back of the fondant circle and place on top of the cupcake.
Use a toothpick to put a small amount of frosting on the back of a candy heart and affix to the top of the cupcakes.
Repeat with all cupcakes.
Recommended Products
As an Amazon Associate and member of other affiliate programs, I earn from qualifying purchases.