Okay, okay, I KNOW…football season is officially over. The Super Bowl happened and so now we need to move on to other sports. When my 3rd grade son brought home a paper that said that he needed to make a valentine box for their Valentine's Day party, I knew exactly what my sports loving son would love to do. And honestly, getting kids excited about their projects is half of the battle. I figured out long ago that if you give kids a choice and let them choose what they want and they are interested in it, actually completing the project will be easier!
For two years, he used a box that I had wrapped in sports wrapping paper and cut a slit in the top. I am pretty sure his little brother used it one year, too. It was simple and easy and the boy weren't bothered by the elaborate, parent made boxes that their friends were bringing. But this year, I threw out this idea of making a football field valentine box and let him go to town with it! I was there to help him, but he and I both didn't want me completing the project and he is proud of what he created!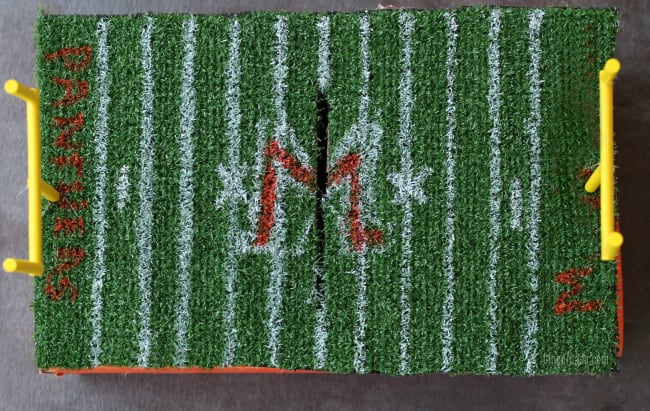 I remembered seeing a post from Julie Measures about making astro turf football coasters, so I went to see how she did it. I went to Lowe's to see if I could locate the right materials and a nice worker helped me locate the huge roll of grass mat/flooring that he had to cut to size. All in all, I spent a little over $5 and got a pretty good sized roll for many projects to come! If you don't have a store nearby that sells it, Amazon has a few options to check out.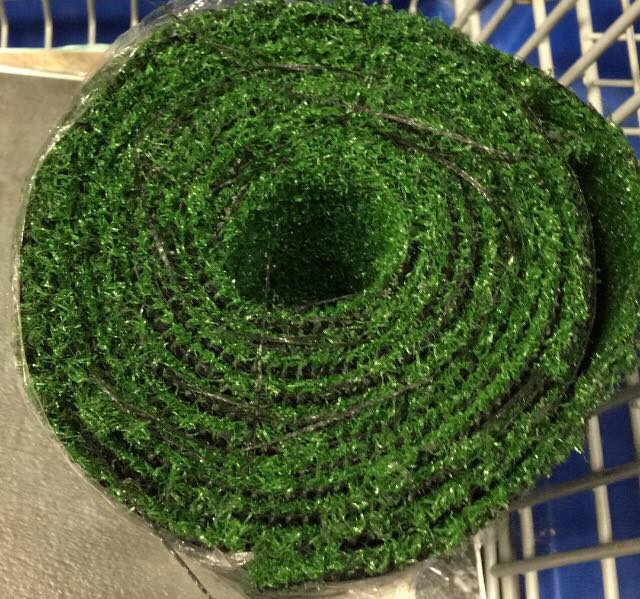 Football Field Valentine Box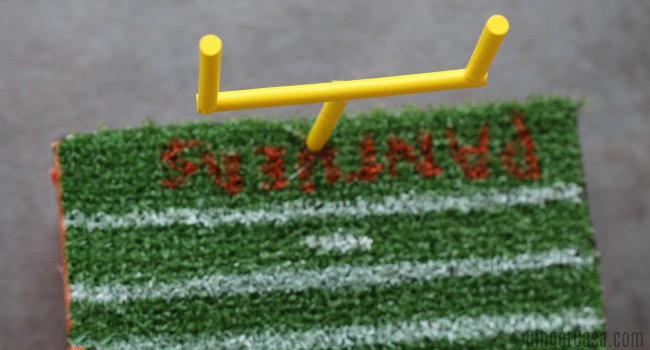 You can definitely extend this project with LEGO football players or printed football players glued onto toothpicks and a small football, but for this valentines day box project, this was all that we needed!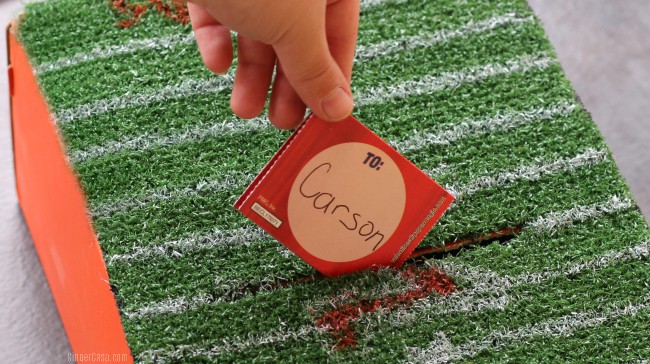 Football Field Valentine Box - Quick Project For Kids!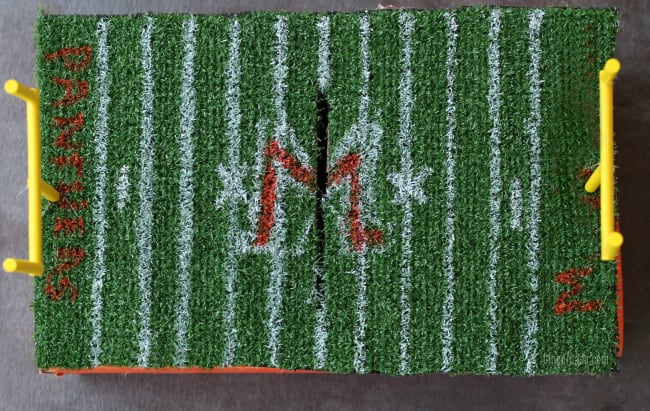 Make this fun football field valentine box with the sports fan in your life!
Materials
shoebox
grass mat
scissors
hot glue
chalk markers
wooden pegs
Instructions


Place your grass mat face down and place the lid of your shoebox down on top.
Using a piece of chalk or chalk maker, trace around the lid.
Carefully cut on the line to have your precise football field made out of "astro turf!"
Next, cut a slit into the top of the lid (before gluing your grass on top!)
Turn the lid over set it on top of the black part of the grass. Through the slit, draw with chalk marker.
Place the piece of grass on top of a cutting board and carefully (adults only!) with a knife, cut the slit out of the grass mat.
Line up the slit carefully and hot glue the grass mat on top of your shoebox.
When glue has dried and grass mat is secured on top, use a ruler to measure out evenly spaced yard markers. Our chalk marker marked very thick, so we decided to only mark 10 yard lines. I did have the forethought that we should start with the valentine slit as the middle yard line.My son also added in a few other football field marks on it, as well as a "M" for our school.
Lastly, we used 6 yellow wooden rods from a craft kit we had on hand. They were each about 2" long, so we used a knife to cut into the grass mat and box, squeezed a little hot glue into the hole, and put a wooden rod down into the hole.
Hubby cut two rods in half and while he was doing that, we glued another rod on top of the rod we had stuck into the football field. The two cut rods we used to make the two ends of the goal posts.
What kind of valentines box are you making this year?
Don't miss these fun ideas:
SaveSaveSaveSave
SaveSaveSaveSave
SaveSave
SaveSave
SaveSave
SaveSave
SaveSaveSaveSave
SaveSaveSaveSave