Chocolate and peanut butter are what dreams are made of. I know Nutella is all the rage, but *gasp*…I do not like Nutella. At all. It has a weird after taste and it's just not good to me. A chocolate peanut butter spread though…..wow. Perfection. There are many of these wonderful blends around, some fluffy, some more thick, but they're all divine, I tell you! I used this divine mixture in my latest recipe….Chocolate Peanut Butter Cheesecake.
This no-bake recipe seems a lot more complex that it was, and the beauty of it is that you can change it up however you like. If you must use a hazelnut spread…go ahead. If you want to use cookies instead of pretzels….that would taste amazing, too. It's up to you!
Oh! Since chocolate pies are a bit deceiving, I definitely wanted to add in a clue on top to let people know that there was, in fact, peanut butter inside. That's why I topped it with peanut butter chips. Having two little ones with food allergies, those little hints sure help!
Enjoy!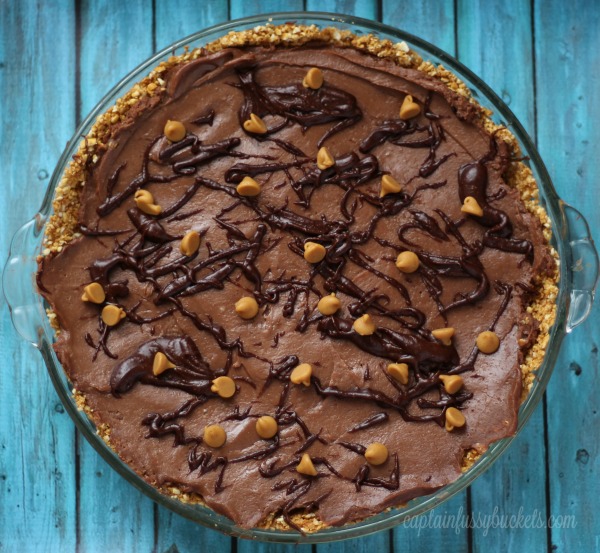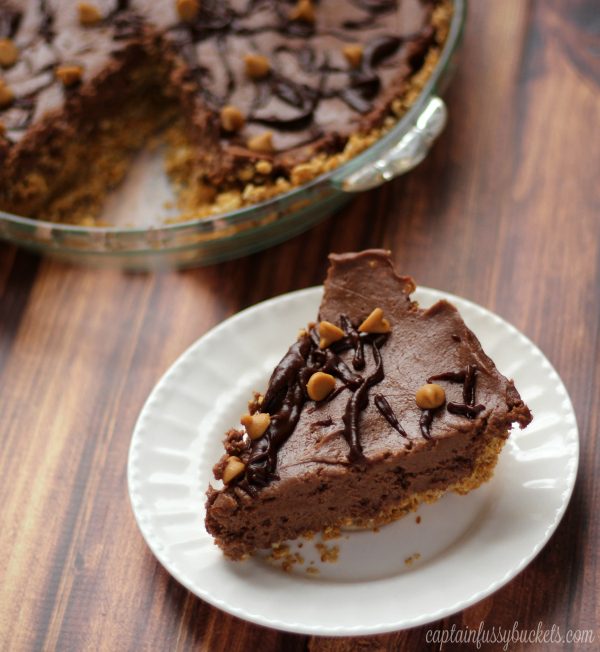 Chocolate Peanut Butter Cheesecake - No Bake, Easy to Make Dessert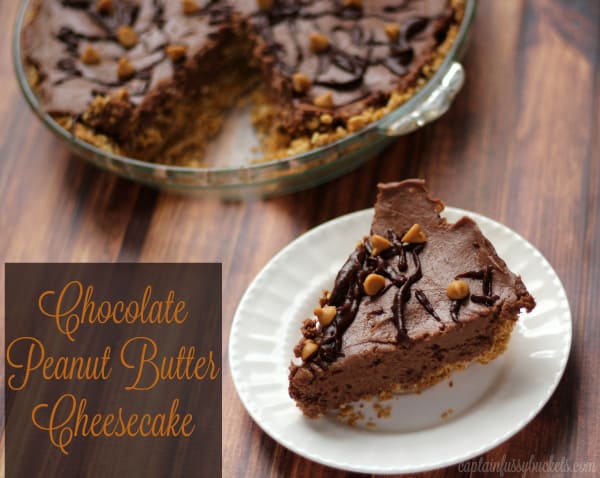 Chocolate Peanut Butter Cheesecake - no bake, easy to make dessert
Ingredients
3/4 of a jar of peanut butter chocolate blend (I used Dark Chocolate Dreams from Peanut Butter & Co.)
1/2 cup granulated sugar
one 7-8 oz package of pretzels
one stick of butter, softened
two 8 oz packages of cream cheese, softened
bag of peanut butter chips
one tsp of vanilla
Instructions
Add pretzels, 6 TBSP (3/4 of the stick) softened butter, and 1/4 cup of peanut butter chips to a food processor.
Pulse ingredients until finely chopped. (It is okay to be a little chunky...it's your preference.)
Press into the bottom and sides of a 9 inch pie plate.
Refrigerate pie crust while you make the filling.
In a large mixing bowl, add in softened cream cheese, 3/4 jar of Dark Chocolate Dreams, 1/2 cup of sugar, remaining softened butter (2 TBSP or 1/4 of the stick), and vanilla.
Mix well until smooth.
Spread the mixture into the chilled pie crust. (It will be very thick, but If it is too thick, you can add melted butter or melted coconut oil, a 1/2 tsp at a time, until it is the consistency that you prefer.)
Melt about 1/8 cup of Dark Chocolate Dreams and drizzle it over the top, then add a few peanut butte chips on top.
Chill for at least 2 hours and serve.
If you love this pie, check out the rich chocolate cream pie with pretzel crust.