I received product and/or compensation for this post. Includes affiliate links. All opinions are mine.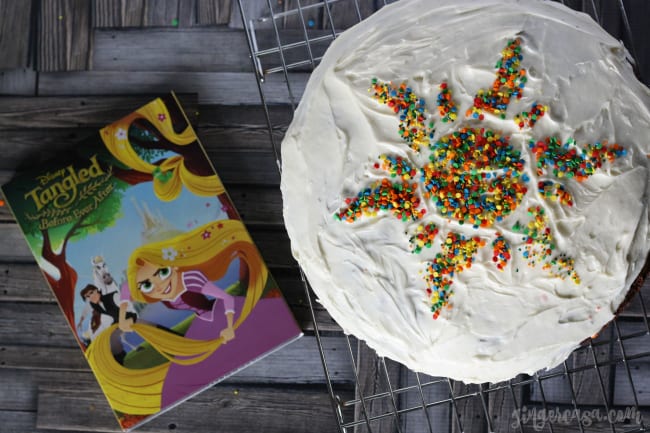 I don't know why or how, but I completely missed the Tangled movie until a year or so ago. The traditional story of Rapunzel comes alive in this well done movie. The boys and I really like it! Tangled Before Ever After was just released on DVD and the new Tangled series is on the Disney channel now. What a dream come true! The boys and I all love these movies and TV shows. They appeal to everyone, it is true.
To celebrate this new Disney release, I wanted to make a fun, simple treat. I did a quick search and found this fun template for the golden sun emblem from Tangled. In this post, they suggest using the template to make a fun flower pot, but I used it for a yummy cake instead!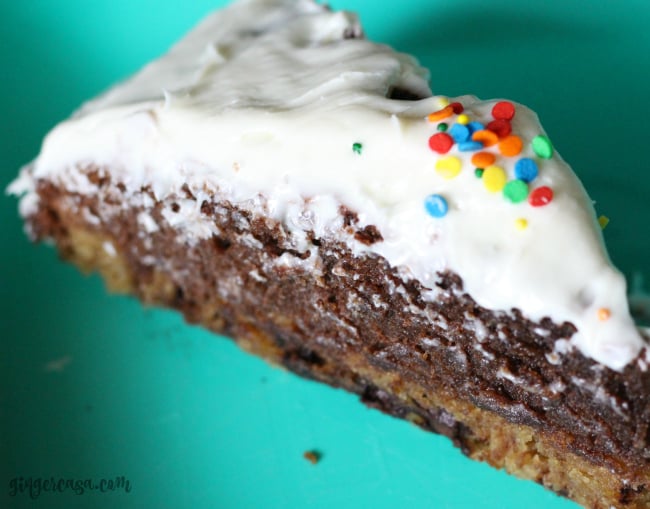 Such a delicious treat to eat while watching such a fun movie!
Tangled Before Ever After
Rapunzel is back in the new Tangled Before Ever After movie! Mandy Moore and Zachary Levi are back, too, voicing the characters that we know and love. We meet a new friend, Cassandra, along with old friends, Pascal and Maximus. Rapunzel postpones her wedding to Eugene to explore life beyond Corona's walls. This movie has so much fun and adventure! The music brings it over the top, from the legendary Alan Menken. The DVD comes with four animated shorts and a free exclusive Rapunzel repica journal.
The DVD is out now and you can purchase it in stores or on Amazon!
Brownie Chocolate Chip Cookie Cake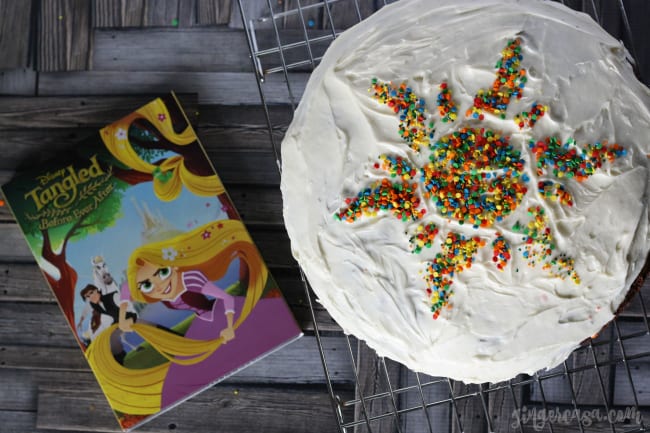 Celebrate "Tangled Ever After" with this adorable Tangled Brownie Chocolate Chip Cookie Cake!
Ingredients
one box of milk chocolate brownie mix
one box of chocolate chip cookie mix (we used Annie's)
one tub of vanilla icing
fun colored sprinkles
ingredients needed to make brownies and chocolate chip cookies, according to package directions
Instructions
Preheat oven to 325°F.
Make chocolate chip cookie dough mix, according to package directions.
Spray an 8" springform pan with spray oil.
Press cookie dough into the bottom of the pan, making sure to cover the entire bottom of the pan.
Make brownie mix according to package directions. (I added an extra egg to make it more "cake-like.")
Pour brownie batter over the cookie dough in the pan, shaking it a bit to get the batter to the edges.
Bake for 35 minutes, then check brownie with a toothpick or knife. Total cookiing time could be between 30-60 minutes, so check every 5-10 minutes to ensure that it is the texture and doneness that you prefer!
Remove outer ring of springform pan and let cool on a wire rack.
When cooled, spread the vanilla frosting on the top and sides of cake.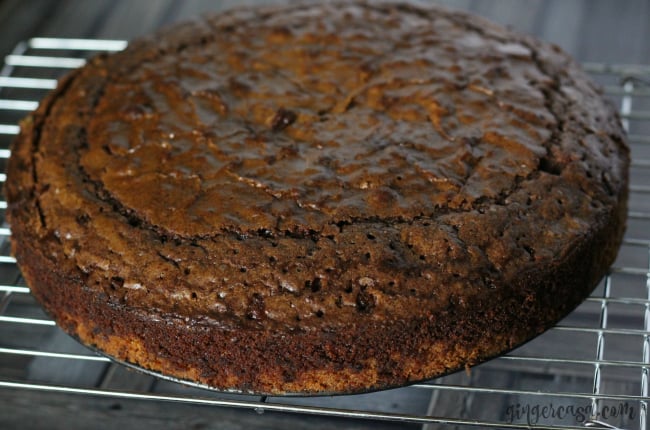 To make the Tangled "Golden Sun" emblem:
Print out the Golden Sun template on cardstock.
Carefully cut out the inside of the template and gently lay it on your iced cake.
Gently sprinkle any colorful sprinkles in the cut outs of the template, making sure to remove any sprinkles that fall outside of the cut area.
Gently remove the template and smooth frosting with a knife.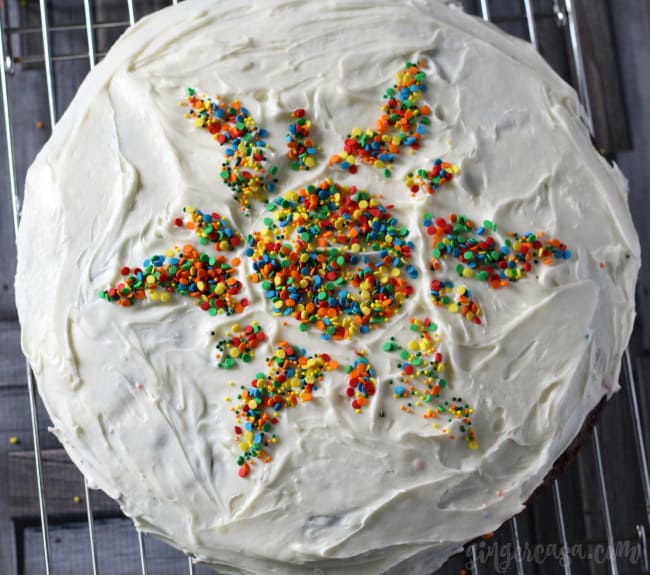 More Disney fun!