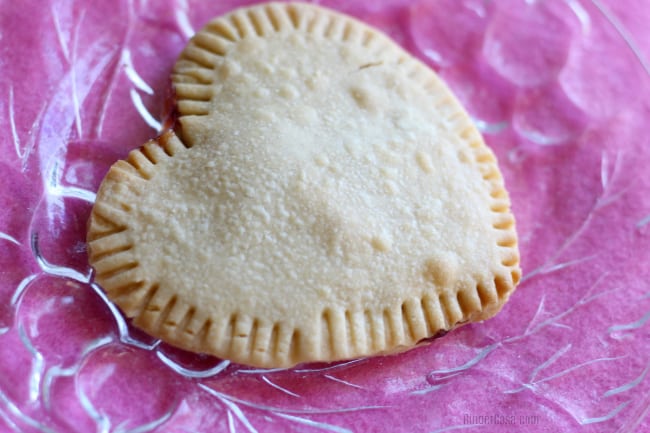 I had been eyeing an air fryer for a few years, but last year, I noticed the prices were dropping so, on a whim, I bought one at Best Buy, of all places. At first, I stayed safe and only made frozen chicken tenders and french fries. It is SO convenient, and they come out crispy every time. And it's fast! I can stick the fries in the air fryer and cook the rest of the meal and it is just amazingly simple. Last year, I started branching out and trying new things. I cut my own potatoes and had delicious red potatoes with breakfast, lunch, or dinner. Some suggest using oil, but I have found that it's rarely necessary!
Yesterday I had received some Honey Fruit Spread from Nature Nate's (check out the video of my hubs trying it on toast on FB Live below!) and wanted to try making one of my childhood favorites, Pop Tarts, so I felt like this was the perfect time!
The recipe is super simple, and you can customize it however you like. I have many ideas for different flavors! This was my second attempt at a breakfast food in the air fryer. The first being a savory breakfast pocket!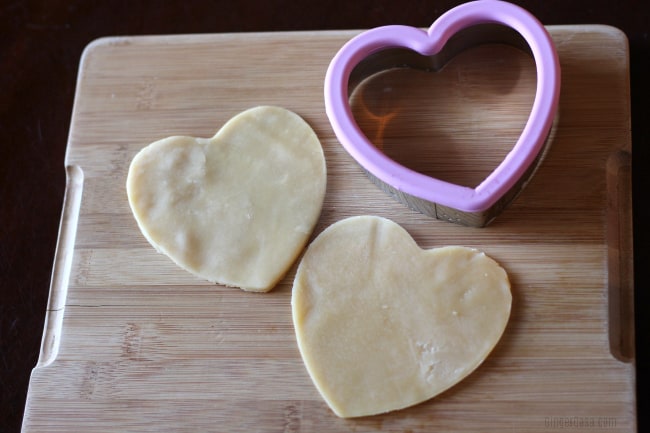 Air Fryer Pop Tarts

This homemade air fryer pop tart is SO delicious! It's a sweet treat for you or your kids and could pass off as a breakfast or dessert, if we are being honest!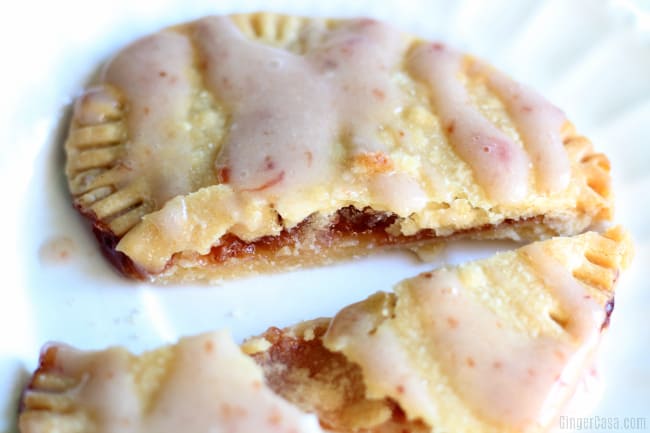 What is your favorite pop tart filling?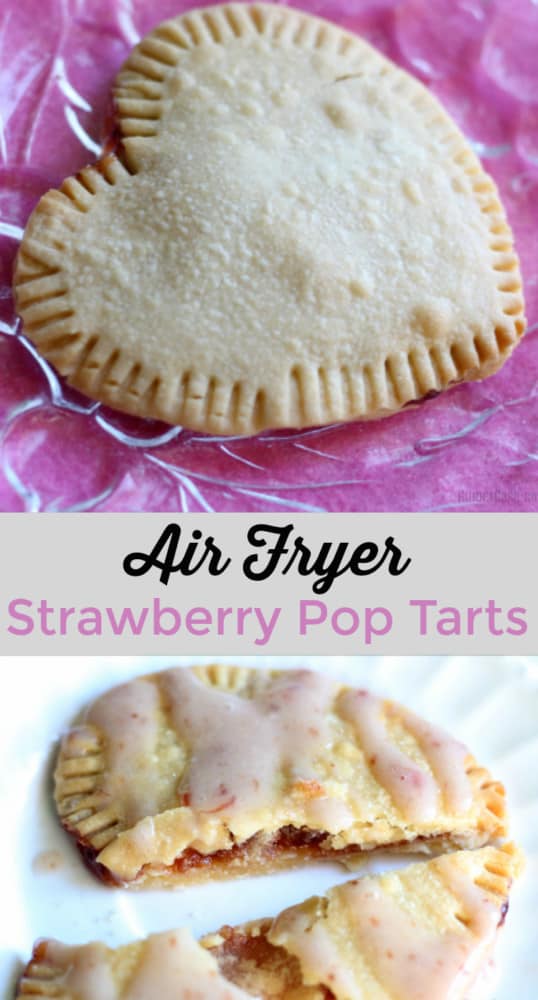 Don't miss these recipes: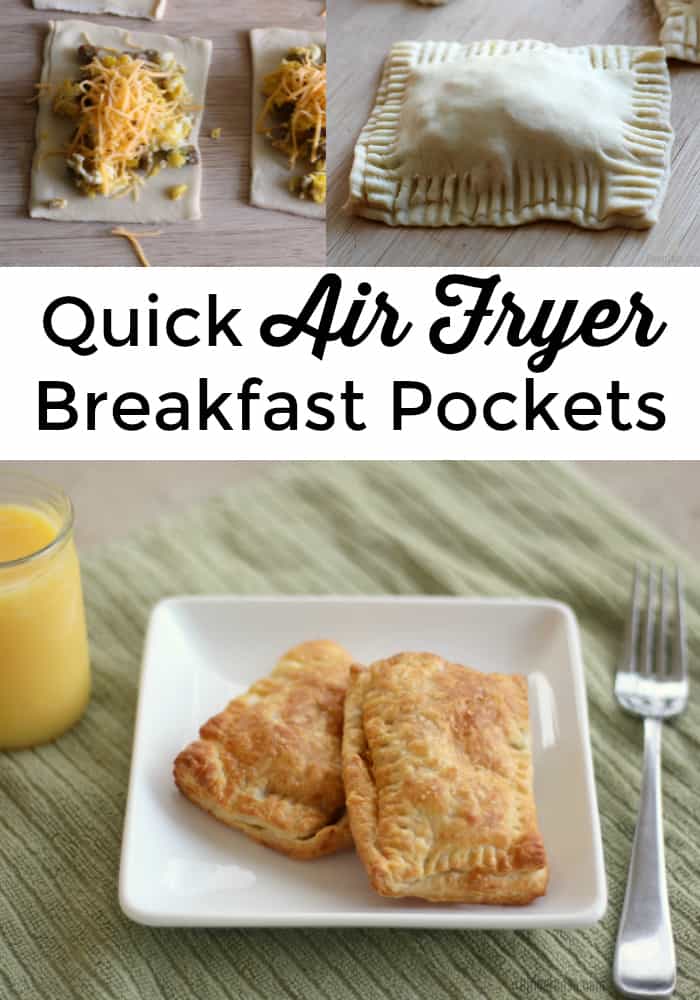 Air Fryer Pop Tarts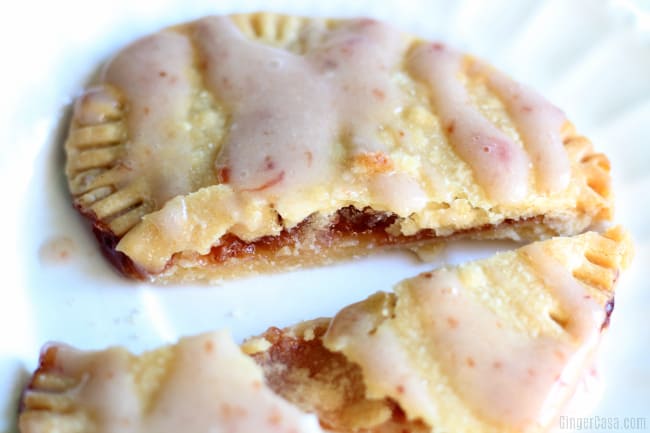 Make these adorable air fryer pop tarts for breakfast or a fun snack!

Prep Time 10 minutes

Cook Time 7 minutes

Total Time 17 minutes
Ingredients
1 refrigerated or homemade pie crust
1/2 cup strawberry jam
cooking spray, optional
1/2 cup greek yogurt, for icing, optional
Instructions
Lay out refrigerated pie crust or roll out homemade pie crust.
Using a cookie cutter, cut out two shapes for every pop tart you want to make (because they have to match up!)
Spoon out about a TBSP of a jam (more or less depending on the size of your cutout) and spread it within 1/2″ of your edge.
Carefully place the other cutout on top of your jam and gently press edges together using a fork.
Place pop tarts in the air fryer, careful that they are not touching. Spray the top of the pop tarts if you want them to crisp a little more, but it's totally not necessarily.
Cook 7-10 minutes on 370 degrees, checking every minute after 6 minutes for desired doneness.
They are ready and delicious at that point, but if you want some healthier "icing," mix a dollop of fruit spread and a dollop of greek yogurt and drizzle over the top!
Recommended Products
As an Amazon Associate and member of other affiliate programs, I earn from qualifying purchases.

SaveSave
SaveSave
SaveSave
SaveSave
SaveSave
SaveSaveSaveSave
SaveSave
SaveSaveSaveSave