You all know that my family is in love with rice. I make Instant Pot Mexican Rice once a week, because it complements just about any Mexican meal very well AND my kids love it! Did you know rice has protein? It does! So if one of the boys isn't feeling the main meal, they can eat rice and maybe some beans or cheese and be good to go.
When going to a Mexican restaurant, one of us usually orders steak. Whether it be fajitas, burritos, or a steak bowl, it's always a winning meal. For this recipe, I combined my Instant Pot Cilantro Lime Rice and a delicious steak from Butcher Box to make it super delicious. But, you could definitely use Mexican rice and chicken and it would be a different kind of delicious!

Instant Pot Steak Rice Bowls
We love Butcher Box steak, as it is always high quality and tender! We also love using natural, unrefined sea salt and unrefined avocado oil. When you cook with the best, you will get the best flavor.
First you will want to get your steaks ready. (scroll down for complete recipe)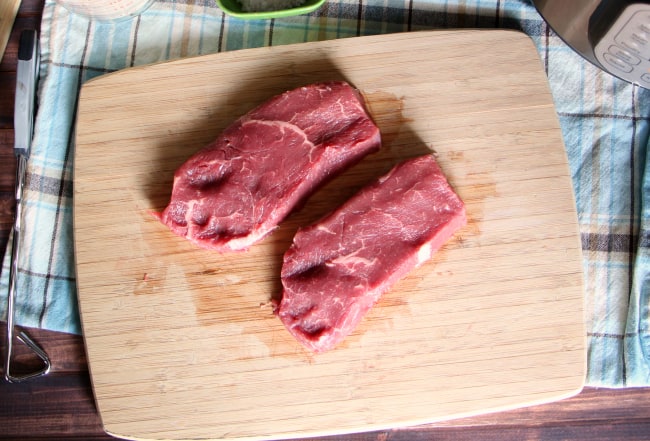 They should be seared first!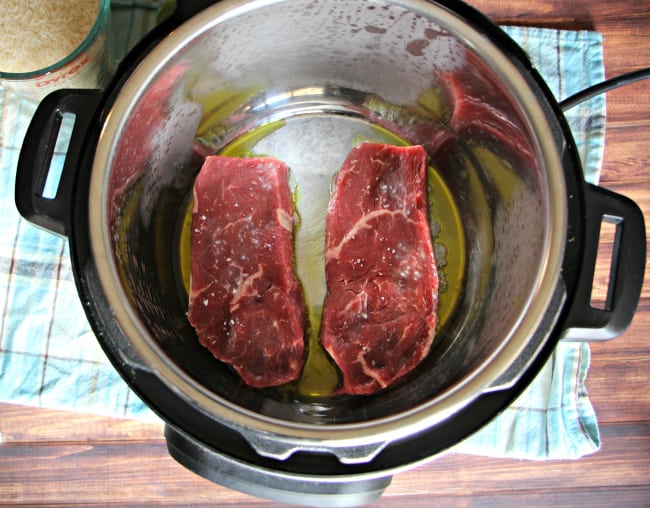 Next, prepare your rice.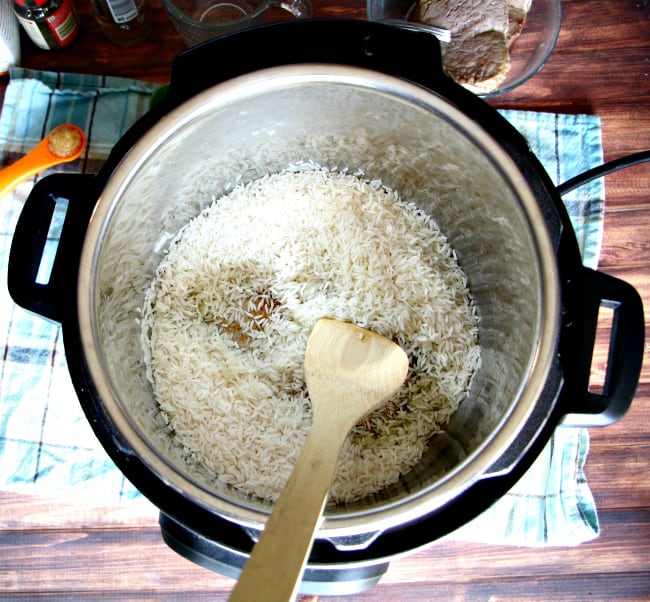 Finally, cook the steak and rice together.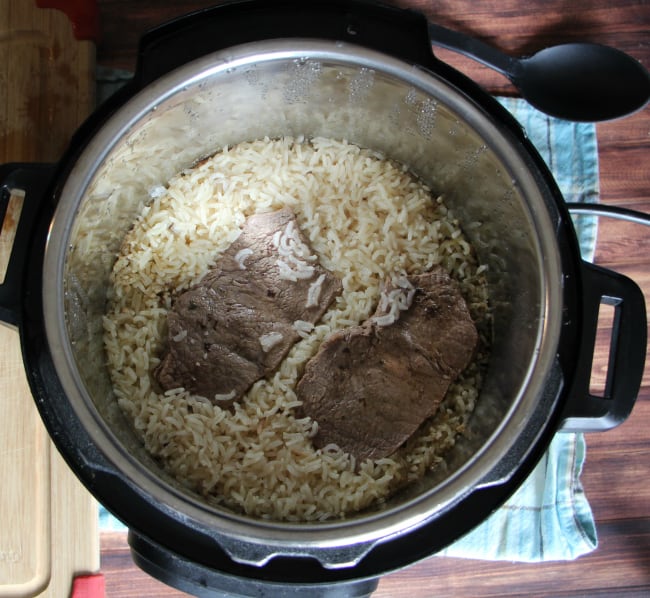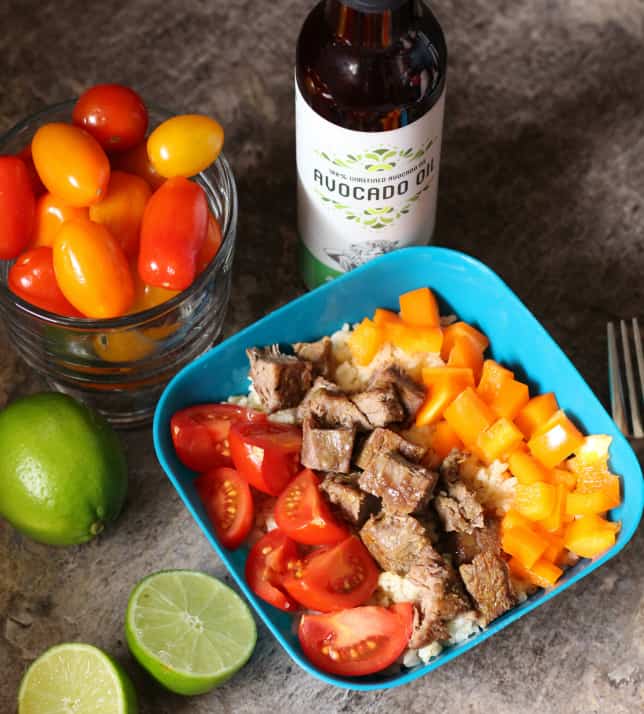 Instant Pot Steak Rice Bowls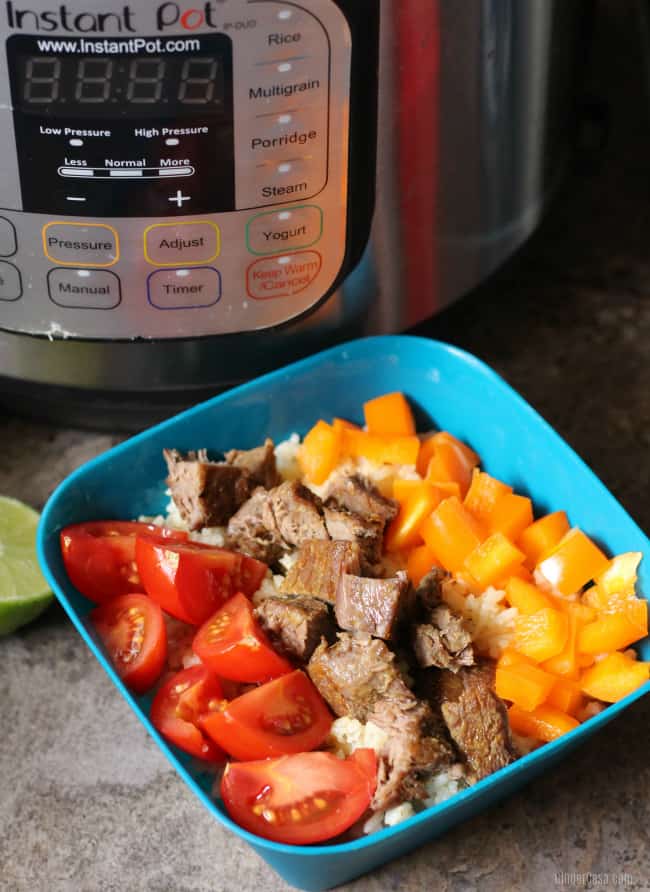 This all in one meal is made in the Instant Pot!
Ingredients
Steak Ingredients
12-18 oz sirloin or New York Strip steak
1 tsp sea salt
2 TBSP avocado oil
fresh garlic, minced
fresh lime juice
1/4 tsp pepper, if desired
Ingredients For Cilantro Lime Rice
2 tsp avocado oil
2 cups long grain rice
3 cups chicken broth
3 TBSP lime juice
3 TBSP cilantro, finely chopped
1/2 tsp sea salt
1/4 tsp cumin
1 tsp garlic, minced
Instructions
Turn Instant Pot to saute'.
Pour in 2 TBSP avocado oil.
Season steaks with sea salt, pepper, garlic, and lime juice, to taste.
Sear the steaks in the bottom of the Instant Pot for a few minutes. You just need to sear the outside, the center will cook with the rice.
Remove the seared steaks and set aside.
Add about 2 tsp more oil in the bottom of the Instant Pot. (You can turn the IP off for a few minutes if you feel like it is too hot.)
With the Instant Pot on saute', add in rice.
Stir and scrape the bottom so the rice does not burn.
Cook for about 2 minutes, then add in in the garlic and stir well.
Add in the chicken broth, cilantro, lime juice, salt, and cumin, and stir well. Scrape the bottom and sides of the Instant Pot.
Place the steaks on top of the rice.
Close and lock the lid.
Set the Instant Pot on Manual, high pressure, for 12 minutes.
When the Instant Pot beeps, let it release pressure naturally. If you are in a hurry, you can do a manual release, it's up to you, but be careful because it is hot.
Cut steaks and serve with a helping of rice, tomatoes, avocados, lettuce, bell peppers, guacamole, sour cream, or any of your other favorite steak rice bowl toppings.
Recommended Products
As an Amazon Associate and member of other affiliate programs, I earn from qualifying purchases.
How To Make Instant Pot Steak Rice Bowls Video:
Don't miss these recipes: