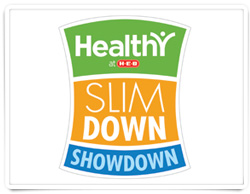 H-E-B has named the Top 25 competitors in the Slim Down Showdown Challenge! This 16 week challenge is designed to provide contestants with the education and tools they need to live healthier lives and also the chance to win a $10,000 grand prize or a $5,000 "fan favorite" prize!
The contestants have been chosen based on their willingness to embrace the program and to publicly share their journey, along with their resulting lifestyle changes with the public through blogs and vlogs.
The Slim Down Showdown is part of "Healthy at H-E-B," which is a commitment to improve the health of Texans and provide us with fresh, healthy food that is affordable and easy to prepare. I am thrilled that H-E-B is making good efforts to improve upon what they're already doing well, in my opinion. I wrote about how I recently switched to H-E-B, because of their good selection of fresh fruits and vegetables and numerous organic choices. It's good to know that H-E-B really cares about what they're selling to us…just another reason to love them!
Okay, back to the Showdown. Twenty-five participants from across Texas are competing, not only for the prizes, but to attain a healthier lifestyle! Check out the Slim Down Showdown participants and read more about their lives and their journies! There are 18 women and 7 men and they're all determined to win!
Do you want to win a $25 gift card to H-E-B? All you have to do is visit the Slim Down Showdown page, read up on the contestants and come back and tell me which one you are rooting for and why! Giveaway ends at 11:01, central time, on July 30, 2012
*Disclosure: I will receive a gift card in exchange for my post containing my honest opinion only. No other monetary compensation has been provided.
The following two tabs change content below.
Gena and her husband live in the Dallas/ Ft. Worth, Texas area with their three sons. She is a former kindergarten teacher turned stay-at-home mom, blogger, and social media enthusiast. They love being outside, playing sports, raising chickens, cooking, crafting, and more!