Easy Dot Art Shamrock Craft for Kids
Crafts are something that we all can agree on in this house. The boys are excellent about coming up with their own crafts, but sometimes they need a little guidance to get started. They love these Do A Dot Art! markers that Grammy gave to them and so I drew a shamrock (doesn't have to be perfect!) and let them dot around it. The box says to only dot the markers, not drag them, so that adds another level of patience and skill to their crafting. They seriously use these for everything. We have made letters, their names, different drawings, and now these shamrock craft paintings. They turned out really cute!
Materials needed: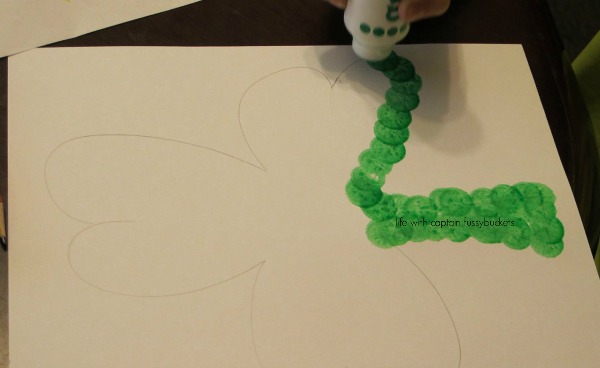 Directions:
1. Draw or print an outline of a shamrock.
2. Have child dot the marker all around the outline, then fill in the inside with green.
3. Create a rainbow pattern with remaining colors (red, orange, yellow, blue, purple) and create a rainbow "behind" the shamrock. We made two lines of dots for each color, then repeated the colors until there was no more white space showing.
4. Let dry (it doesn't take long) and display for St. Patrick's Day!
To extend your child's learning, here are some fun St. Patrick's Day books for kids!