It always amazes me how different each of the boys are. They really do have different personalities, likes, dislikes, and of course, funny sayings. Lately, D (4.5 years) has been obsessed with the game – Chutes and Ladders. He has played it with different people, but God bless Grammy for playing with him over and over and over again when she came to visit a few weeks ago. Oh, to have a grandmother's patience!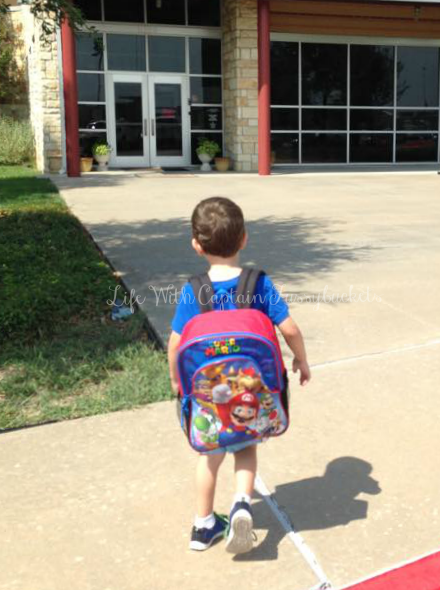 D started half day pre-k yesterday. He has stayed home with me all of his life, except the two times he went to Parents' Day Out (it was his idea to go so after he didn't want to go anymore, and since the rest of us minus Daddy were staying home, I let him quit. Some may say that was bad, but I wasn't going to force a three-year-old to go if he doesn't want to.) He also went with his older brother three hours a week to "school" with a teacher friend from church, which was a very beneficial supplement to homeschool. He learned so much and had fun, but he was also the only other student besides the Captain.
So, I NEVER thought he would actually enjoy pre-k. Monday was the first day and he didn't shed a tear. In fact, I was kind of hanging around his chair as he began coloring his paper and he turned to me and said "ok, you can go now." I was SO proud of him, but yikes, rip my heart out, kid! Yesterday there were near tears, but he ended up having a great day and even earned a certificate for good behavior! He can't remember what he did to earn it, but hey, he's four.