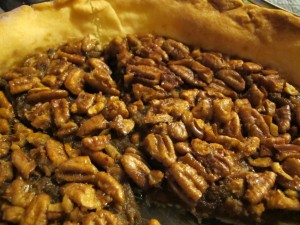 My hubby and I both LOVE pecan pie at Thanksgiving and well, throughout the year, given the opportunity. I decided to try and see if my hubby would like a pie with no butter or corn syrup. I had the first piece and it was just as sweet, just as satisfying, but the ooey gooey stickiness of a traditional pecan pie wasn't there. Which, is completely fine with me, but I wondered what the hubby thought. At first he thought it was a chocolate pecan pie, but no, the darkness just came from the dark brown sugar I used. He tried it, and he liked it! It is NOT your traditional pecan pie, but it is a generally healthier version that contains no corn syrup, which is a great thing! It still has tons of sugar, so it's not "healthy," but it is a "healthier" version. I'm sure you could use a sugar substitute, like agave nectar or anything, really. Here's the recipe if you'd like to try it:
No Butter or Corn Syrup Pecan Pie
Pecan Pie Recipe - No Butter or Corn Syrup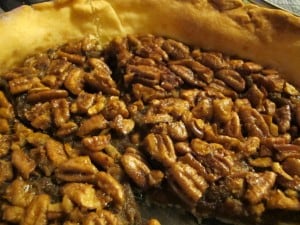 Make this delicious pecan pie with NO butter or corn syrup!
Ingredients
Ingredients:
1 cup brown sugar
1/4 cup white sugar
1/4 cup coconut oil
3 eggs
1 TBSP flour
1 TBSP milk
1 tsp vanilla
1 cup chopped pecans
Instructions
1. Preheat oven to 400 degrees.
2. In a large bowl, beat eggs and then stir in coconut oil.
3. Stir in the brown sugar, white sugar, and flour and mix well.
4. Add the milk, vanilla, and nuts and mix well.
5. Pour into an unbaked 9 inch pie shell.
6. Bake at 400 degrees for 10 minutes, then reduce temperature to 350 and bake for 30-40 minutes, or until done.