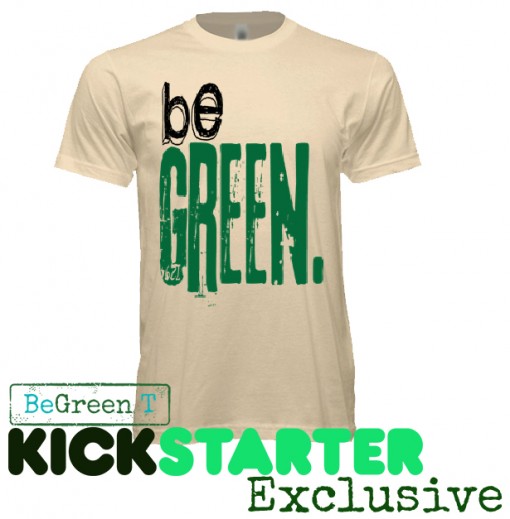 Amber Sorrells, from Easy Green Mom, is one of my favorite mommy bloggers. She has turned to crowd funding source, Kickstarter, for her new Eco-friendly company, Be Green T, an organic and green t-shirt that sends a message. BeGreen T shirts are made with high quality and Eco-friendly materials. Even the hang tags and shipping supplies will be made from recycled materials.
"Lets spread the Green message via T-shirt!"
All shirts are printed on 100% Organic Cotton, which is super soft.
Water-based inks that are more environmentally-friendly than traditional inks used.
Manufactured by a certified B Corporation and 100% made in the USA.
Unique, simple, modern and stylish designs that send a message.
Portion of profit will be donated to Giving Diapers, Giving Hope, a non-profit organization that provides education, support and cloth diapers to low income families in the continental United States.
Be Comfortable, Be Stylish, Be Green!
I had the special privilege of receiving one of the first BeGreen T's. It is so luxuriously soft! Organic cotton really does feel softer and makes for better clothing. That's why I'm supporting this kickstarter!
Backers of the BeGreen T campaign will receive great rewards; BeGreen T stickers, an Exclusive BeGreen T shirt for Kickstarter, pre-order of shirts, and voting power of shirt designs released!
The Kickstarter campaign runs from September 15 until October 14, and funding is "all or none" meaning if the $2500 goal is not reached the project will not be funded.
Visit to see full details of BeGreen T's Kickstarter campaign Here.
Sign up to support this awesome project! And check out one last great, green t-shirt for all of you cloth diapering mommies: