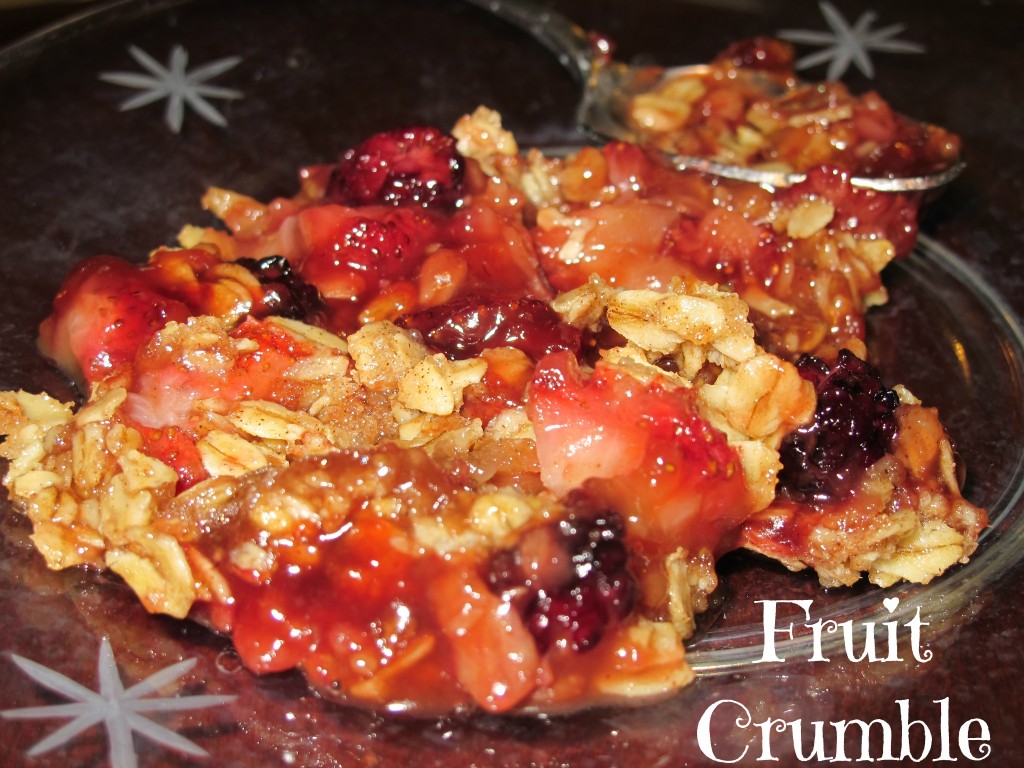 We have a new obsession in our house: Fruit Crumble. It all started when we watched an episode (many times) of "Peppa Pig" where Peppa's grandmother made Blackberry Crumble out of fresh blackberries. The Captain asked me to make a Blackberry Crumble for him, but I wasn't really sure how. So, I adapted the Cranberry Apple Casserole recipe of my sister-in-law and we have made Peach Crumble, Blackberry Apple Crumble, and the Captain's creation: Strawberry Apple Plum Crumble. I've been making two different kinds at a time because the Captain can't have pecans. I just make double the topping without pecans, make his crumble, add pecans, and then top our fruit crumble and cook them at the same time. Best served warm!
Ingredients for bottom fruit part:
5-6 cups of your fruit(s) of choice

2 Tablespoons flour

1 cup of sugar
Directions:
Combine three ingredients well and pour into a greased 9×13" casserole dish.
Ingredients for topping:
one cup of oatmeal

1/2 tsp cinnamon (can be omitted depending on fruit choice)

1/2 cup brown sugar

1/2 cup flour

1 cup chopped pecans or other nuts

1 stick melted butter (or 1/2 cup of applesauce or slightly less than 1/2 cup of coconut oil)
Directions:
Mix oatmeal, brown sugar, flour, and pecans well. Add melted butter and and stir until all moist and blended well. Spoon on top of the fruit mixture.

Bake, uncovered, in 350 degree oven until hot and bubbly…about 30-40 minutes.

Serve warm!