It's time for back to school and that means rushed mornings, busy schedules, and new experiences! The Captain will be going to preschool two days a week this fall, as he has been the past year. Admittedly, it's hard to get going in the morning, even if it is much later than the average parent, student, or teacher gets their day started! I honestly cannot imagine being a teacher or even a parent with school aged kids at this point. I remember gleefully waking at 6 AM every morning, making my coffee, getting everything ready for myself and my class, but now, 6 AM is EARLY! Bless all of you who have to wake up at 6…or earlier! I love to keep it simple on the days that the Captain has preschool and that's why I am so glad I made the switch to tea. We recently went to Walmart to stock up on tea for back to school. They have so many Bigelow teas to choose from! Check out our shopping experience on G+.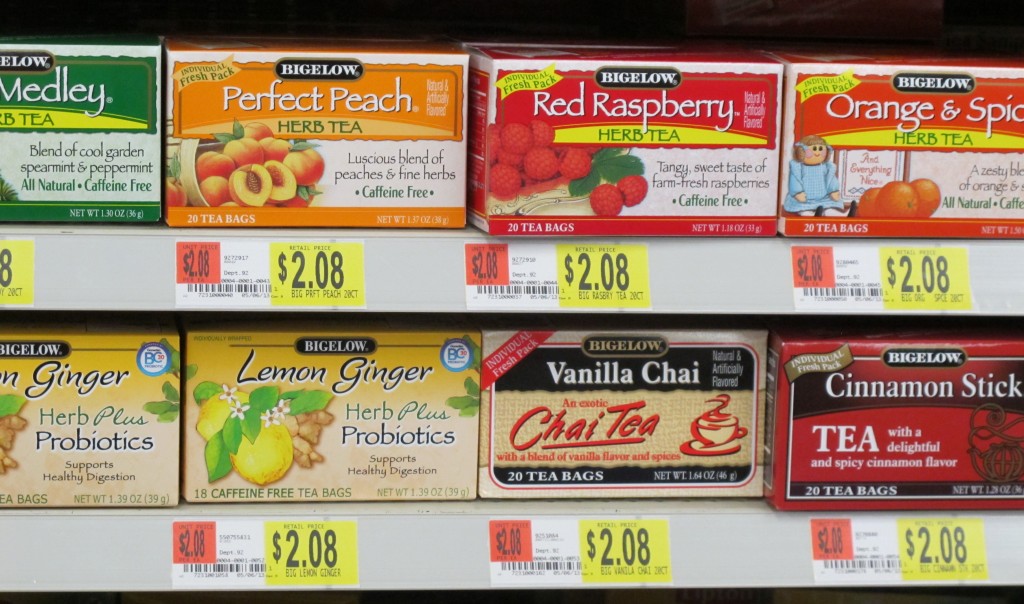 When I became pregnant earlier this year, I immediately wasn't able to tolerate the taste of the coffee that I love to indulge in every morning. I need something, however, so I switched to iced tea. And now that I am over my coffee aversion, I still prefer iced tea most mornings because it's easier to prepare, has a lower caffeine content than coffee (which is healthier for baby), and is actually healthier for me, too! Did you know that coffee and cotton are the crops with the biggest pesticide use, unless they're grown organically? Yeah…yikes!
In the mornings, I just pop a glass filled with a bit of water in the microwave for one minute, add a bag of Bigelow tea, and let it steep for a couple of minutes while I get the boys ready. Then, I come back to it and add water, honey, and some ice and if there's time, enjoy it at home. If not, I get the boys in the car and sip it on the way to the Captain's preschool. It's a delicious, easy way to enjoy my morning and it gives me a small jolt of caffeine to get me going.