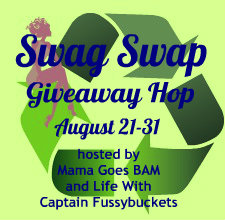 Welcome to The Swag Swap Giveaway Hop, hosted by Life Captain Fussybuckets and Mama goes BAM. This is a special event to thank you, our readers, and your chance to get your hands on some of the best swag from some of your favorite bloggers! Hop through the list of bloggers to see what we're giving away! The event begins at 12:01 AM August 21 and ends 11:59 PM August 31!
Here at Life With Captain Fussybuckets, I'm giving away two prize packages of great swag!
Prize #1: VTech Connect To Cell
Use these great phones to connect your cell phones and talk on a "regular" phone while your cell phone charges!
We really liked this, but my ancient cell phone wouldn't connect and the hubby really isn't home enough to hook it up each time. It's a GREAT product though and it's still in great condition, we just don't have a huge need for it. So, if you want it, enter below and hopefully it'll be yours!
Prize #2: "The Complete Idiots' Guide to Couponing" book and an Eden's Edge CD
I won the couponing book in a giveaway and haven't even opened it. I'm sure it's a great book, but I don't read much and I'm not interested enough in couponing to read this book. There is some slight damage, but it's still very readable.
I received the Eden's Edge CD and honestly, I'm not sure why. I listened to a couple of songs and they're good, but I'm not much of a CD girl unless it's Keith Urban or a few others. So…..I'm giving it away! Enter to win this book and CD as one package!
The companies represented are not sponsoring this giveaway. These were items given to me either for a review or a giveaway and I do not need them, so I'm passing them on to my readers. I am paying for the shipping of these items, however I am not responsible for items that get lost in the mail. Thanks!
The following two tabs change content below.
Gena and her husband live in the Dallas/ Ft. Worth, Texas area with their three sons. She is a former kindergarten teacher turned stay-at-home mom, blogger, and social media enthusiast. They love being outside, playing sports, raising chickens, cooking, crafting, and more!