Spicy Romano Chicken Pasta is a sponsored post written by me on behalf of Skinner® pasta.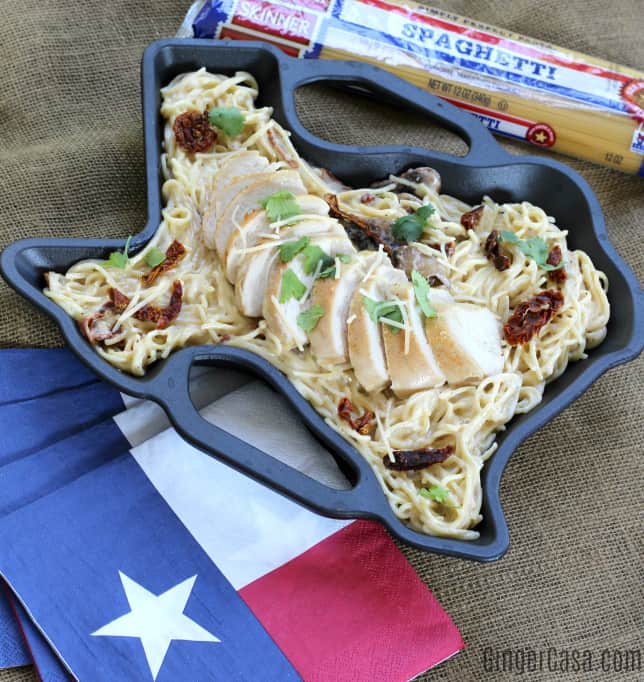 Some of my favorite memories with friends and family are centered around a delicious meal.  I can recall some of those meals, and they are often pasta!  I can remember the delicious pasta recipes my mom used to make, the meals at Italian restaurants, and even meals I have made in my own home for friends and family.  Pasta is such a great way to celebrate friendship.
Hubby and I both love spicy food, so Spicy Romano Chicken Pasta is a great choice to serve to family and friends.  It is one of our favorite meals!  I try to not make it very spicy when we have friends over, but just a hint of cayenne goes a long way.  The best part of this recipe is that you can make the Spicy Romano sauce and serve it with your favorite Skinner® pasta, the #1 pasta in Texas.

Spicy Romano Chicken Pasta
Ingredients
 2-3 chicken breasts
 garlic powder and salt to season chicken
 olive
oil
 one package of your favorite Skinner pasta
 2 cups plus 3 TBSP of heavy cream
 4 TBSP butter
 2 tsp salt
 1 tsp black pepper
 1 TBSP corn starch
 1/2 cup Romano cheese, shredded
 1/4 cup Parmesan or Fontina cheese, shredded
 1/2 – 1 tsp Cayenne pepper (more or less depending on preference)
 1/2 cup sliced mushrooms
 1/2 cup sun dried tomatoes
Directions
Preheat oven to 400 degrees F.
Place chicken breasts in a glass baking dish.
Drizzle chicken with olive oil.
Sprinkle chicken with salt and garlic powder to taste.
Cook chicken breasts for 30 minutes, or until done.
While chicken is cooking, bring a pot of water, half full, to a boil.
Cook Skinner pasta according to directions on packaging.
Drain pasta and set aside.
Melt 4 TBSP butter in a large pan or cast iron skillet.
Add 2 cups of heavy cream, 2 tsp salt, and  1 tsp pepper and bring to a light boil.
Mix 1 TBSP corn starch into 3 TBSP heavy cream (or milk.)
Stir the corn starch mixture into the heated heavy cream mixture and remove from heat.
Add your cheeses and cayenne pepper into the cream mixture.
In another skillet, add 1 – 2 TBSP of olive oil.
Add in the sliced mushrooms and saute for 5 minutes.
Fold in sun dried tomatoes and cook for another 30 seconds.
Add the mushrooms and sun dried tomatoes to the cream/cheese sauce and stir well.
Fold in cooked pasta, about a cup at a time and stir so the sauce/pasta ratio remains the same.  (You may not use all of the pasta.)
Slice cooked chicken breasts and place on top of pasta.
Serve and enjoy!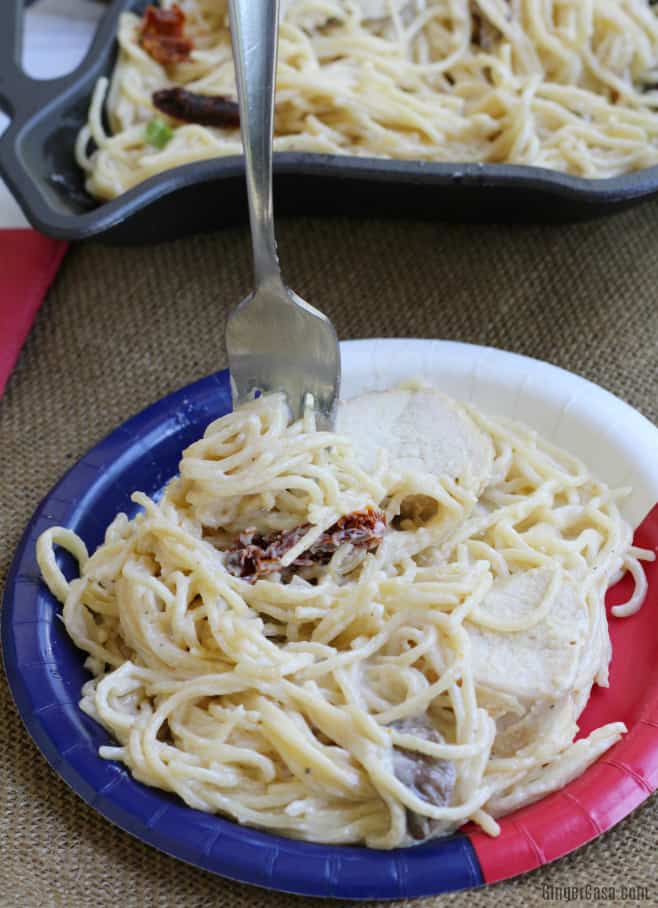 Instacart Free Grocery Delivery
If you are reading this recipe and are bummed that you do not have the ingredients in your house, check out Instacart.com!  You log on, select your local store, add items to your cart, and they deliver it to your doorstep!
The best part is that in honor of National Friendship Day, Skinner is partnering with Instacart to provide free grocery delivery for customers only in Houston, Austin, San Antonio and Dallas. Just buy one package of Skinner pasta and get free grocery delivery.  Customers who don't qualify for free delivery (e.g. Instacart Express Customers or first time customers) will receive $5 off their order. Delivery must be $35 or more to quality for free delivery or $5 off.
#HowdySkinnerSweepstakes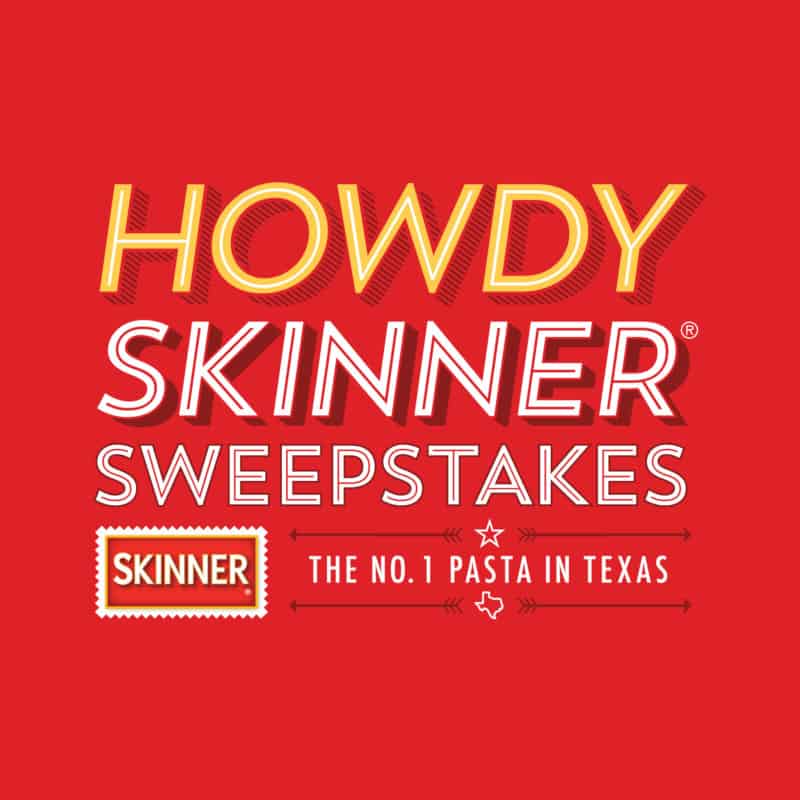 Skinner also has an awesome sweepstakes for you!  One person (and a friend) will win a trip to the Marriott Marquis Houston.  Visit HowdySkinner.com to enter for your chance to win a three-night stay, including airfare and $500 spending money to enjoy the city's sites, restaurants and attractions. Other prizes include a membership to Care.com and $500 to give you more "me" time by covering your dog walking, babysitting, and housekeeping services, or free pasta for a year for you and a friend. Sweepstakes kicked off on National Friendship Day (8/6/17) at 12:01 a.m. CDT; ends 9/6/17 at 11:59:59 p.m. CDT Visit HowdySkinner.com to enter and see official rules.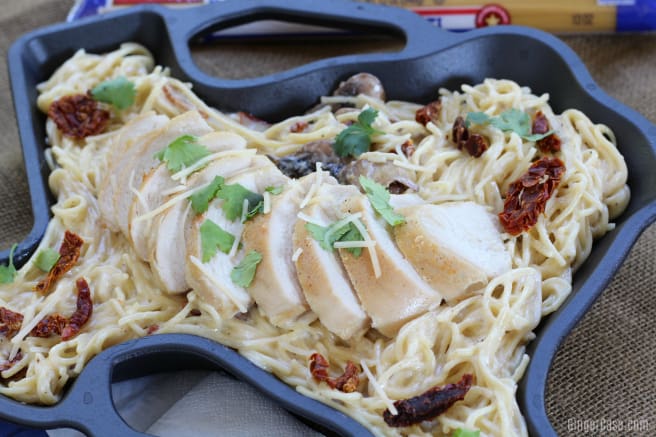 What is your favorite meal to eat with friends?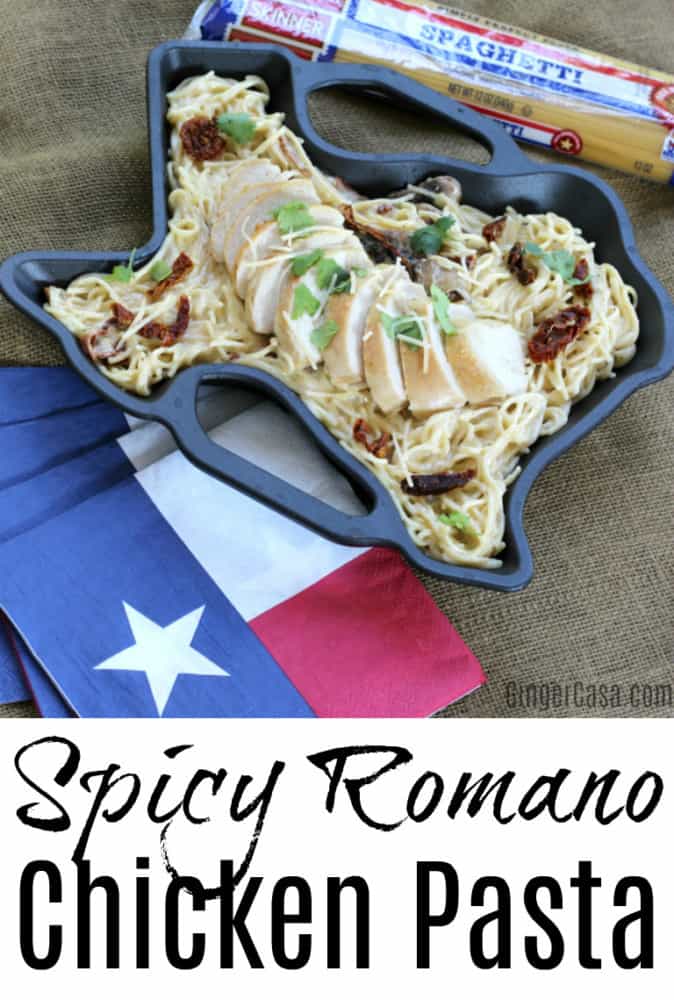 This is a sponsored post written by me on behalf of Skinner® pasta.
Don't miss this delicious pasta dish, either:
SaveSave
SaveSave
SaveSave
SaveSave
SaveSave
SaveSave
SaveSave
SaveSave
SaveSave
SaveSave
SaveSave
SaveSave
SaveSave
SaveSave
SaveSave
SaveSave
SaveSave
SaveSave