At our house, we ALL love nectarines. Peaches are delicious, but nectarines are like…a step above peaches. I found these delicious Honey Nectarines at Costco a few weeks ago and we ate about 7 in just a few hours. I got a little over my head and went back to Costco a few days later and bought 20 nectarines. They were already ripe, so they got pretty squishy pretty quickly. I turned them into a simple homemade nectarine cobbler and it was amazing!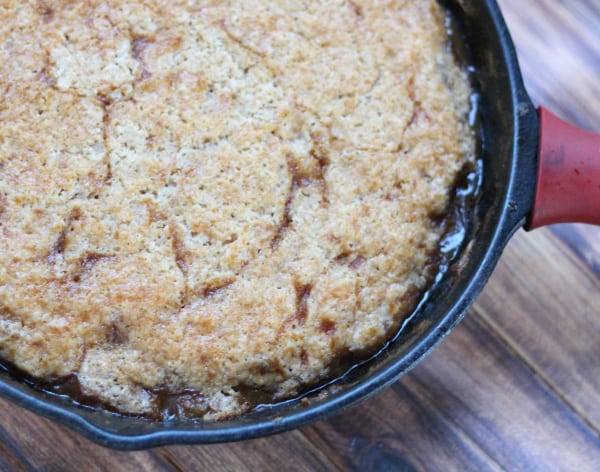 The cobbler – nectarine ratio was just about perfect. We love to be able to taste fruit in our fruity desserts! I cooked it from start to finish in my cast iron skillet. If you love nectarines like we do, try my Nectarine Sopapilla Cheesecake!
This is a great, easy dessert to serve after just about any meal and would be a delicious end to a long summer day! It's a yummy way to use up nectarines or any other fruit you have! Add in some delicious blueberries sand this cobbler would have a whole different delicious flavor.
We love hosting friends and family in the summertime. Summertime barbecues and picnics are a fun way to spend time together. This recipe is very versatile and can be made at home and then taken to any potluck or party and reheated or just kept warm in the cast iron skillet. I love that there is little mess to clean up, too.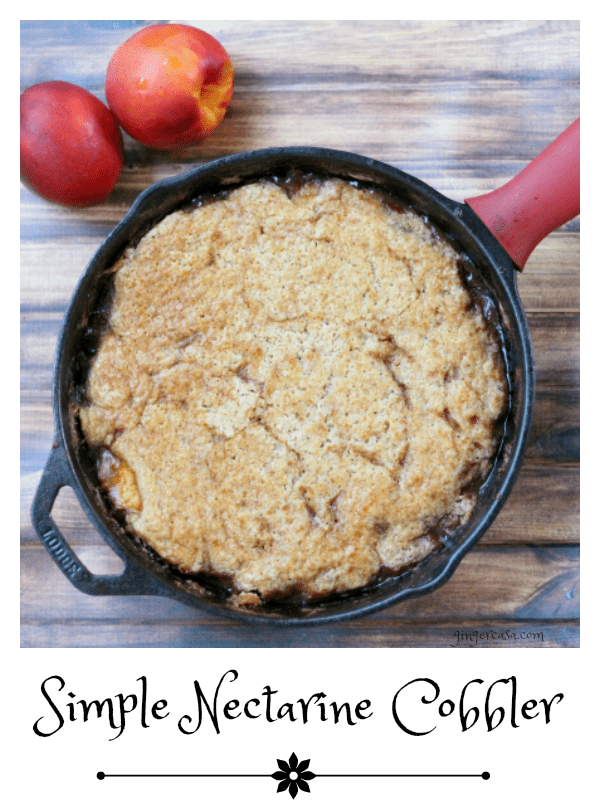 Simple Homemade Nectarine Cobbler Recipe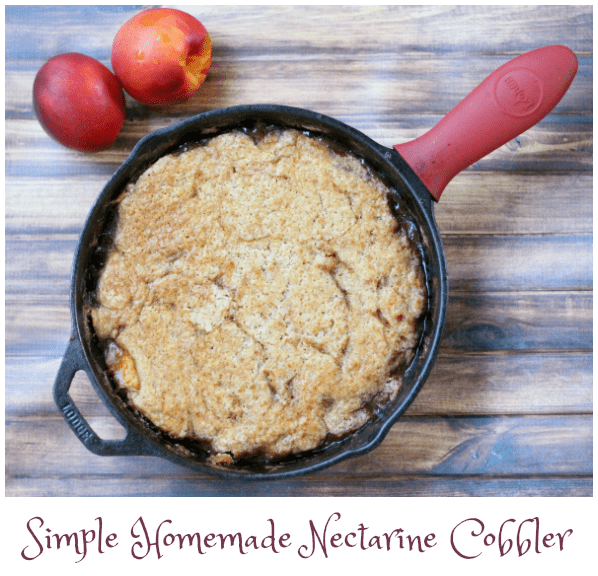 This simple homemade nectarine cobbler is delicious!
Ingredients
Ingredients for Nectarine Filling
3 cups of nectarines, peeled and sliced
1/3 cup cold water
1/3 cup sugar
1 TBSP corn starch
1/2 TBSP butter
3/4 cups flour
1/3 cups sugar
1 1/4 tsp baking powder
1/3 cup milk
3 TBSP butter, softened
1/2 tsp cinnamon
Instructions



Directions
Preheat oven to 325°.
In a large cast iron skillet, add nectarines, cold water, sugar, cornstarch, and butter.
Cook and stir over medium heat until bubbly. While the filling is cooking, prepare the topping:
In a medium bowl, stir flour, sugar, cinnamon and baking powder together.
Add the milk and butter and whisk or beat until smooth.
Set aside until filling is done.
When nectarine filling is bubbly and thickened, remove from heat.
Spoon the topping over the filling and spread out evenly.
Bake 30-45 minutes or until the topping is cooked fully and a golden color.
Let cool and serve by itself or with ice cream or whipped cream!