Disclosure: My friend Tori created this recipe by using a variation of the this Creamy Mexican Dip recipe. They are both brilliant and have made my world a little brighter today because of this recipe. 🙂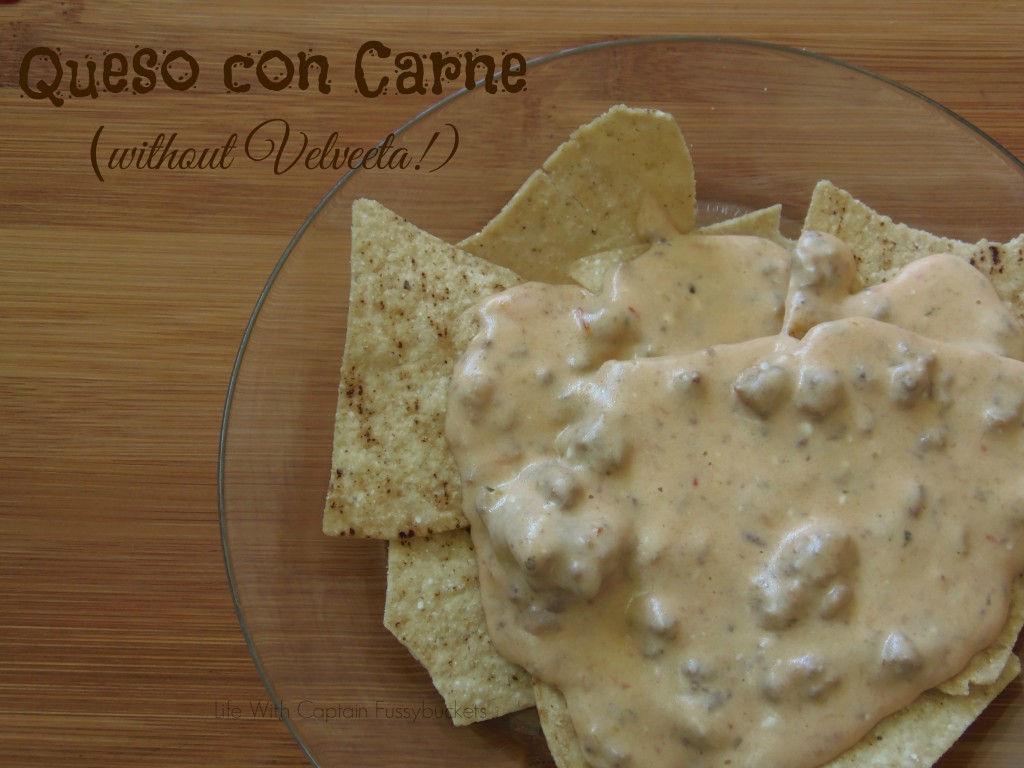 Queso, cheese dip, whatever you may call it, it's a delicious thing. I have had it multiple times throughout my life and it certainly is a wonderful thing. However, most recipes call for a shelf stable processed cheese called Velveeta. Now, Velveeta is wonderful and rich and creamy, but you gotta wonder exactly what they put in that stuff….it can't really be good for us, you know? (sidenote: You can make healthy homemade "Velveeta," but I haven't tried it yet.) So when my friend Tori posted that she had found this recipe and thus made her own Queso con Carne….I had to try it. And wow. Just wow. It's like a fiesta in your mouth! Hubby said it tasted like it was from a five star Mexican restaurant and he was right! It is simply delicious. You can make it with or without beef, make some with beef and some without, add different variations of spices and salsa, save some queso in the fridge to serve over broccoli the next day, make mac & cheese…whatever your Mexican food loving heart desires! So…here's the recipe! It really is a lot easier than it seems. I know it seems overwhelming, but you got this! And you'll be so pleased after it's made, I promise!
You can add this queso con carne to just about anything…on top of baked potatoes, with pasta, as part of your Taco Tuesday feast…it will never go to waste because it's so so good!
Queso con Carne (without Velveeta!)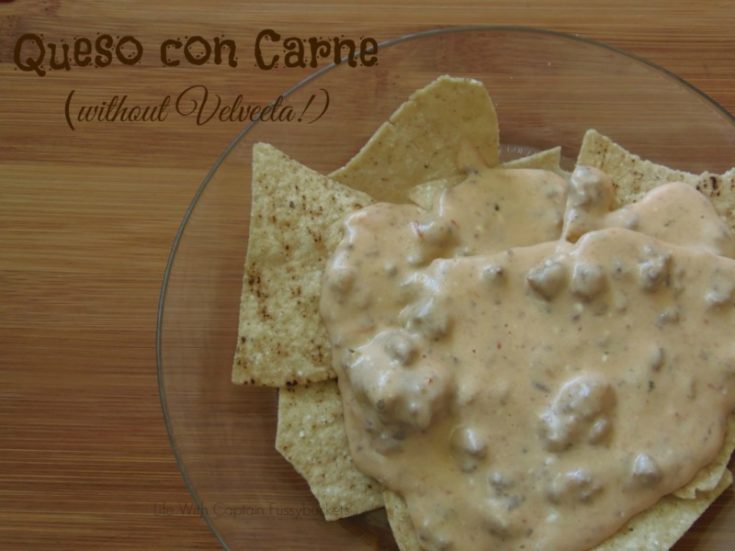 Ingredients
Ingredients for Beef:
1/2 lb ground beef (more if your heart desires)
1/2 tsp chili powder
1/2 tsp salt
1/4 tsp cumin seeds
1/4 tsp garlic powder
Ingredients for Queso
2 egg yolks (I separate the yolks from the whites, rinse them of white and dry the yolk. Then, I tear the membrane and drain the yolk into a glass. This keeps the membrane out of the queso so there is no weird egg textures in there.)
2 Tbsp cream or milk
2 cups of milk
8 oz shredded cheese (4 oz sharp cheddar and 4 oz cheddar jack is recommended)
1/2 cup (or more) salsa (as mild or as spicy as you like!)
Instructions
Instructions for Beef:
Put meat in a pan over medium high heat.
Season meat with salt, chili powder, cumin seeds, and garlic powder.
Brown beef.
After the meat is browned, pour salsa into the meat and cook until the liquid is cooked away for the most part.
Set meat aside.
​(sidenote: This right here is a delicious way to make homemade taco meat. The boys tried it and really loved it. I omitted the chili powder and didn't add too much salsa and it was the perfect flavor without spiciness for them.)

​Directions for Queso:
Mix egg yolks, arrowroot powder OR cornstarch, and cream OR milk together until the powder is fully incorporated into the yolks and thinned a bit by the milk/cream. Mix until lumps are gone.
To this mixture, add 2 cups of milk.
Cook on medium, stirring occasionally, until the mixture begins to thicken. (Tori's notes: After 7-10ish minutes, it should be thick, like white gravy. You know. REAL white gravy. Not that milky stuff some folks call gravy.)
After it thickens, 1/2 cup (or more) of salsa and stir until well mixed.
Then, add 8oz of your preferred cheese blend, shredded, and stir.
Add 8 oz of cream cheese and stir all together until everything is melty and delicious. (do not let it come to a full boil or it will curdle and separate.)
At this point, if it is not thick enough, add another 1/2-1T arrowroot or cornstarch. Dip out a little queso into a cup and mix it into the queso first before mixing it into the pot. This prevents the locked up, starchy balls that don't mix well. Add and cook until thick.
Add in beef mixture.
Eat and enjoy best real food queso con carne in. the. WORLD!​
​