During the holidays, there are so many meals and different times to celebrate and bring joy. When I attend a holiday party, the desserts are always delicious, but the same every year. Apple pie, peppermint cookies, and possibly another dessert. Holiday parties are pretty predictable, am I right? I wanted to make a dessert that was DELICIOUS, but would make people say "hmmm…" because it's new and different. What's something that everyone loves? Bacon. So there you go! Peppermint Candied Bacon Cupcakes were created!
I have made this recipe a couple of times now and the reaction is always the same. A lot of "hmm…that's..interesting…" but after they take a bite, they realize how awesome these little gems are! The candied bacon and peppermint both offer a bit of a crunch on top of the smooth chocolate icing and soft cupcakes.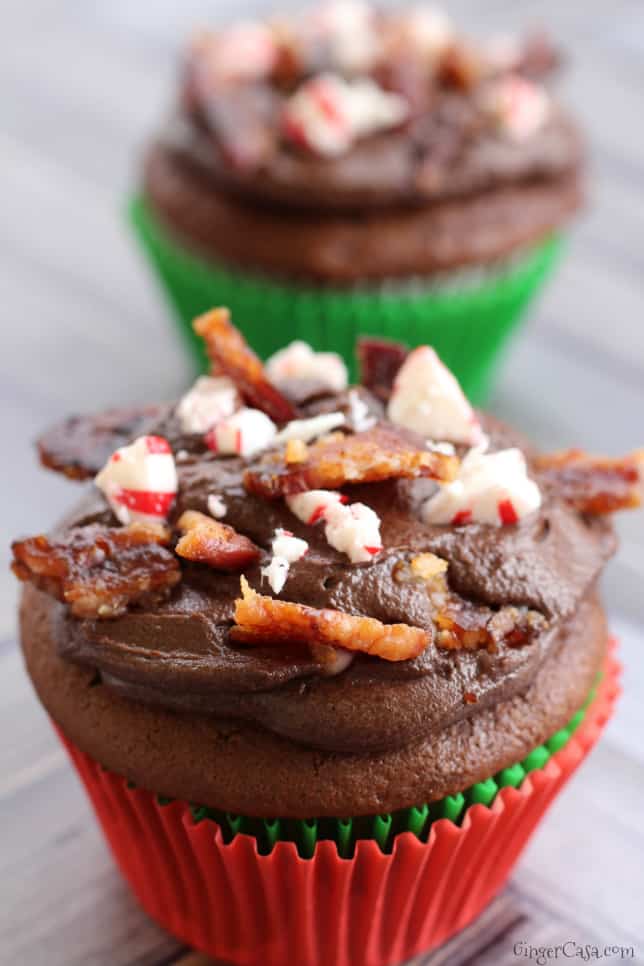 These delicious cupcakes are made with any chocolate cake recipe and chocolate icing, but the secret is in the toppings….crushed peppermints and candied bacon.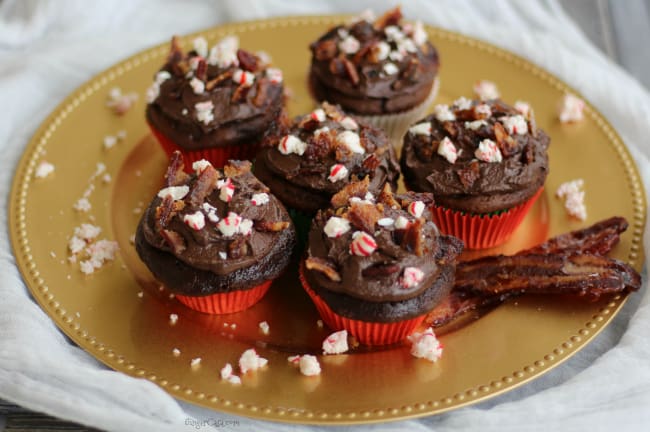 Presentation is key! Make sure to use a festive cupcake wrapper to make these peppermint bacon cupcakes pleasing to the eye and look appetizing! This is the part that is important so people actually try these delicious cupcakes!
Peppermint Candied Bacon Cupcakes - A Truly Delicious, Unique Dessert!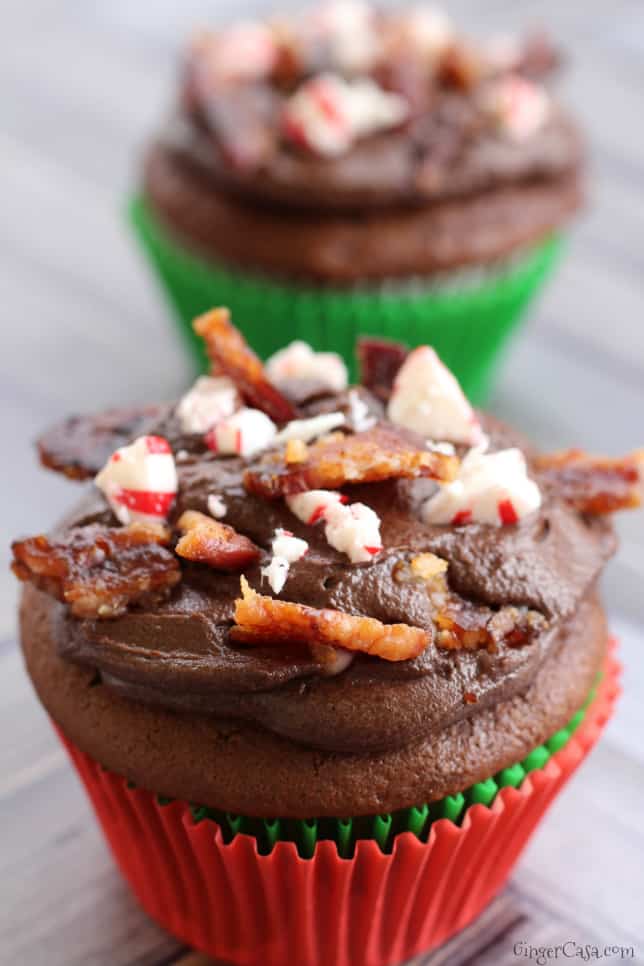 These delicious chocolate cupcakes are brought over the top with candied bacon and peppermint!
Ingredients
24 precooked chocolate cupcakes
Wright® Brand Bacon, naturally hickory smoked, 8-10 slices per 24 cupcakes
1/2 cup sugar (I used a blend of coconut sugar and cane sugar)
peppermints
Instructions
Bake chocolate cupcakes! You can make your favorite chocolate cupcake recipe or use a box, because guaranteed, the toppings on these cupcakes is what is going to shine.
While cupcakes are cooling, prepare your candied bacon.
How To Make Candied Bacon


Preheat oven to 325 degrees.
Lay a sheet of parchment paper on a cookie sheet.
Place slices of bacon on top of parchment paper.
Gently sprinkle sugar blend on top of each slice of bacon.
Place the cookie sheet in the oven and cook for about 20-30 minutes.
When bacon is crispy and golden brown, remove from oven and let cool for about 5 minutes.
Remove each slice from the cookie sheet and let cool and crisp a bit more on a plate.
Place a handful of peppermints in a plastic baggie.
Using a heavy rolling pin, crush peppermints, but not super finely.
Frost each cupcake with chocolate icing (again, use your favorite recipe for chocolate icing or store bought…no one will know!)
Sprinkle crushed peppermints on each cupcake.
Crush or cut the candied bacon and sprinkle generously on the icing, pressing each piece gently into the icing.
Enjoy!
Don't miss these delicious peppermint mocha glazed donut holes, which you can make for breakfast or dessert!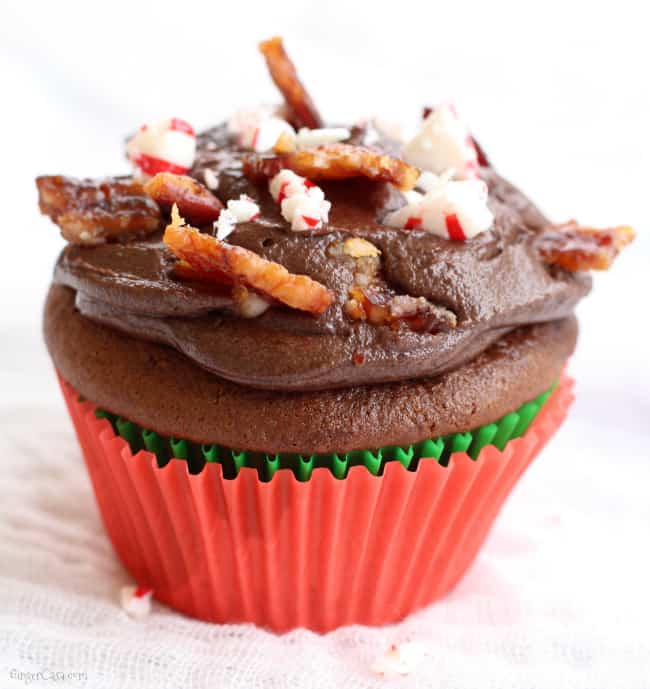 I was selected for this opportunity as a member of CLEVER and the content and opinions expressed here are all my own.
SaveSave
SaveSave
SaveSave
SaveSave
SaveSave
SaveSave
SaveSave
SaveSave
SaveSave
SaveSave
SaveSave