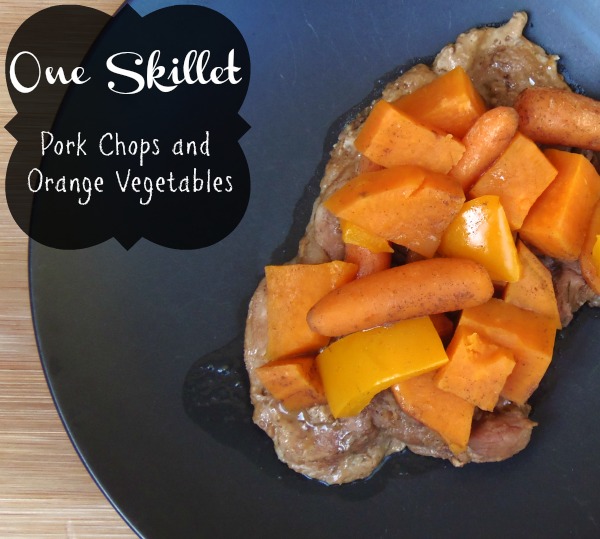 I recently splurged and bought myself a cast iron set. I had never used cast iron, but after reading about how awesome it truly is, I just had to try it out. I found a great deal on a five piece Lodge Pre-Seasoned Cast Iron set on Amazon and have really been pleased. I use this set for just about everything. Clean-up is simple, too. I just rinse out the pan, dry it completely on the stove, then season it with a little dab of coconut oil and it's good to go for the next use. I also found that if some foods DO stick, all you have to do is soak it (no longer than 10 minutes,) scrub it with a sponge, and sprinkle a little table salt in it to get the tricky bits off. So easy. And there are no yucky PFOAs or chemicals that leech into your food, so cast iron is definitely the way to go in my opinion.
I love meals that can be cooked in one skillet, start to finish, so I created this delicious One Skillet Pork Chops and Orange Vegetables recipe. It's delicious, has great vegetables that complement the meat, and is easy, of course!
One Skillet Pork Chops and Orange Vegetables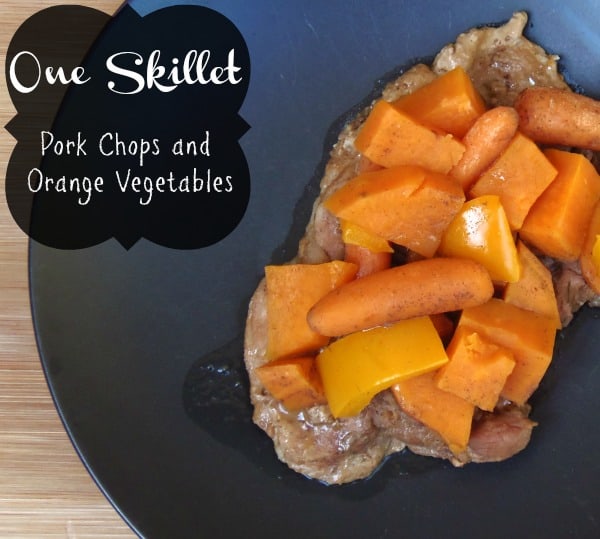 Save time with this One Skillet Pork Chops and Orange Vegetables recipe for dinner!
Ingredients
3-4 bone-in pork chops
1 TBSP oil
1 large sweet potato, peeled and cubed
1 orange bell pepper, cut into the same size as the sweet potato cubes
1 cup of baby carrots, cut in half
1/2 tsp ground cinnamon
1/2 tsp salt
1/2 cup orange juice
1/4 cup water
Instructions
Drizzle the into the bottom of your skillet.
Brown the pork chops over medium/high heat.
While pork chops are cooking, mix your cinnamon, salt, water, and orange juice together.
Turn pork chops and add vegetables on top.
Drizzle orange juice mixture over the vegetables and pork chops.
Bring to a boil and then reduce heat.
Cover and simmer for 20-30 minutes, or until all vegetables are tender. Make sure to check every so often to make sure you have enough moisture. If you do not, you can add water, 1/8 cup at a time.