Contains affiliate links.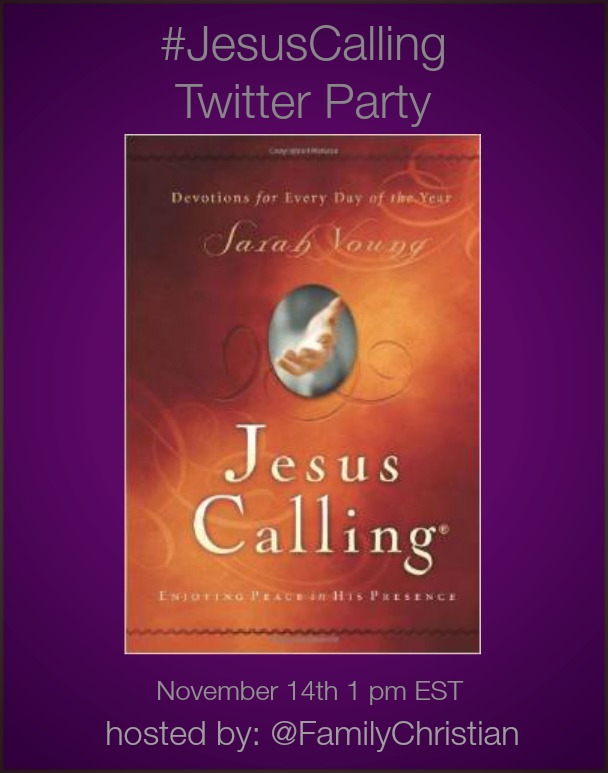 It's time for a fun Twitter Party! Join me (@CptFussybuckets) and @FamilyChristian as we talk about the best selling book "Jesus Calling" by Sarah Young.
When: November 14th 1-2 pm EST
Prizes: 5 participants will win the deluxe edition of Jesus Calling and a $50 appreciation certificate. 5 other readers will win a $50 appreciation certificate.
How: You must follow the host @FamilyChristian
Optional: Follow these amazing co-hosts
@mudpiesandtiara
@Ellenblogs
@ahhmazingrvws
@aliciamarie112
@SimplySherryl
@CptFussybuckets
@annesramblings
@MimiBakerMN
@PeaOfSweetness
@spreadingJOY
More about "Jesus Calling" from the Family Christian Website:
In this special 10th-anniversary edition, Sarah Young shares her own prayer journal with you–including over 100 additional scriptures personally selected by the author. This beautiful keepsake edition, celebrating 10 years of Jesus Calling touching lives all over the world, also includes a beautiful redesign of high-quality bonded leather cover.

Sarah's writings are personal reflections based on Jesus' own words of hope, guidance, and peace within Scripture. As you experience the devotions and the fresh look at Scripture, you will look forward to your time with Him.
Have you read this bestselling book? What are your thoughts? Will you join us for the #JesusCalling Twitter party? Hope to see you there!