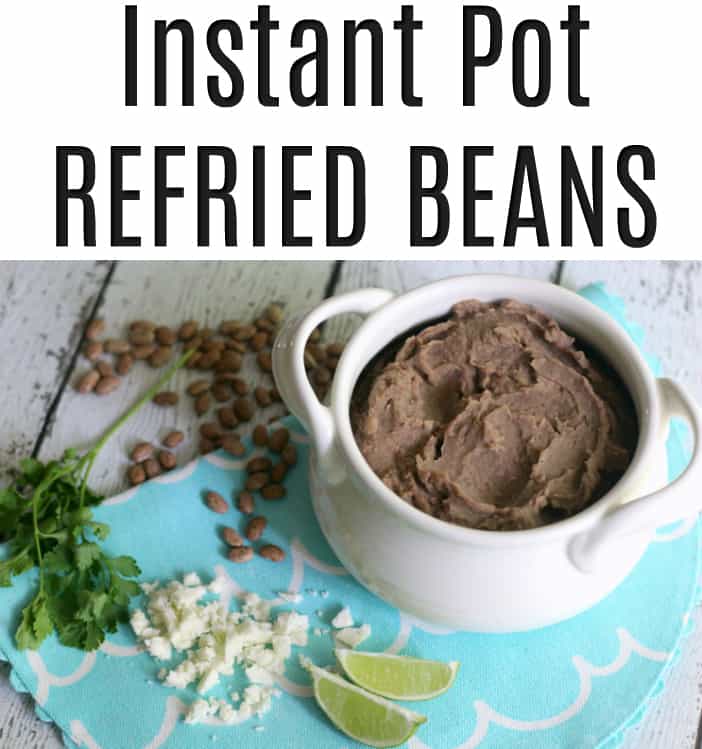 Taco Tuesday. Mexican food. Cheese Enchiladas. Mexican Rice. These are a few of my favorite things! And added to that list are these Instant Pot refried beans! There is just something about a steaming hot plate full of Mexican food. The smells, the flavors…it is SO good!
When I think of making pinto beans, (where refried beans must begin!) I think of the soaking for hours, the rinsing, the cooking for hours on end. It really is so much easier to get your refried beans out of a can, right? But the FLAVOR of home cooked refried beans is out of this world. There really is no comparison.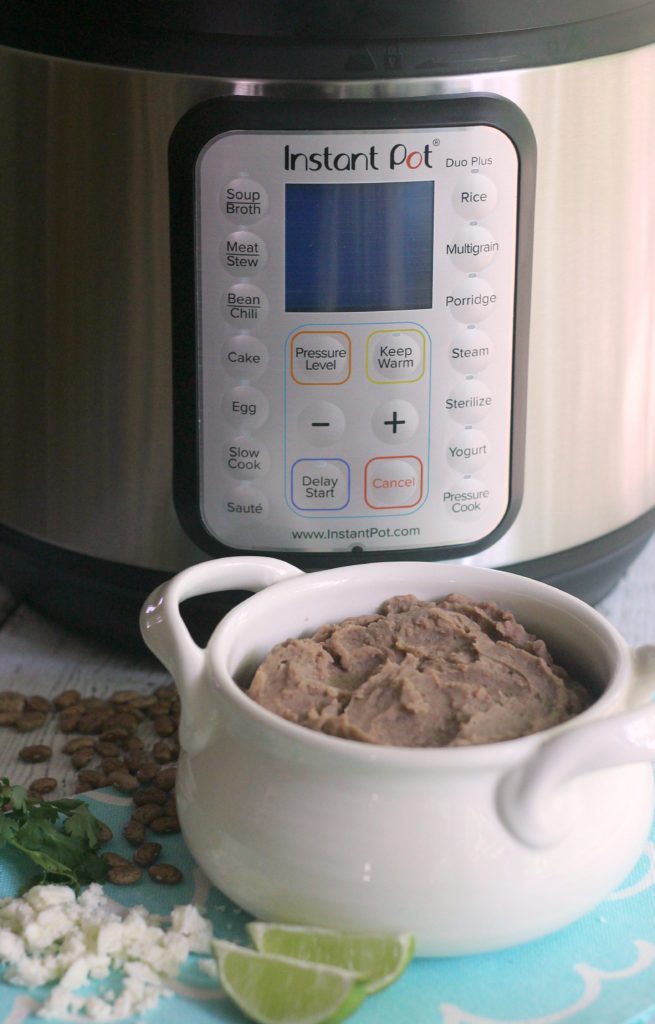 These refried beans are great alongside my homemade cheese enchiladas and instant pot Mexican rice.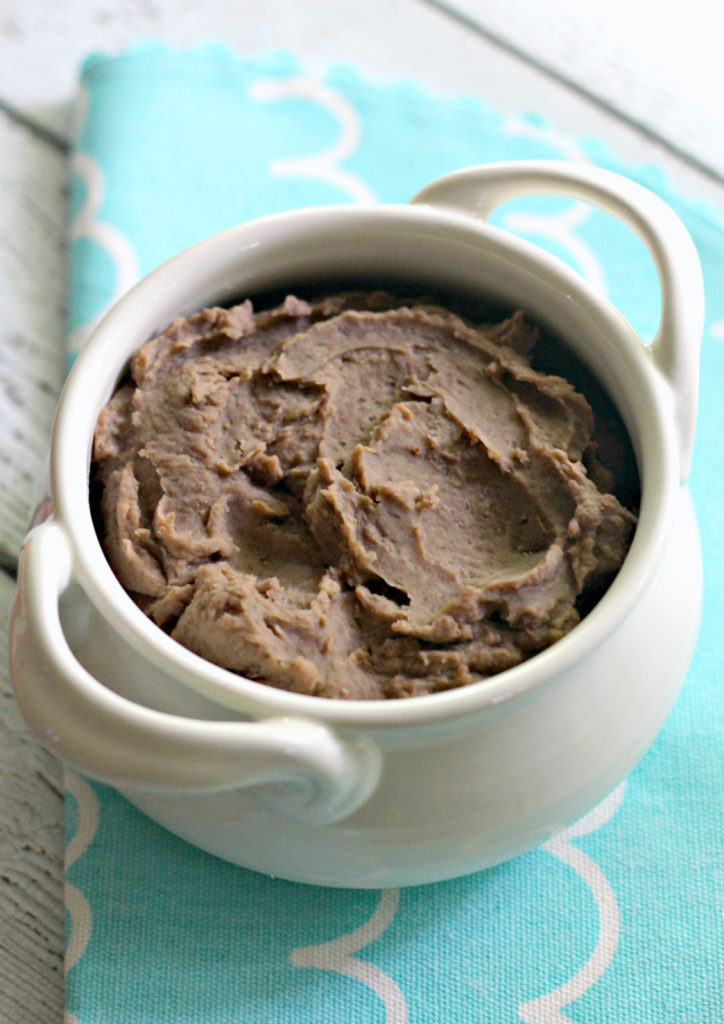 I used to think there was a big trick to making refried beans, but they really are pretty simple to make. If your refried beans seem too thick, you can add oil or water to make them more smooth. An immersion blender can really help to make a smooth consistency, too.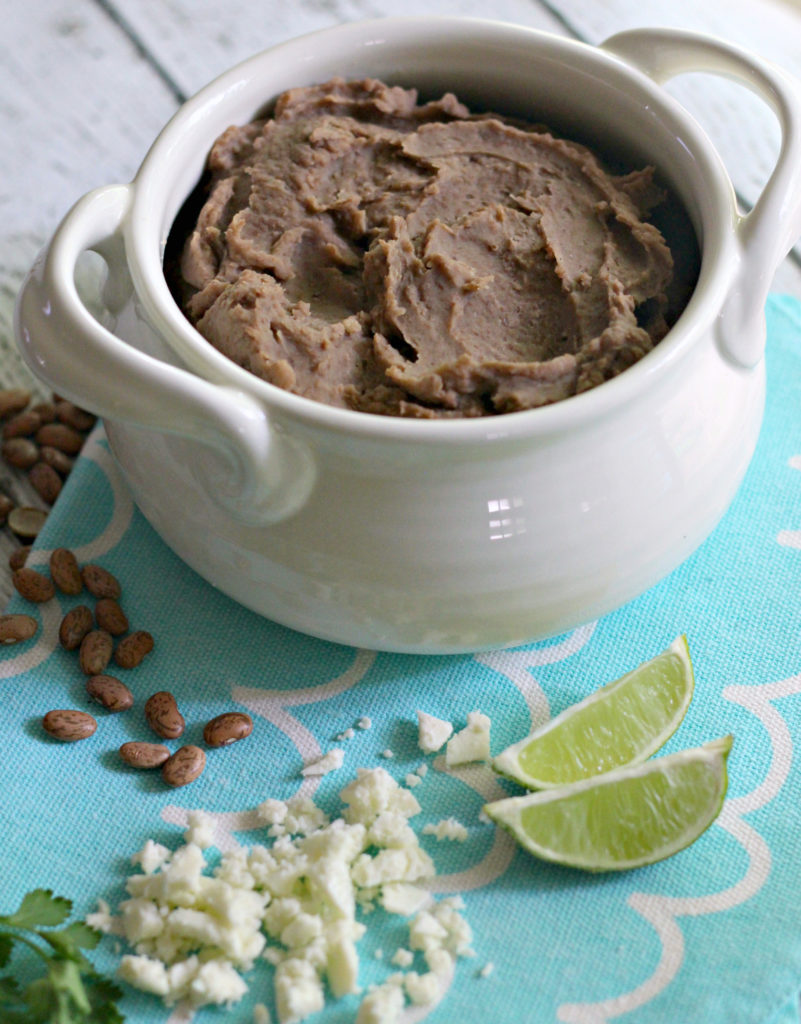 What will you serve alongside these instant pot refried beans? Or will you eat them by themselves? Either way, it's a win!
Instant Pot Refried Beans - No Soak Pressure Cooker Pinto Beans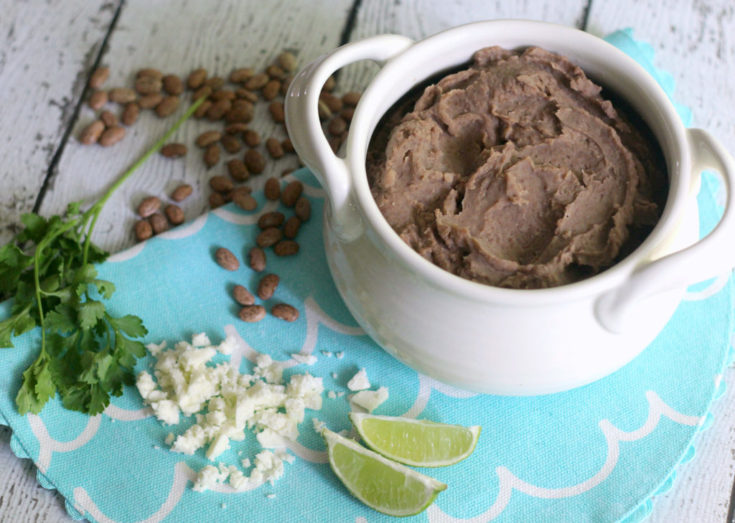 Instant pot refried beans - no soak pressure cooker pinto beans, ready in about an hour!
Ingredients
2 cups dry pinto beans
7 cups water
1 medium onion, chopped
2 cloves garlic, minced
1 tsp salt
1 tsp ground cumin
3 TBSP olive oil
Instructions
Rinse the pinto beans in cool water, sifting through the beans with your fingers to find and remove any small rocks that may be mixed in with the beans.
Pour the pinto beans into your Instant pot. 
Add the water, chopped onion, minced garlic, salt, cumin, and olive oil; mix well.
Cover the Instant Pot with the lid then lock the lid in place and set the steam valve to "sealing." Select 45 minutes of cook time.
When the beans have finished cooking, allow the pressure to drop naturally for 20 minutes, then release the steam vent.
Place a colander into a large bowl. Pour the cooked beans into the colander and allow the bowl to catch the cooking liquid.
Transfer the beans to a large bowl. Add ½ cup of the cooking liquid. Use an immersion blender to puree the beans until smooth. Season with salt and pepper to taste.
Recommended Products
As an Amazon Associate and member of other affiliate programs, I earn from qualifying purchases.