contains affiliate links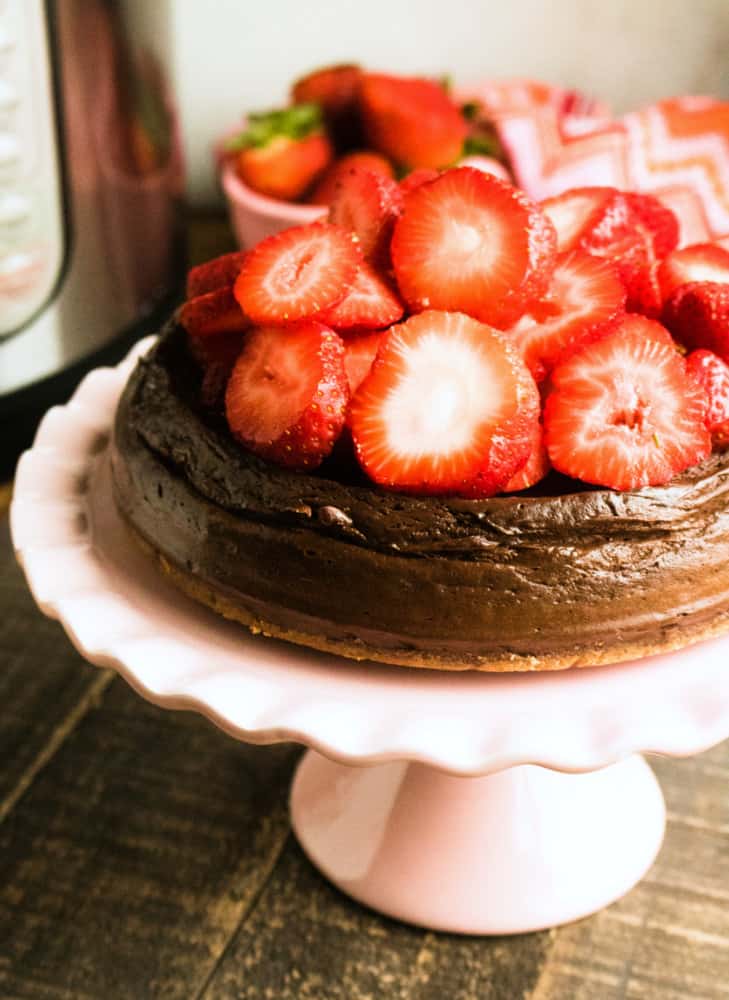 The Instant Pot is my absolute favorite, because it made Mexican rice simple and fail proof in my house. I have made so many things in my Instant Pot, and it is almost time to buy a new one, just because I use it SO often. Imagine the possibilities of having TWO! Why have I not bought two yet??
The Instant Pot not only makes delicious rice, perfect hard boiled eggs, zucchini lasagna, and cinnamon apples, along with a myriad of other foods, this genius kitchen appliance can knock desserts out of the ballpark! Here is a recipe for Instant Pot Chocolate Cheesecake and it of course does not disappoint!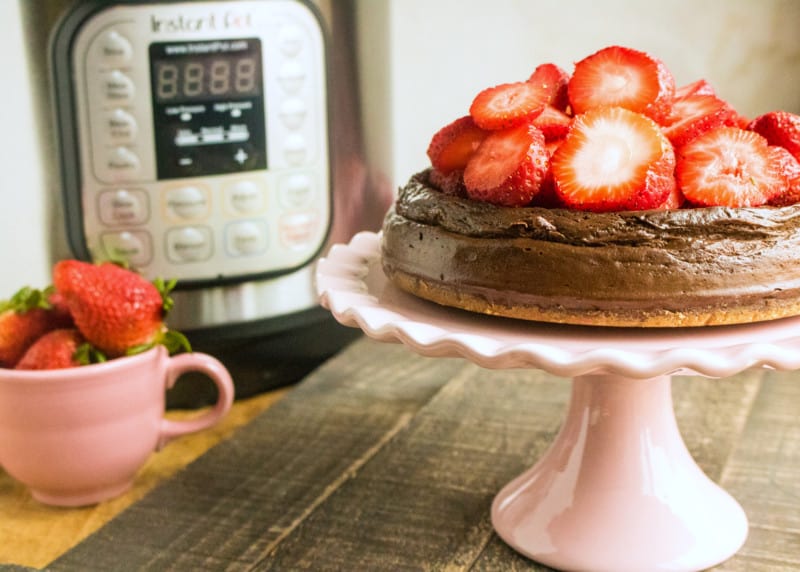 Instant Pot Chocolate Cheesecake
First things first, you need to find a springform pan that fits inside of your Instant Pot. Thankfully, you can find one on Amazon, but just make sure to measure and make sure it fits your Instant Pot before you get your hopes up and start craving Instant Pot Chocolate Cheesecake!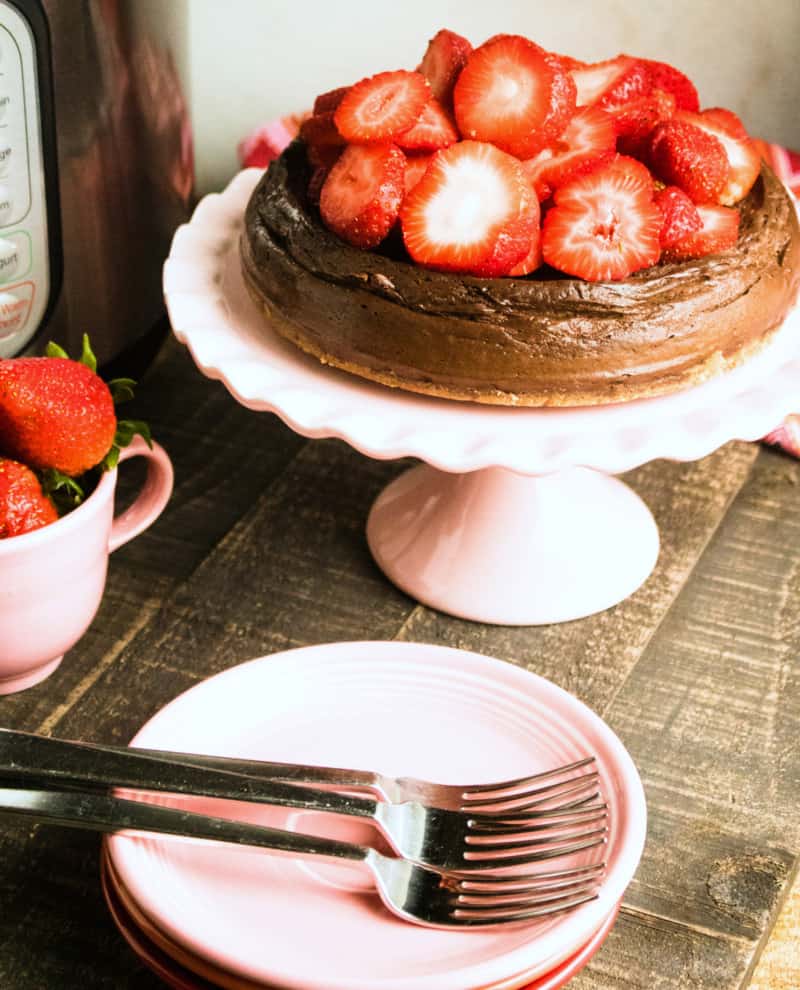 Fresh berries can make this chocolate cheesecake not only taste absolutely delicious, but it will make a beautiful centerpiece and your guests (or family!) will be in awe! If we are being honest, the cheesecake will not look too pretty…so berries or whipped cream can really jazz it up!
This chocolate cheesecake would be delicious after a meal of Instant Pot Orange Chicken, Instant Pot Spaghetti, or Instant Pot Korean Beef. It cooks nicely as you are enjoying your meal, but this is a prime example of why we all need two (or three!) Instant Pots. I recommend setting a price alert on Amazon to grab a deal. I also recommend stocking up on a few staples in case company comes!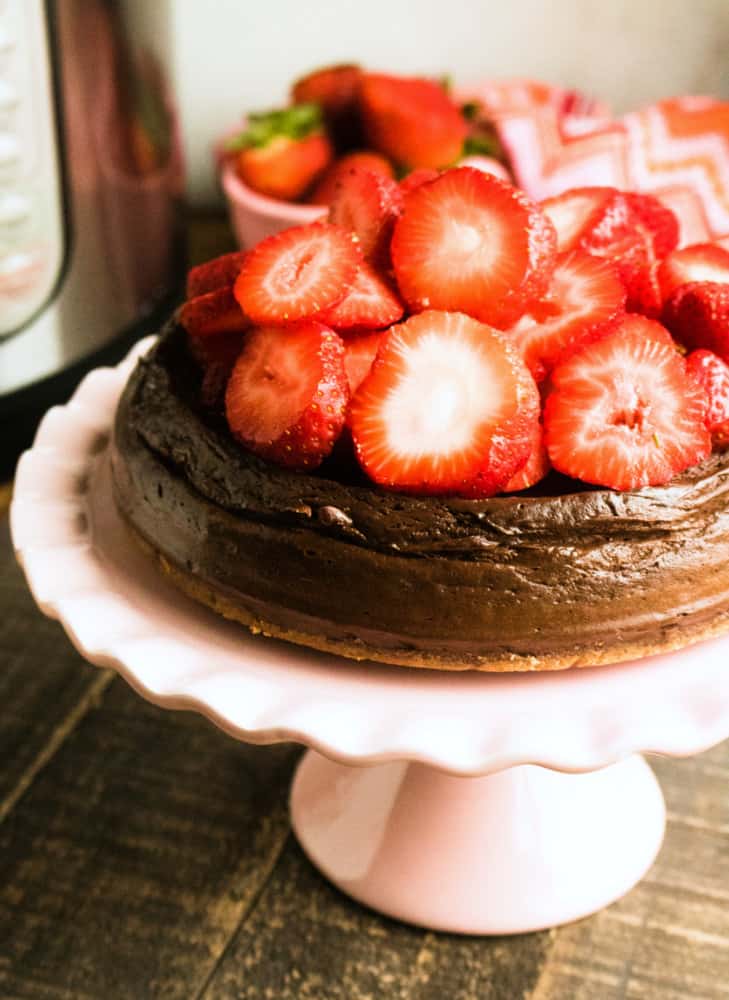 I hope you enjoy this delicious recipe!
Instant Pot Chocolate Cheesecake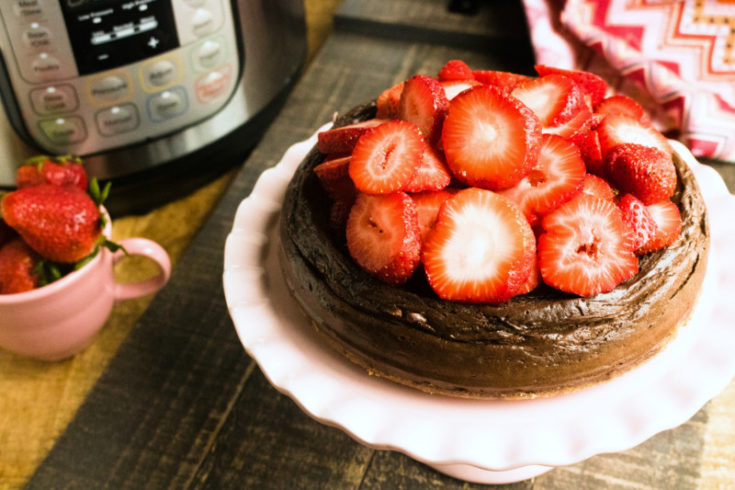 Ingredients
Crust
3/4 cup graham cracker crumbs
2 TBSP melted butter
1 TBSP sugar
Cheesecake
2 8 oz pkgs cream cheese, softened
1/2 cup cocoa powder
2 large eggs
1/2 tsp vanilla extract
1/4 cup sour cream
Instructions
Combine graham cracker crumbs with sugar and melted butter and pat down on the bottom of a 7-inch springform pan sprayed with non-stick cooking spray. 
Cream together the cream cheese and sugar until smooth and then mix in the eggs one at a time. Add the cocoa powder and mix until well combined. Mix in the vanilla extract and sour cream until smooth.
Pour into springform pan on top of the graham cracker crust. 
Run a fork back and forth through the cheesecake several times to remove air bubbles.  
Cover with foil.
Pour two cups of water into the inner pot of the Instant Pot.  
Make a sling out of aluminum foil to lower the pan into the pressure cooker. 
Close the lid of the Instant Pot and turn to sealing position. 
Set for a manual high-pressure time of 35 minutes. When the time has finished, allow for a natural release for 12 minutes before letting out the rest of the steam. 
Cool on the counter for an hour and then put in the refrigerator and cool for an additional 4 hours. 
Recommended Products
As an Amazon Associate and member of other affiliate programs, I earn from qualifying purchases.