Homemade Mini Caramel Apple Suckers contains affiliate links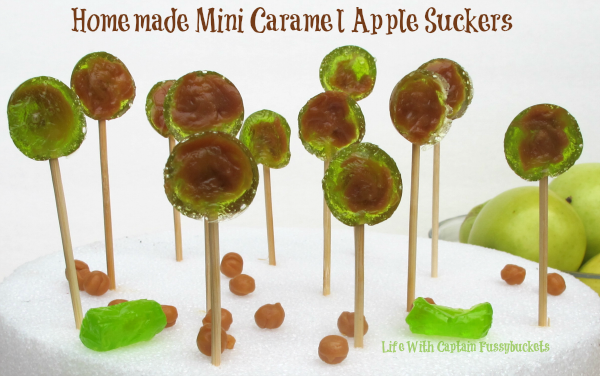 One of my absolute favorite Halloween candies is caramel apple suckers. I adore these sweet, sour, sticky suckers, but do I really need a whole bag? Noooo! I had some of these yummy caramel bits on hand from our Mickey Mouse caramel apples and mini silicon candy molds, and I was surprised with how easy it was! They're small enough to be satisfyingly sweet, but perfect for portion control and little ones!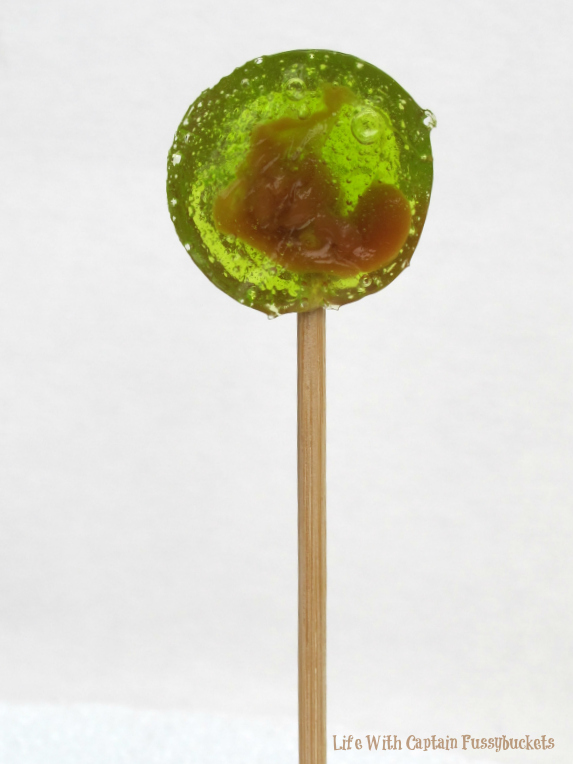 And they aren't too big for little ones to eat, so it's great! Make a batch as a special treat for your kids and friends!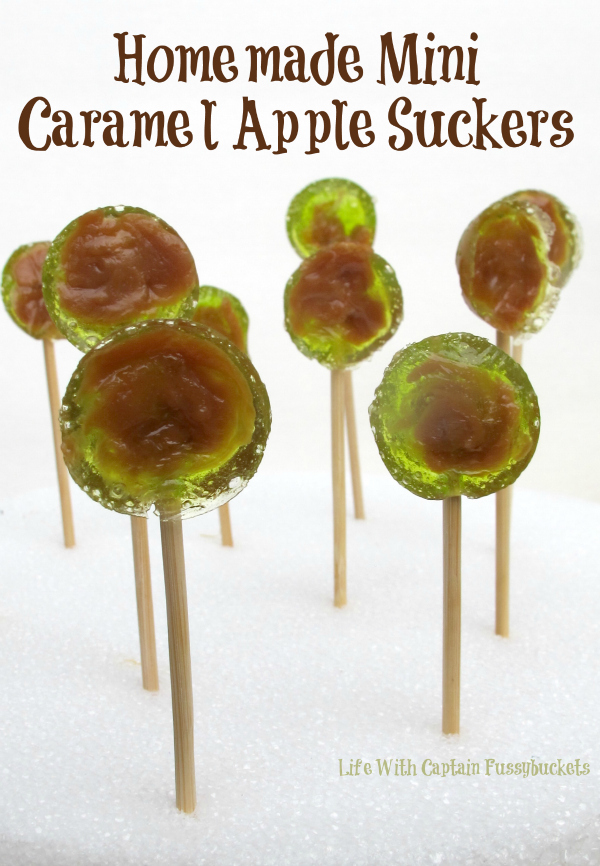 Homemade Mini Caramel Apple Suckers - A Sweet Treat for Halloween!
Super easy homemade MINI caramel apple suckers are the perfect portion control!
Ingredients
about 10 green apple Jolly Ranchers candies
about 30 caramel bits
Instructions
Preheat oven to 350°.
Unwrap green apple Jolly Ranchers, place in a zippered plastic bag, and close tightly.
Place plastic bag in a towel and use a meat tenderizer or other heavy object to crush the candy.  (Candy doesn't have to be finely crushed, just broken up a bit.)
Place 2-3 caramel bits in each silicon mold.
Spoon out enough of the crushed candy into each mold to fill it.  Candy will melt and settle a bit, but make sure to not overfill.
Place filled silicon candy mold into the oven.
Let candies melt together, watching closely.
When candies have melted, stir caramel in a swirl.
Place mold back in oven and let candies melt together for another minute or two.
When candies have all melted, take mold out of the oven and let cool for about 5 minutes.
When candies have hardened slightly, but are still warm to the touch, carefully remove one at a time and insert a sucker stick into the bottom of each one, and place on wax paper to cool completely.
If it is too hard to put the stick into the candy, you can reheat candy any number of times to get them just perfect!