My kids are all about grape juice and here is why I don't mind. For one, it tastes delicious. Two, it helps their little digestive tracts move right along, which let's face it, is great news for parents because the alternative is a tummy ache and just a feeling of being unwell. Did you know, though, that grape juice is great for your heart?
Welch's grape juice is made from Concord grapes, which have a thick, dark purple skin and crunchy seeds that all contain polyphenols. Research suggests that certain polyphenols may play a role in supporting a healthy heart. 100% grape juice helps support a healthy heart. It also supports healthy circulation, keeping blood pumping and energy flowing. 100% grape juice is a healthy, nutrient-dense beverage and contains no added sugar. Each 4 oz. glass of Welch's 100% Grape Juice is made with more than 20 Concord grapes and counts as 1 serving (1/2 cup) of fruit, with no added sugar, color or flavor.
I combined the flavor and power of Concord grapes with the good-for-you power of grass-fed gelatin, and came up with these delicious, antioxidant rich Grape Juice Gelatin Hearts. They are good for kids and adults alike! You can, of course, make this gelatin in a regular dish, but the heart molds make them a bit more fun.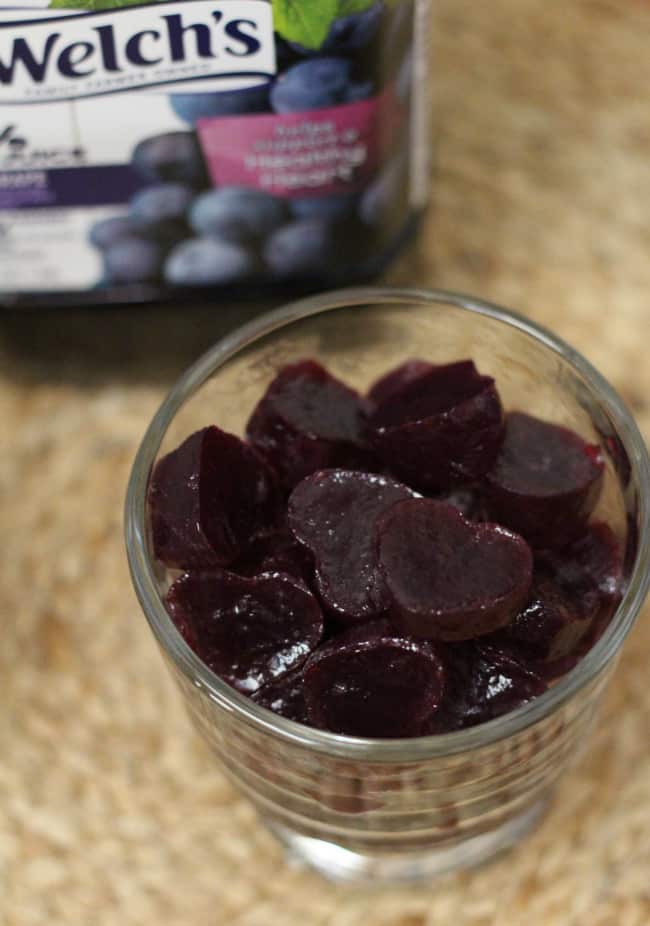 Grape Juice Gelatin Hearts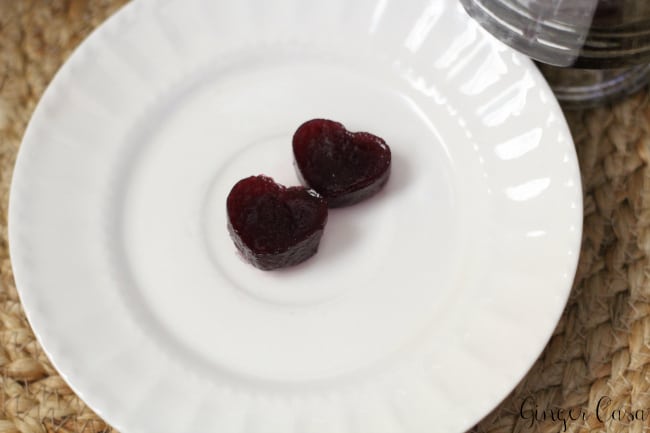 Homemade Grape Juice Gelatin Hearts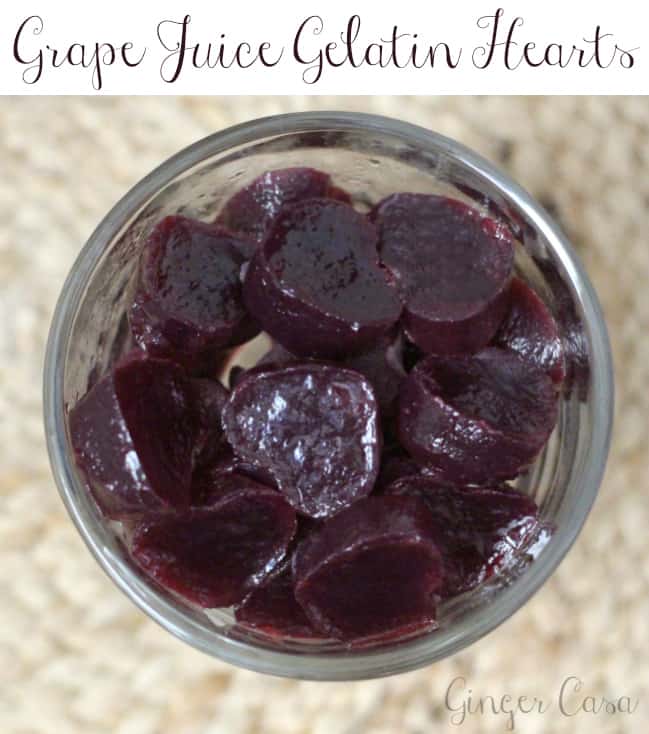 Make this delicious snack - Grape Juice Gelatin Hearts - for a healthy treat!
Ingredients
1 1/4 cups of grape juice
1/4 cup of boiling water
Instructions
​Pour 1/2 cup of grape juice into a small glass bowl.
Sprinkle 2 TBSP gelatin over the grape juice.
Let mixture sit for 5 minutes to "bloom."
Add 1/4 cup of boiled water to mixture and use a whisk or fork and stir well.
When mixed well, add in remainder (1 cup) of grape juice and stir well.
Pour through a strainer, if desired.
Pour mixture into heart moldsor a 8x8 glass baking dish.
Put molds or dish into the refrigerator for 3-4 hours or overnight, until firm.
Recommended Products
As an Amazon Associate and member of other affiliate programs, I earn from qualifying purchases.
These are delicious, nutritious bites of goodness! Jam packed with antioxidants, protein, and vitamins…you can't lose with these grape juice gummies!