I'm not a big jewelry girl, but I do like to wear earrings. When Say Hello Diamonds asked me to do a review of a pair of their earrings, I was thrilled! The earrings came very quickly and did not disappoint. If I didn't already know better, I would have questioned whether they were real diamonds or not. But Say Hello Diamonds produces diamond replica jewelry at a fraction of the cost.
Say Hello Diamonds works with companies like Groupon, LivingSocial, etc to give the consumer the best possible deal on their beautiful diamond replica jewelry. And they're partnering with our blog, too! They are offering my readers a 70% discount off the prices found on their website – Say Hello Diamonds. Just use the code "FussyBuckets" on your order of any item in their store!
Here are the "diamond" earrings I was sent to review: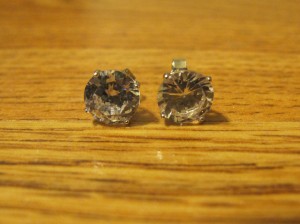 The picture doesn't really do it justice, but I tried. The earrings are beautiful and sparkly. Here is the photo from the website: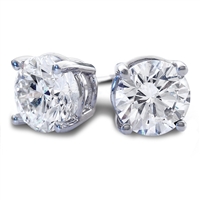 These earrings are selling for $195 on the website, but you can get them for 70% off with the code "FussyBuckets". That's $58.50 for a beautiful pair of earrings. You can also get rings, necklaces, and bracelets!
Say Hello Diamonds has a 100% refund or exchange policy. So if you're not thrilled with your purchase or if it doesn't meet your expectations, you can get a refund or exchange your faux diamonds. They have a live person to help you via online chat or telephone M-F, 9 – 6 EST.
*Disclosure: The product in this review was provided to me free of cost for the purpose of conducting this review. All opinions expressed in this review are my very own and are not influenced by monetary compensation.
The following two tabs change content below.
Gena and her husband live in the Dallas/ Ft. Worth, Texas area with their three sons. She is a former kindergarten teacher turned stay-at-home mom, blogger, and social media enthusiast. They love being outside, playing sports, raising chickens, cooking, crafting, and more!