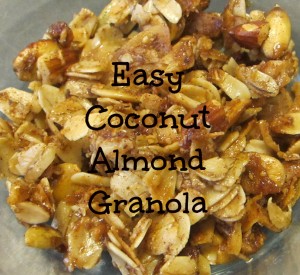 I recently found an incredible, organic coconut granola. One bite and I was in love. BUT I had gotten it with a deal and it wasn't so cheap. So, I went on a mission, looking at various recipes online so I could somewhat create that delicious cereal until I found another deal to purchase more. I eventually landed on this granola recipe from 100 Days of Real Food and my recipe is definitely inspired by that one, which apparently, was inspired by Anson Mills.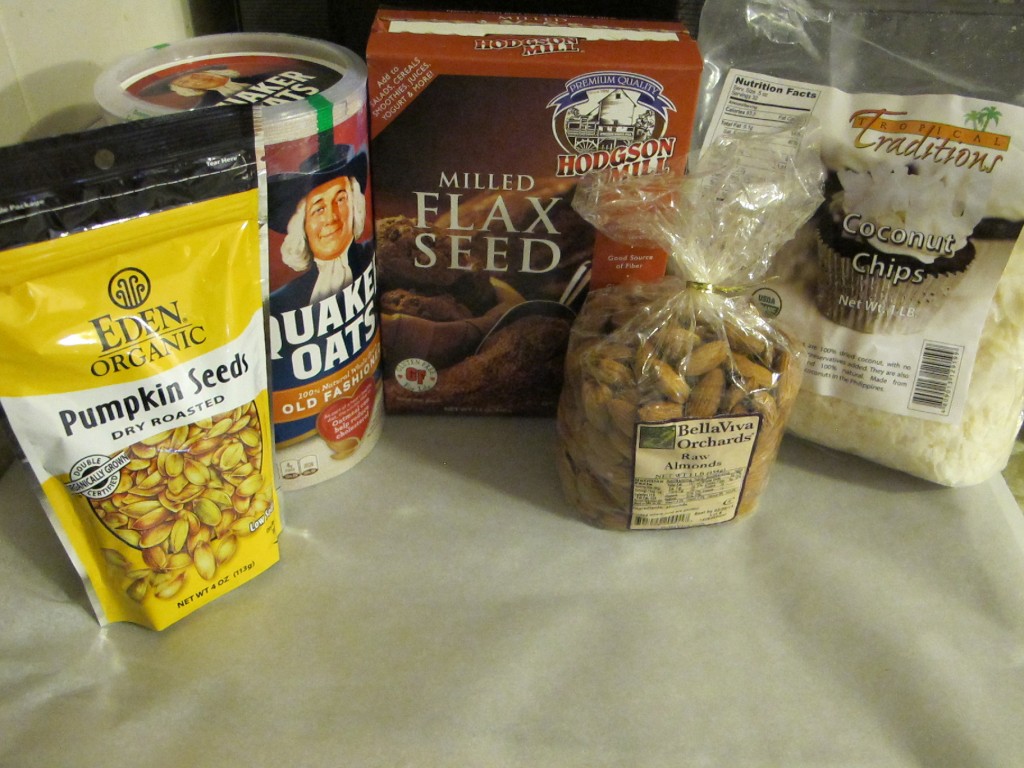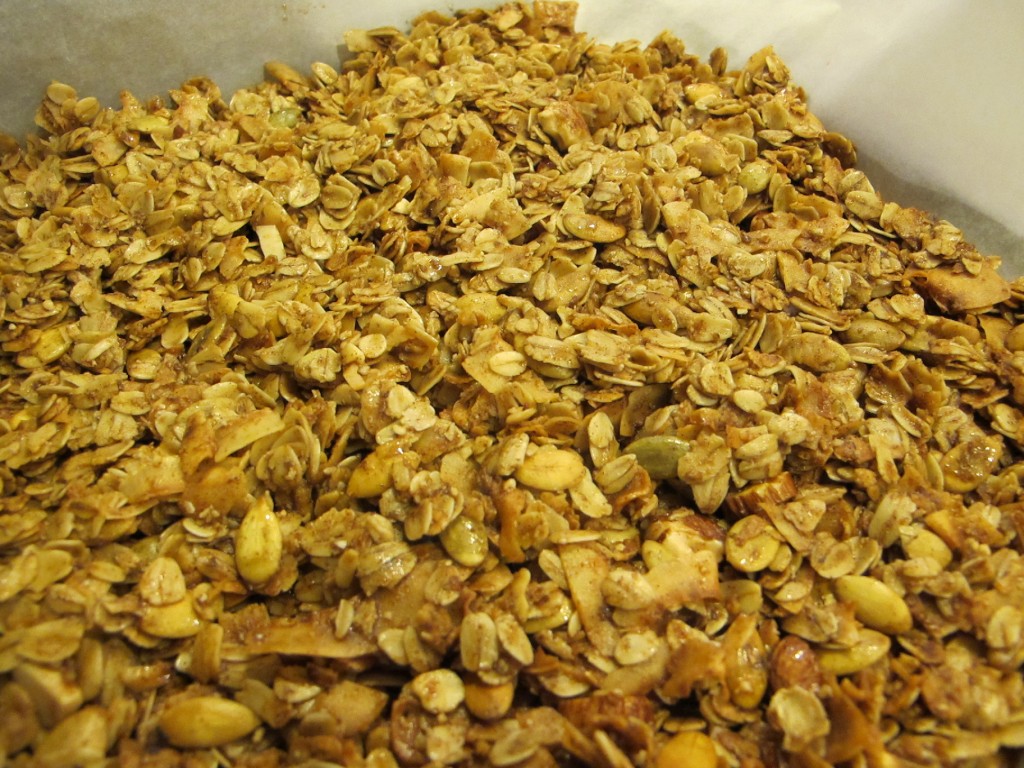 This granola is absolutely delicious with milk or just by itself. I also used it as a topping for apples cooked in the microwave…yum!
**contains affiliate links**
Easy Coconut Almond Granola Recipe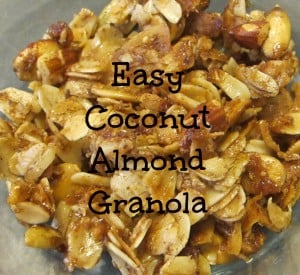 Ingredients
3 cups rolled oats
3/4 cup raw almonds, sliced, or in my case, crushed
1 cup of unsweeted coconut chips
3/4 cup pumpkin seeds
2 teaspoons ground flax seed
1 tsp cinnamon
1/2 teaspoon ground ginger
1/4 teaspoon nutmeg
6 tablespoons of coconut oil
1/2 cup honey
2 teaspoons vanilla extract
1/2 teaspoon of salt
Instructions
Preheat oven to 250°
Cover a medium sized baking sheet with parchment paper.
Mix the oats, almonds, coconut chips, pumpkin seeds, flax seed, cinnamon, ginger, and nutmeg together in a large bowl.
Combine the coconut oil and honey in a small pan and melt oil over medium heat. (You can skip this step if your oil is not solid.)
After the coconut oil melts, stir in vanilla and salt.
Pour the liquids over the dry mixture and stir together.
Spread the mixture onto the parchment paper covered pan and bake for 75 minutes, or until very slightly browned.
After the granola cools, you can break it up and store in an airtight container for up to 2 weeks.
Notes
I'm not sure how professional cooks slice their almonds, but I took the hubby's advice and smashed them all with a meat tenderizer to crush them. I put some in a towel the second time so they didn't scatter everywhere.
I didn't really like how "done" the coconut was compared to the rest of the granola. The next time, I threw in the coconut chips after about 45 minutes and it turned out a lot better. Of course, they don't stick to the granola that way, but, it just depends what your preference is.