Coconut Chicken Strips with Honey Mustard
I have been looking for different ways to use my coconut chips. It's delicious in homemade granola, but I wanted to branch out and see if I could incorporate it into something with meat. Here is a super satisfying Coconut Chicken Strips recipe that I know is good because hubby raved about them!
Chicken can get boring super fast, but it is a good choice for meals, especially with little ones. My kids have always loved chicken strips, steak fingers, fish sticks, anything that can be eaten with your hands and dipped in something. This recipe is great for that, and kids can also help cook this meal.
I love dipping my chicken in honey mustard, but you could also dip them in ketchup, barbecue, or any of your favorite sauces! What is your favorite dipping sauce?
Coconut Chicken Strips with Honey Mustard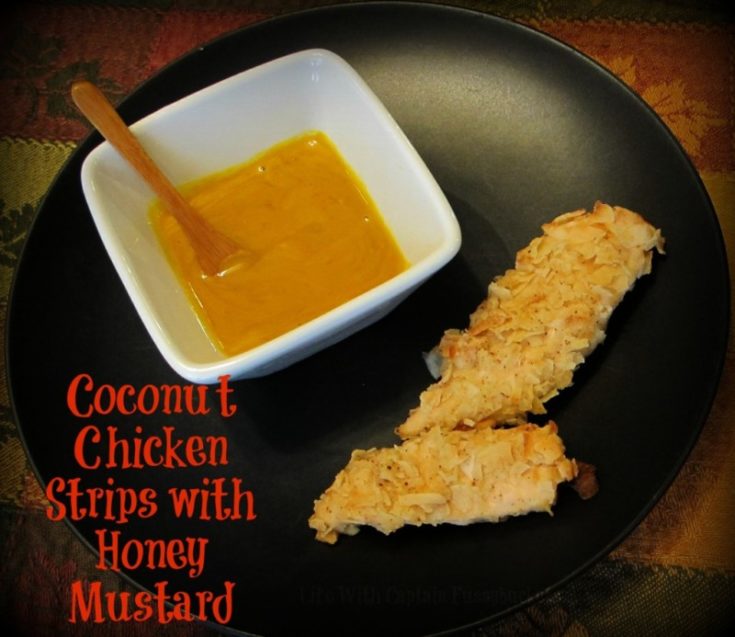 Coconut Chicken Strips with Honey Mustard
Ingredients
Coconut Chicken Strips
1 1/2 lbs of boneless, skinless chicken breast halves, cut into strips
2 TBSP grapeseed, olive, or coconut oil
1 TBSP flour
1/4 tsp nutmeg
Honey Mustard
1/2 cup prepared mustard
2 TBSP honey
Instructions
Turn oven to "broil."
Spread coconut evenly on a baking sheet.
Toast coconut until slightly browned and remove from oven.
Preheat oven to 475°
Place cut chicken strips into a bowl with the oil and toss to coat.
Mix flour, nutmeg, and toasted coconut in a bowl or bag (if you want to shake to coat).
Spray cookie sheet with oil.
Coat chicken with dry mix either by dredging it or shaking it in a bag.
Place chicken on cookie sheet, evenly spread out.
Bake for 10-15 minutes or until cooked through.
While chicken is cooking, mix mustard and honey together for a dipping sauce.
Notes
We like our chicken strips slightly browned, so I spray some oil and water mixture on top of the strips to encourage browning, and also stick them under the broiler for a short time.
Try out these delicious recipes: