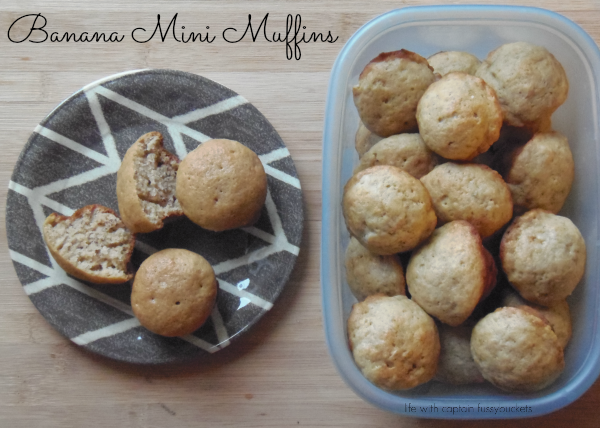 One of the boys' all time favorite snacks is banana mini muffins. We make them quite often and while they usually disappear quickly, sometimes I make an extra batch to keep in the freezer. That way, we can pull out a few at a time, let them thaw or put them in the toaster oven for a few minutes for a warm, delicious treat.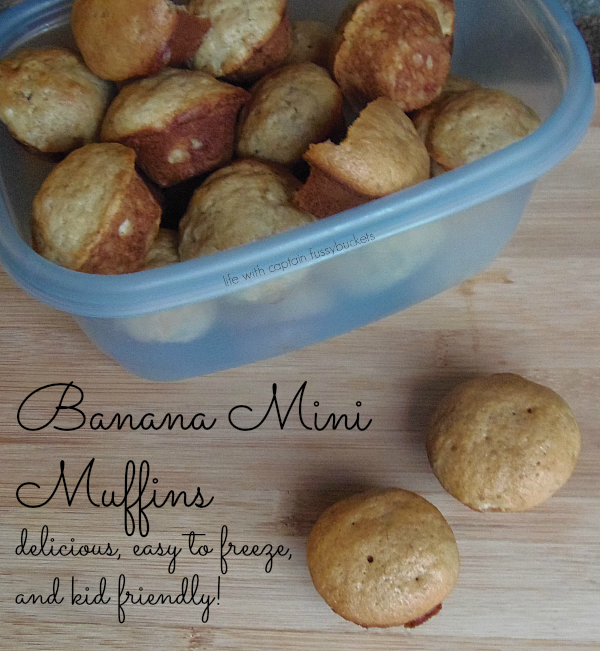 Over the past few months, I have really worked on keeping my fridge organized. I have talked about storing New Year's Eve snacks, keeping leftovers fresh, and even cleaning up my hubby's work fridge and wrapping cloth diapers to make them waterproof. Something I have avoided, however, is my freezer. I don't know why, but I do not like organizing my freezer. I like having it organized, and protecting my food from freezer burn, but somehow it is just easier to open the door, throw something in, and forget about it. But when I actually want something that I know is in the freezer, I have to dig and dig and fight with the toddler as he wants to pull everything out. I gave it a mini makeover, so I could store lots of these Banana Mini Muffins inside!
Banana Mini Muffins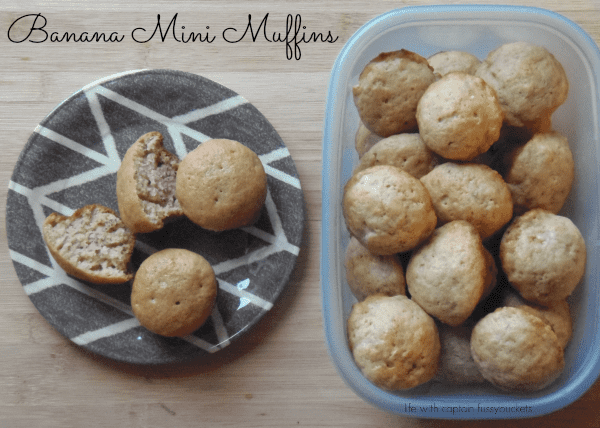 This breakfast can be made ahead and frozen, or eaten on the spot! These Banana Mini Muffins are so good!
Ingredients
one cup of sugar (or applesauce)
1/2 cup butter, softened
2 large eggs
3 medium, mashed, very ripe bananas
1/2 cup kefirnofollow or milk
1 teaspoon vanilla
2 1/2 cups all-purpose flour
1 teaspoon baking soda
1 teaspoon salt
optional: 1 cup of chopped nuts
Instructions
Heat oven to 350°F.
Grease bottoms of two mini muffin pans or use mini cupcake liners.
In a large bowl, stir sugar and butter until mixed well.
Stir in eggs.
Stir in mashed bananas, kefir OR milk, and vanilla, mix until smooth.
Stir in flour, baking soda, and salt until mixed well, careful not to overmix, or muffins will be tough.
Bake mini muffins for 13-18 minutes. Keep an eye on them to make sure they do not burn. Insert a toothpick in the center of one muffin and check that it comes out clean to ensure that muffins are done.
Cool 5 minutes on wire rack or plate.