Arancini with Marinara and Broccolini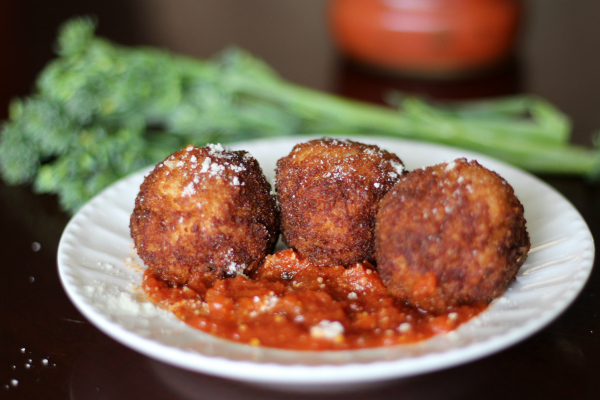 If I told you that our family loves an Italian inspired meal, that would be a complete understatement. There is nothing in this world that the boys and my husband get more excited about than the smell of Italian food cooking. Lasagna, spaghetti, pizza, alfredo chicken….anything and everything that has a remote taste of Tuscany, they will love.
When we visited Walt Disney World last year, we ate at a restaurant called Via Napoli in Epcot. He ordered a delicious appetizer called Arancini. He was not sure what it was, but he did love it…of course. I researched many recipes when deciding just how to make this recipe for our family. What I came up with was a delicious dish that we all love! I added a special Springtime ingredient – broccolini! This recipe was brought to you by Bertolli.
Arancini with Marinara and Broccolini - Create an Italian Inspired Meal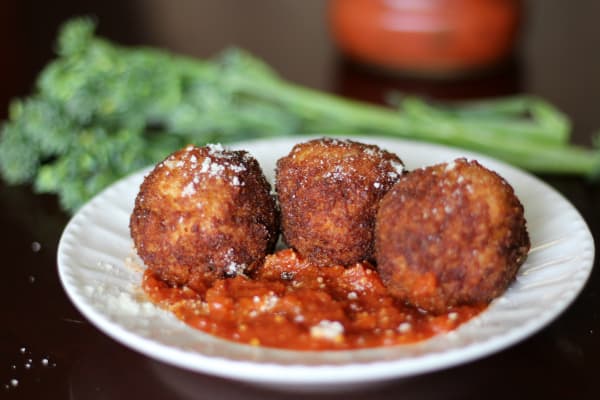 Make this delicious dish as an appetizer or main meal! Arancini with Marinara and Broccolini is perfection!
Ingredients
5 cups chicken broth (only needed if your rice isn't cooked)
1 TBSP extra virgin olive oil
2 eggs
1/2 cup grated Parmesan & Romano blend 
1/2 cup + 1 cup breadcrumbs
fresh, diced mozzarella
small bunch of washed broccolini
olive oil for frying
Bertolli Riserva Marinara
Instructions

Directions:
(If you already have risotto, you can skip steps 1-4)
Heat a heavy saucepan over medium heat. Add the olive oil and rice. Stir-fry for 2-3 minutes, until rice is toasted lightly.
Add 1 cup of chicken broth to the rice, stirring constantly, until the broth has been absorbed.
Repeat adding 1/2 cup of broth at a time, allowing the broth to be absorbed before adding the next 1/2 cup of broth.
Continue until you have used all 5 cups of the broth and the risotto is tender, but firm - "al dente."
Pour olive or grapeseed oil in a large frying pan, about 3 inches deep.
Pull the tops off of 3-4 broccolini stems and chop.
Combine the eggs, risotto, Parmesan and Romano, chopped broccolini tops, and 1/2 cup of bread crumbs in a bowl.
Pour remaining 1 cup of breadcrumbs in a seperate dish.
Form 1 1/2 inch (approximately) balls out of the risotto mixture. If the mixture is too moist, add more breadcrumbs.
Insert one cube of fresh mozzarella in the center of each ball.
Heat the oil over medium-high heat.
While oil is heating, bring a pan of water to boil and cook broccolini to your desired crispness.
Roll the risotto mixture balls in the bread crumbs to coat.
Add a few rice balls to the hot oil and cook until brown and heated throroughly, turning them throughout the cooking process to brown all sides. (Don't try to cook all at the same time or else you will end up with some burnt arancini and that is never good!)
Put the cooked rice balls on a plate lined with paper towels to drain.
Warm your Bertolli Riserva marinara in a small sauce pan.
Sprinkle the arancini (rice balls) with parmesan and romano to season slightly.
Serve Arancini with marinara dipping sauce while hot, alongside freshly cooked broccolini.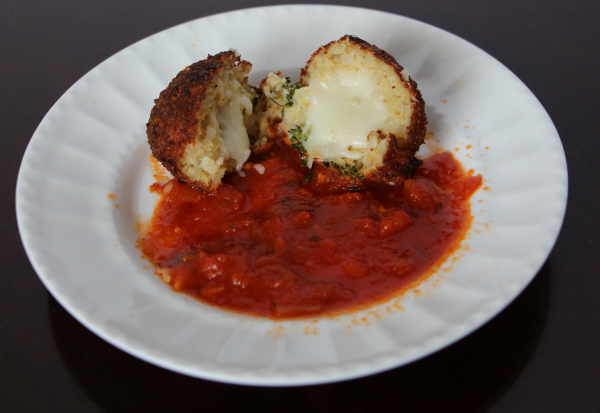 What's your favorite Italian dish?
SaveSave
SaveSave
SaveSave
SaveSave
SaveSave