Apple Danish with Crumble Topping We are a participant in the Amazon Services LLC Associates Program, an affiliate advertising program designed to provide a means for us to earn fees by linking to Amazon.com and affiliated sites.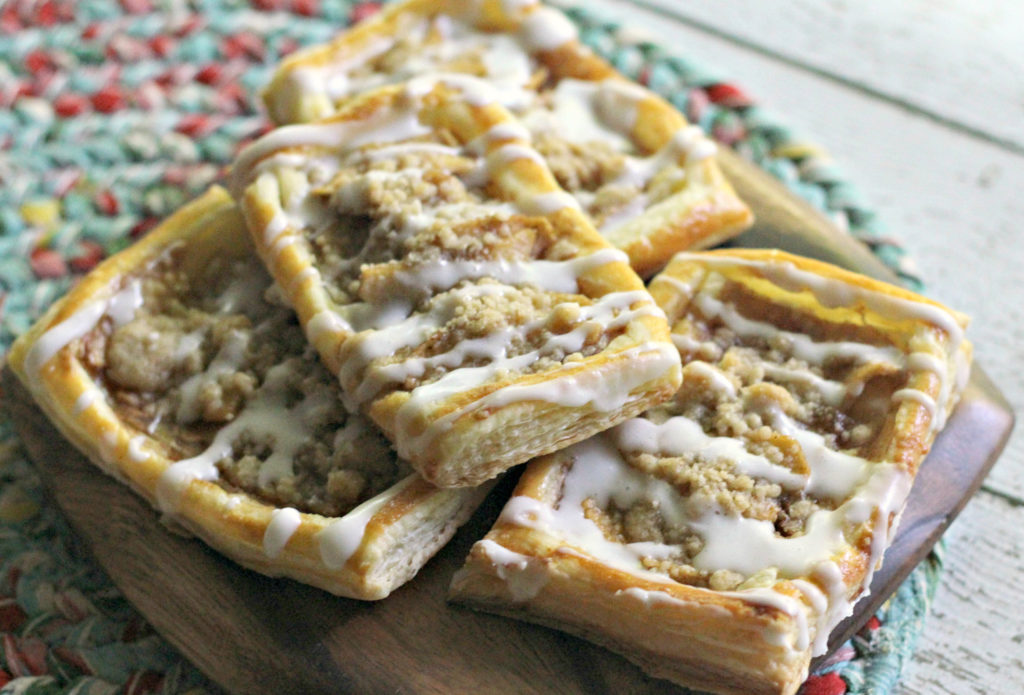 There are no better flavors on this earth than the flavors of fall. Whether or not you agree, you cannot deny that the flavors and smells of fall are unique and invoke a certain feeling. The cooler weather, school, leaves falling, it's all SO wonderful! The flavors and smells of cinnamon, apples, pumpkin…amazing! My favorite fall recipes, other than these delicious apple danishes are Instant Pot Cinnamon Apples and Apple Cranberry Crumble.
These semi-homemade Apple Danishes with Crumble Topping really celebrate the flavors of fall! Who wouldn't love to chow down on one of these after a day at school, right before a Friday night football game, or a Saturday morning soccer game? The beautiful thing is that these can be for breakfast, snack, or dessert!  (If you love those puff pastry sheets, try my Air Fryer Breakfast Pockets!)
Bake on parchment paper to make clean-up a breeze.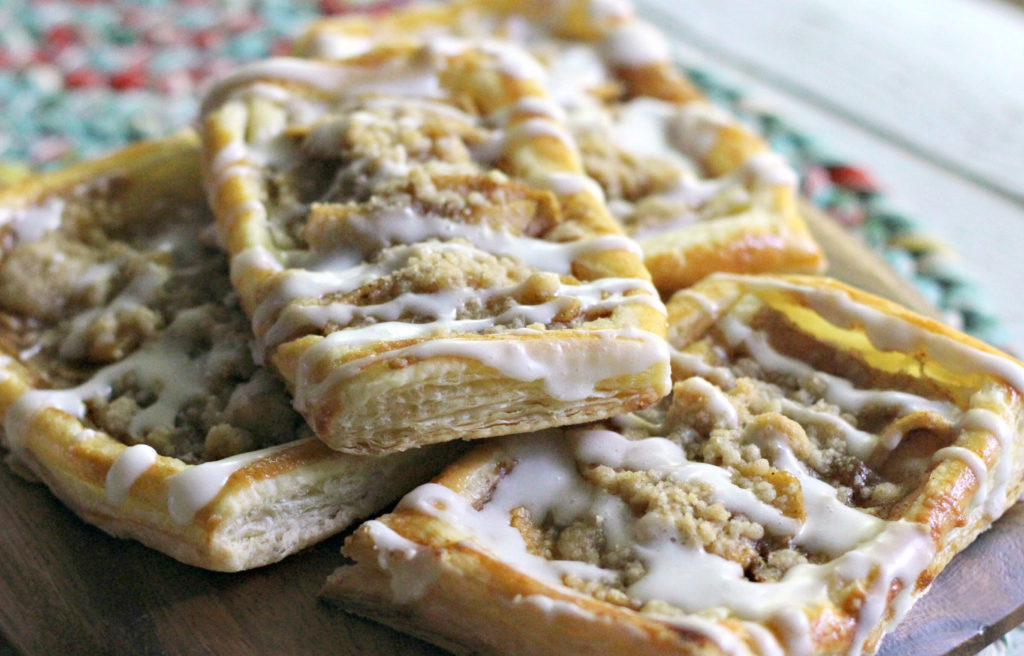 Using boxed puff pastries makes this recipe much easier and quicker, but not an less delicious!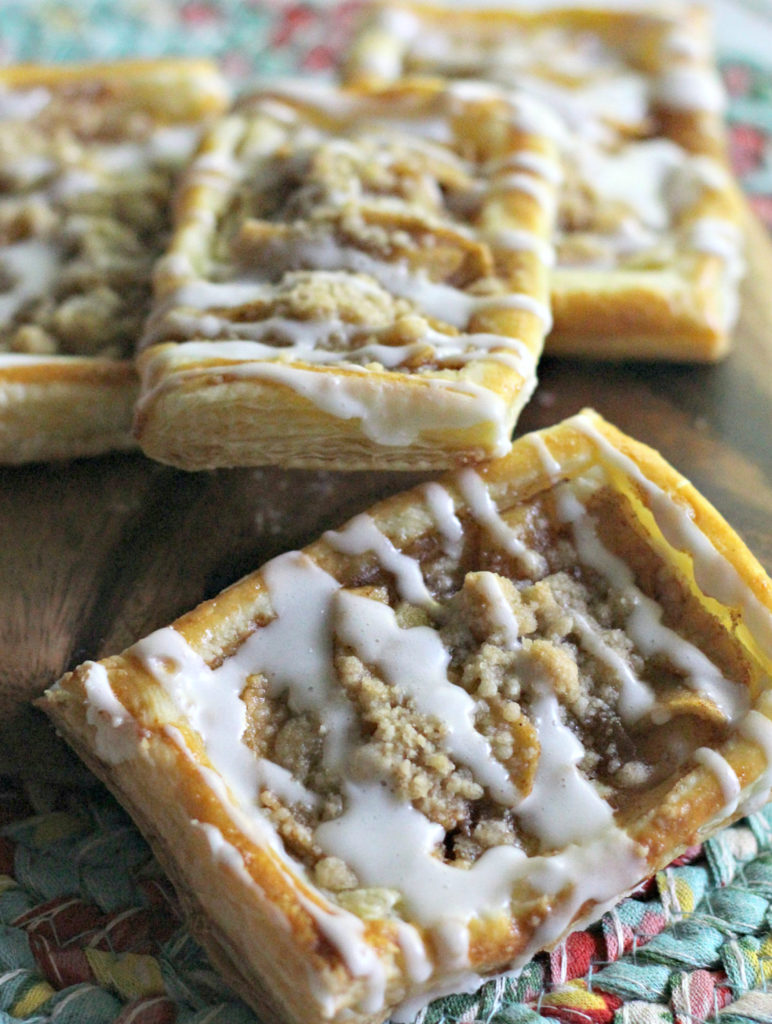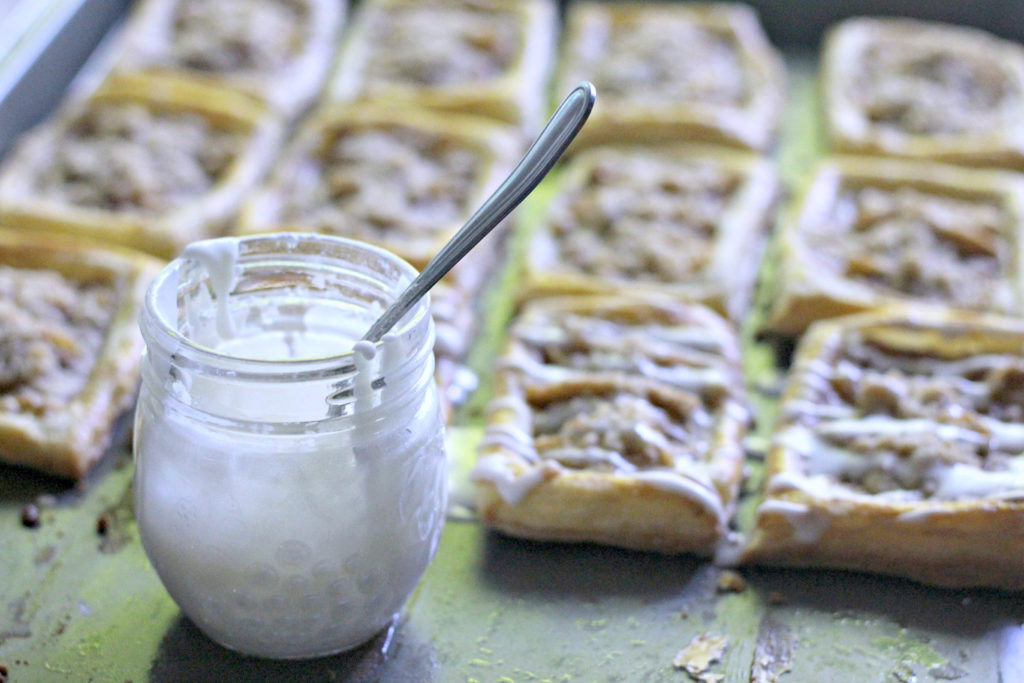 Take a place of Apple Danishes to your favorite teachers or coaches to celebrate how important they truly are to you and your family!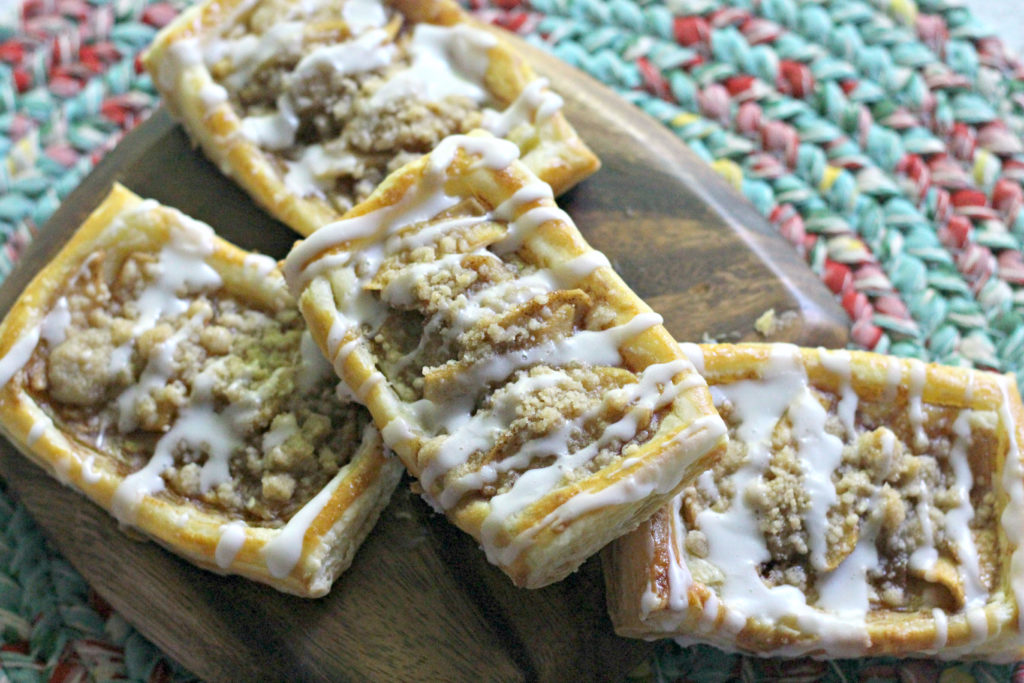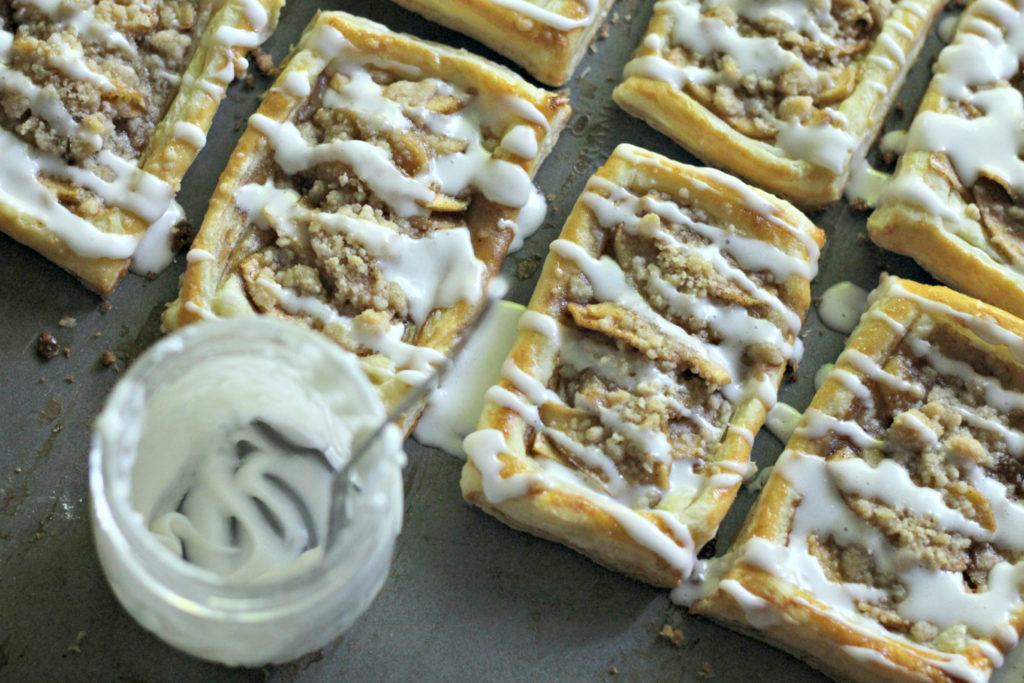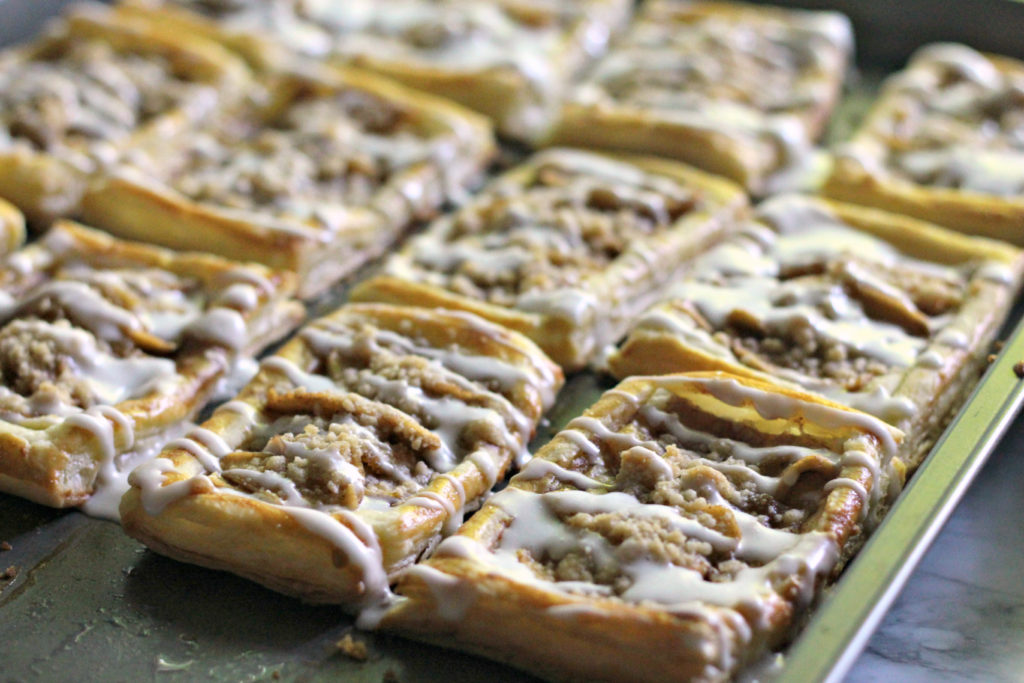 What's your favorite fall dessert?
Apple Danish with Crumble Topping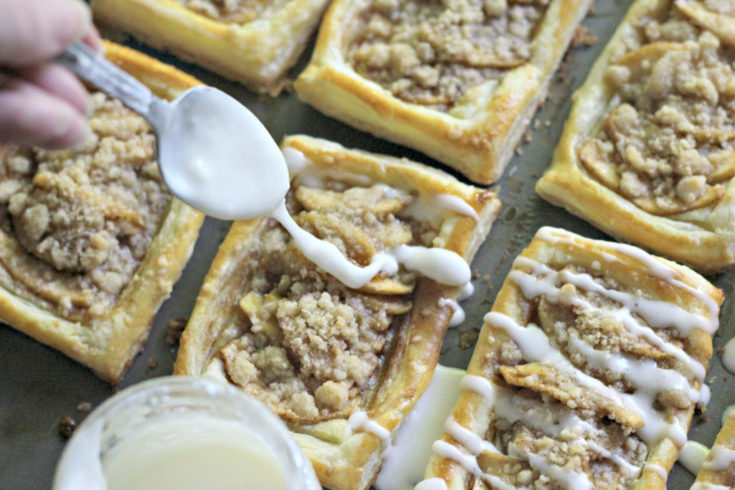 Apple Danish with Crumble Topping is a warm, delicious treat that's great for dessert or breakfast!
Ingredients
1 17.3 ounce box puff pastry (two sheets of pastry in the box), thawed according to package directions
6 medium Granny Smith apples; cored, peeled, and sliced thin
3 TBSP butter, divided
1/3 cup plus 3 TBSP brown sugar, divided
3 TBSP cornstarch
1 TBSP cinnamon
1/4 cup flour
1 egg
1 TBSP water
1/2 cup powdered sugar
2 TBSP heavy cream
Instructions
Preheat oven to 400 degrees Fahrenheit.
Melt 1 tablespoon of the butter in a medium frying pan over medium heat. 
Add the thinly sliced apples to the pan and cook for 5 minutes, stirring occasionally.
In a small bowl, whisk together 1/3 cup of the brown sugar, the corn starch, and the cinnamon. 
Stir the mixture into the cooked apples in the pan and cook for an additional 3-5 minutes over medium heat until the apples are softened. Remove from the heat and set aside to cool to room temperature.
Unfold the puff pastry sheets and lay out on a flat surface. Use a knife to cut along the fold marks to create three equal sized strips. Cut each strip in half to make a total of 12 rectangles.
Arrange the puff pastry rectangles on a large, ungreased cookie sheet leaving at least 1 inch of space between each rectangle.
With a paring knife, lightly score a border around the entire edge of each pastry rectangle, about ¾ inch away from the edge. Use a fork to poke a few holes into the center area of each pastry. (This process allows the outside border to rise and puff up while the center stays shorter and holds the filling.)
Spoon the cooked apples onto each rectangle of pastry dough. Do not place the apple filling on the outside scored border of the pastry and do not add much of the liquid from the apples.
In a small bowl, use a fork to combine 2 tablespoons of butter, 3 tablespoons of brown sugar, and ¼ cup of flour. Mix until completely combined and crumbly in texture. Sprinkle the crumble topping over the apples.
In a small bowl, whisk the egg and water together. Use a pastry brush to apply a thin layer of the egg wash to the outside border of each pastry. Discard any leftover egg mixture.
Bake the pastries at 400 for 20 minutes, until they are golden brown.
In a small bowl, combine the powdered sugar and heavy cream; stir until smooth.
Cool the danishes on a baking rack for 10 minutes. Drizzle the frosting over the danishes.