This giveaway was part of the Octoberfest Giveaway Hop hosted by Planet Weidknecht and Going Crazy!! Wanna Go??!!

I have talked about The Learning Journey International toys before and so I was excited for the boys to get to review the new Count & Learn ATM Machine! I think we received it in the mail about two weeks ago and the boys still play with it every day. It is so much fun and kids can learn so much from just playing with it!
The Count & Learn ATM Machine has three different play modes: free play, banking, and find it. Each mode encourages the child to actively play with the plastic coins, ATM card, and ATM machine, all while learning and responding to the voice prompt. There are five different coin values, all in different colors, so the kids can practice their numbers and colors with the ATM machine.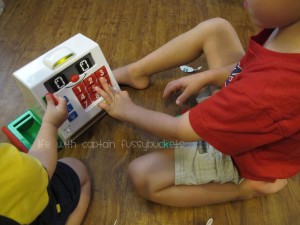 In the banking mode, kids are encouraged to insert the plastic ATM card and enter their pin number, which is given by voice command. I like the fact that encouraging words are used when prompting the child to enter a number or coin.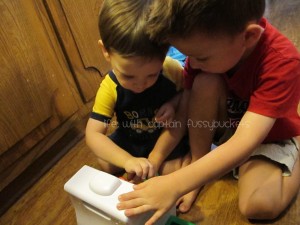 The boys really play well together with the ATM machine, which is good news for any parent who feels like they have to get two of everything to stop the fighting! There are enough coins and it is a big enough toy that they can share. I do wish there were two ATM cards to play with, but that's really the only thing I would change! There is a spot on the side to store your ATM card and coins, which is handy and smart!
Check out The Learning Journey International's video for the ATM Machine:
Find more awesome learning toys like this one at the Learning Journey International website. Follow them on Facebook and Twitter, too!
The Learning Journey International is giving away one Count & Learn ATM Machine to a lucky Life With Captain Fussybuckets reader! Just enter in the Rafflecopter form below! Good luck!
Giveaway has ended and Melissa H. is the lucky winner!