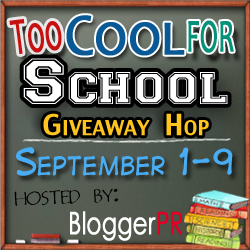 The Too Cool For School Giveaway Hop hosted by BloggerPR is here! This event will run from September 1st through 9th, which gives you plenty of time to hop down the linky list below! Each blogger is giving away prizes valued $20 or more, so you don't want to miss out! Good luck and have a great school year!

If you haven't heard of Catching Fireflies, you really need to check out their website. It's full of unique, cute, and awesome things you might not find anywhere else. I was lost in the site for a long time, checking out all of their amazing products! They have gifts for guys, kids, women, inspirational gifts, funny stuff, and much, much more.
We were able to review the super cute Constructive Eating Set that Catching Fireflies sells both online and in their stores:
We LOVE this set! Both of the boys have put it to wonderful use. Here is Baby D using the set at Medieval Times:
And Captain Fussybuckets tackling the messy spaghetti meal:
You can buy the Constructive Eating set at Catching Fireflies for only $21.95. And don't forget to check out all of their other amazing items! If you're near Berkley or Rochester, Michigan, go check out the Catching Fireflies stores!
Catching Fireflies is giving one Life With Captain Fussybuckets reader a $40 gift certificate to spend on this or any other fabulous items from their store! Enter in the Rafflecopter form below! Good luck!